Customer Paradigm Review
Reviewed by

Skinz

on

Aug 23

, 2015.
Summary:
"This is a must have extension. It was/is the first extension I added to my site. Why because every other extension subsequently installed gets logged and you receive an email showing what database tables have been added or changed / modified since the last email.
The daily sales summary is a fantastic bonus as well.
Seriously try this extension, my review really does not do justice to this extension, you will be glad you did.
Yes, I recommend this extension.

Type of Project: Magento Extension Review for Watchdog View More >>
Budgeted Hours: None (Free extension download)
Site: Skinz
Reviewed:
Review of Customer Paradigm in Boulder, Colorado

Rating: 5.0
Screenshot of Website Reviewing Customer Paradigm's Services: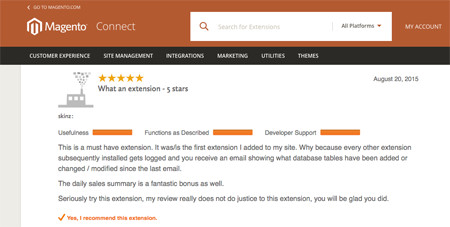 View Larger Screenshot – Review of Customer Paradigm by Skinz