Customer Paradigm Review
Reviewed by

Skinz

on

Aug 23

, 2015.
Summary:
"This is a must have extension. It was/is the first extension I added to my site. Why because every other extension subsequently installed gets logged and you receive an email showing what database tables have been added or changed / modified since the last email.
The daily sales summary is a fantastic bonus as well.
Seriously try this extension, my review really does not do justice to this extension, you will be glad you did.
Yes, I recommend this extension.

Type of Project: Magento Extension Review for Watchdog View More >>
Budgeted Hours: None (Free extension download)
Site: Skinz
Reviewed:
Review of Customer Paradigm in Boulder, Colorado

Rating: 5.0
Screenshot of Website Reviewing Customer Paradigm's Services: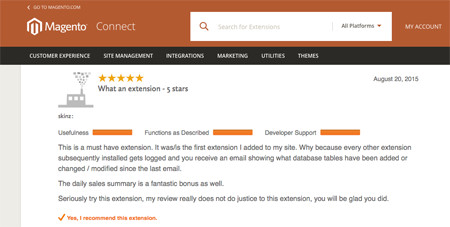 View Larger Screenshot – Review of Customer Paradigm by Skinz
CustomerParadigm.com Review Reviewed by Briana Johnson on June 7, 2016. Summary: "Hey Jeff! Alisa has been absolutely FANTASTIC! Her communication, organization and work for us has been excellent. We are so very pleased with the work you all have done so far and we...
read more