Installing or upgrading your existing Magento eCommerce site is a task best left to experts. Many Magento websites need to be upgraded, but will require a seasoned professional to preform the upgrade because of customization made to Magento. There are many factors involved in upgrading Magento and if your original developer didn't properly go about creating your theme and custom features your site might not be upgrade safe.
How can you know if your Magento site is upgrade safe?
The best way to to let us take a look at your existing code base and examine it. As a company we always do this prior to providing you a quote for your upgrade, so no one is surprised after the project starts. Essentially, a Magento upgrade is a three step process; first we update your database to point to the new version of Magento, next we move over the themes and custom extensions that make your site unique, finally we set our Testing Team on the upgraded development site to ensure everything functions properly. Once the site has been approved by our Testing Team and the client we go ahead and put the upgraded site live.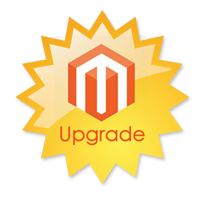 We have a stellar track record for successful upgrades on Magento eCommerce sites. Unlike our competitors, we don't simply execute the command and then dump the incomplete project back in your lap. If there are any questions, comments, or concerns about the design or functionality of your Magento upgrade, you have full access to a dedicated Project Manager. Often times, our Project Managers and Magento Developers call the client together, so everyone is one the same page. Plus our expert team of Magento testers will compare your live site to your development site page by page to ensure that your upgrade is 100% functional. Our job isn't done until your Magento eCommerce site has the same feel and functionality that the old one did.
When to Upgrade Magento
Not sure when you need to upgrade Magento for your store? Often times store owners come to us looking for advice about when is the right time for them to upgrade Magento. Many store owners are interested in the new features available on newer versions of Magento. Other need to upgrade because they are having issues with security or compatibly. Read more about when to upgrade Magento in this article by Magento expert Gillian Owen.
Upgrading Magento Extensions
Customer Paradigm can also help you upgrade your existing Magento Extensions, or troubleshoot Magento Extensions that are not compatible with a newer version of Magento. Our team of Magento experts can create, modify, and implement modules of all types to enhance the functionality of your Magento eCommerce site. If any of your Magento Extensions are not compatible with a newer version of Magento we're here to help! Or if there is a newer version of your extension available we can install or upgrade your Magento Extension. Customer Paradigm has used Magento eCommerce, PHP programming and mySQL databases to help small 1-person companies as well as many of the Fortune 500 create websites that get results. Try us out! Get your first hour of Magento programming for Free (when you commit to a five hour or longer project). To have Customer Paradigm contact you about a Magento upgrade for your site, please fill out the contact form below or call us at 303.473.4400.