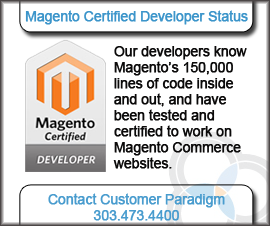 If your moving from a platform like osCommerce, Zen Cart, WordPress or a custom built solution, Customer Paradigm can make the transition seamless. Worried that switching your store to another platform can potentially cause downtime, errors and a poor shopping experience for your customers, you're not alone.
In every migration Customer Paradigm works on we do our best to minimize the issues that could potentially arise by developing your new system on a development site. We have a dedicated Testing Team that looks though your site prior to launch, and we allow you the client to fully review the site before launch to ensure the transition is seamless.
What can you expect with Magento?
Magento comes standard with the following features necessary to compete on the web today:
Analytics and Reporting

Magento is already integrated with Google Analytics, making tracking your eCommerce goals easier than ever.

Advanced Customer Accounts

Your customers can view their wishlist, past orders, downloadable products and re-order an existing order.

Catalog Browsing

Plus your customers will be able to compare and filter products by any attributes you want.

Catalog Management

With advanced features like inventory management, advanced product configurations, and tax rate management.

Content Management

With a WYSIWYG editor so no one needs to know HTML to make edits to your products or content pages.

Checkout System

Which is already integrated with payment gateways like Authorize.net and shipping carriers like USPS, FedEx and DHL.

International Compatibility

So you can sell products world wide with Magento's translation packages and conversion rates.

Mobile Site

With automatic detection of mobile browsers so your customers can place orders right from their iPhone.

Order Management

So you can process orders, add tracking numbers, make refunds and more all in Magento.
See a feature your current site uses that isn't above? Magento probably already has an extension for that. With over four thousand extensions released for Magento you know the Magento community is hard at work building a feature rich platform. Not sure about moving to Magento? Customer Paradigm's Magento experts are happy to walk you through one of our demo stores so you can make an educated decision. Feel free to ask them any questions you might have about using Magento for a eCommerce platform. Many of us at Customer Paradigm use Magento in our personal lives as well, so like you we're store owners as well!
Whether it's a handful of products or hundreds of thousands Customer Paradigm is here to help your store move to Magento. With our experience you know the job is being done right. Plus our expert Magento Project Managers are here to guide you through the migration process and will train you and your staff to use the new platform. We'll see to it that your site is fully tested before going live and that your prepared to manage your new store yourself once it does go live.
To have Customer Paradigm migrate your store to Magento please fill out the contact form below or call us at 303.473.4400