MAGENTO DEVELOPMENT

We are The Magento Development Experts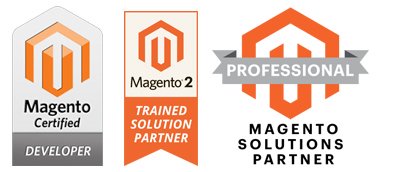 Certified Magento Developers. From 1 hour to 1,000+ We're here to help. And to make it easy. But don't take our word for it. Our developers know Magento's 150,000 lines of code inside and out, and have been tested directly by Magento and certified to work on Magento Websites. Are you looking for a company who can help you install, maintain or upgrade your Magento eCommerce shopping cart system?
If you need reliable programmers with experience, Customer Paradigm's team of expert Magento programmers may be a great fit. Try us out! Or Call 303.473.4400 today!
Please Have A Real
Person Contact Me Now:
Customer Paradigm's Free  No Obligation Consultation
Since 2002, we've completed more than 18,600+ successful web development and marketing projects for our customers.
U.S. Based
Based in Boulder, Colorado. We speak English, work during normal US business hours and respond quickly.
Certified Magento Developers
We have worked on hundreds of eCommerce systems that process tens of thousands of transactions per day. We know the best practices for working on high-volume, live production systems (as well as low-volume basic Magento systems).
Low Prices for Magento Developers
Our prices are low, but our quality and customer service is high. Unlike other web development agencies we also offer firm quotes for your project, so you know what to expect when you receive your bill.
Small Projects Are Okay
We work with small 1-2 person companies, as well as some of the largest corporations in the world. We know you might want to test out our team first, before you commit to a larger project. And we're okay with that. We have no minimums for working with us.
Bug Free Code
Our programmers write bug-free code that works! We have a dedicated team of testers to ensure that the delivered Magento Programming works as requested.
Direct Access to a Magento Developer
You'll get the name, email address and direct phone number of your Project Manager and Developer that is in charge of your Magento eCommerce project. Our Project Managers keep you apprised of your project's budget and progress, and also ensure that your needs as a client are met exactly.
We Answer the Phone & Emails
We know that this shouldn't be something we have to mention, but we do pride ourselves on our ability to have a real person answer the phone during our business hours, and we make sure to respond to all email requests promptly.
Open Office Format
We work together in an open-desk office in Boulder, Colorado. What this means is that if someone has a specific question about a Magento eCommerce programming task, they can ask anyone else very easily.
Free, No-Obligation Consultation For eCommerce and Digital Marketing:


Kickoff Meeting
After an agreement is signed, we will initiate a kickoff meeting to clarify the expectations for the project, and to make sure that we have all of the resources, website access and knowledge we need to make your project a success. For small projects, this may be a short phone call; for larger projects, the kickoff meeting may span several hours to ensure we don't miss anything.

Site Review & Testing
We put your website through a 30-step quality assurance process, to make sure that your site will function properly for a typical Web user. We test items including SSL security, page load time, contact form submission, checkout cart functionality and other items.

Scope Review
We will follow up from the kickoff meeting with any scope changes from the contract.

SEO Review
Our Search Engine Optimization (SEO) team will review your site for items including page titles, meta description, duplicate content, canonicalization, no-index/no-follow errors, .htaccess errors, 301 redirects and more. The goal is to identify errors that search engines, such as Google, may encounter, after we launch the site. Ongoing search engine optimization is not included unless specifically outlined in project deliverables

Access Information & Content
We need to make sure that we have access to your site, including FTP, SSH, control panel, database access and other access, in order for us to begin the project. At this stage, we will also work with you to determine what content you need to send to us (web page content, products, pricing, shipping information, payment processor information) so that we can complete the site on a timely basis.

Training for Magento
We will train you – either on the phone or at our location in Boulder, Colorado – to learn how to use your website. We can show you how to best create coupons and discounts, how to manage orders properly, update products and content pages, and walk you through the advanced reporting systems that are built into the site. Training hours are included in many fixed-price projects; additional training can be provided on an hourly basis.

Wireframe Layout
We will create a wireframe (skeletal framework) for your main pages, including the home page, category page, product page, and one content page. The wireframe allows us to block out areas for how the website will be laid out and function.

Pushing Live
Once you approve the site, we will move it from the testing server to the live server, and run through our testing procedures again to ensure it works properly.

Design
Our designer will create a flat, non-working design layout for you to review. At this point, it is easy to change color schemes, images and font usage. Our goal is to create a design that is fresh, clean and easy for end users to navigate.

Site Statistics & Analysis
After the site has launched, we will review your site to determine how your end users are interacting with the site. Through in-depth analytical analysis, we can determine what pages "bounce" your site visitors off of the site, or what keywords drive the most amount of sales. We can then make recommendations for increasing targeted traffic to your site, creating new marketing campaigns, and improving other areas of the site.

Development
Once the scope of the project has been reviewed, and design has been approved, we begin the development of your project with our technical programmers. The process begins by breaking up all of the various parts of the project into discrete tasks, and assigning each task to programmers. These tasks include cutting up the approved design into working HTML, moving over content, images, video and products. We also will install any 3rd party extensions or plugins at this time. All hours and tasks are tracked through our real-time, Web-based Project Management System, that helps us stay on-time and on-budget.

Ongoing / Immediate Magento Support
We offer ongoing programming support or immediate break / fix support for your Magento store, often on an hourly rate.
From one hour to one thousand, we can help you…
• Install or Upgrade your eCommerce shopping cart to a Magento system.
• Design a new look and feel for your Magento site. (Or customize an existing Magento Theme for your site).
• Add new products, new product options, product images to your Magento eCommerce site.
• Fix broken functionality, or add new functionality to a Magento system.
• Integrate with payment processor systems, including Authorize.net, PayPal and more.
• PCI Compliance. We can help make sure your Magento eCommerce system is set up for PCI compliance, including hosting, testing and evaluation.
• Make your Magento system more search engine friendly.
• Add a wholesale site to allow retailers or distributors to make purchases more easily.
• Migrate your Magento eCommerce system from a slow web server to a high-availability, cloud-based system that allows tens of thousands of people to access your site easily.
• Purchases to be made quickly Add new product options.
• Synchronize inventory to external databases (i.e. NetSuite, Quickbooks and more).
• Pre-fill registration forms so people don't have to fill in their information again and again.
• Personalize your website, and show content based on who is on your site (new visitor / past customer).
• Send permission-based email messages to people who have signed up to receive communication from you through a web-based application.
• Automate business tasks — such as changing the information on your website without having to call a web developer or use a complicated program.

• Making it easy for customers to find you via Google and other search engines.
• Helping you keep in touch with your past customers and prospects via cost-effective personalized email.
• Designing websites that creates a positive, trusted impression for an organization.
• Guiding prospects effortlessly through a sales funnel, using a six-step process to build trust and develop a relationship.
• Keeping a website up-to-date with fresh content, professional images, video, podcasts and blogs.
• Allowing an organization to easily update their website without any special training or software.
• Making it as easy as possible for customers to make purchases on an eCommerce site.
• Speeding up slowwwww sites.

1. Acquire (Get new customers)
Search Engine Optimization
Search Advertising
Conversion Rate Optimization
Trade Show Marketing
Social Media
Microsites
2. Retain (Keep existing customers)
Permission-based Email Marketing
Direct Mail Marketing
Social Media
3. Interact (Create a compelling customer experience)
Website Design & Development
Magento eCommerce
WordPress Content Management
Custom Application Development
Professional Photography & Video
Our work includes Website development for 3M, microsites for Xcel Energy and marketing campaigns for the Four Seasons, BP, Shell Global Solutions and Genetech.
From continuing medical education courses and e-newsletters for Johns' Hopkins University, to trade show marketing / mini-CRM systems for Genetech, to secure remote imaging software and website development for the Greeley Medical center, we understand the specific challenges and opportunities faced by a wide variety of industries.
We've done privacy consulting work for Merck, McGraw Hill, Lillian Vernon, and Starwood Hotels. We understand the challenges a regulated industry faces when it comes to the collection, use, storage and access to sensitive, personally-identifiable information on their websites across the U.S. and abroad.
We've built eCommerce systems for Travelocity, helped AAMCO Colorado achieve top search engine optimization results, and created microsites for Go To Meeting's Citrix. Clothing retailer Fresh Produce relies on Customer Paradigm for custom Magento eCommerce programming. The San Francisco Soup Company leverages Customer Paradigm's cross platform expertise in an integrated mobile optimized system and daily email marketing campaigns.
Our Search Engine Optimization (SEO) efforts helped news organizations find local religious leader, Rabbi Jamie Korngold and cover her program in The Wall Street Journal, USA Today, AP, Ski Magazine, CBS News and more. This intense media interest sparked a book offer from Doubleday Religion, who published Rabbi Korngold's first best-selling book, God in the Wilderness (www.GodintheWilderness.com).
In the sustainability realm, Pfizer, 3M and Intel are the first users of a manufacturer-based sustainable development software planning tool we've developed for the Global Environmental Management Initiative (GEMI) organization. We've also recently redesigned the sustainability section of the 3M Website site for 3M.
Free, No-Obligation Consultation For eCommerce and Digital Marketing: