Case Study
BOTTLESTORE.COM
Bottlestore.com is a O.Berk company. Bottlestore.com provides packaging solutions for sale online as a division of O.Berk – a company founded in 1910 to distribute glass bottles and jars. Bottlestore.com sells a variety of plastic bottles, glass bottles, plastic jars, and glass jars with multiple closure choices for different product applications.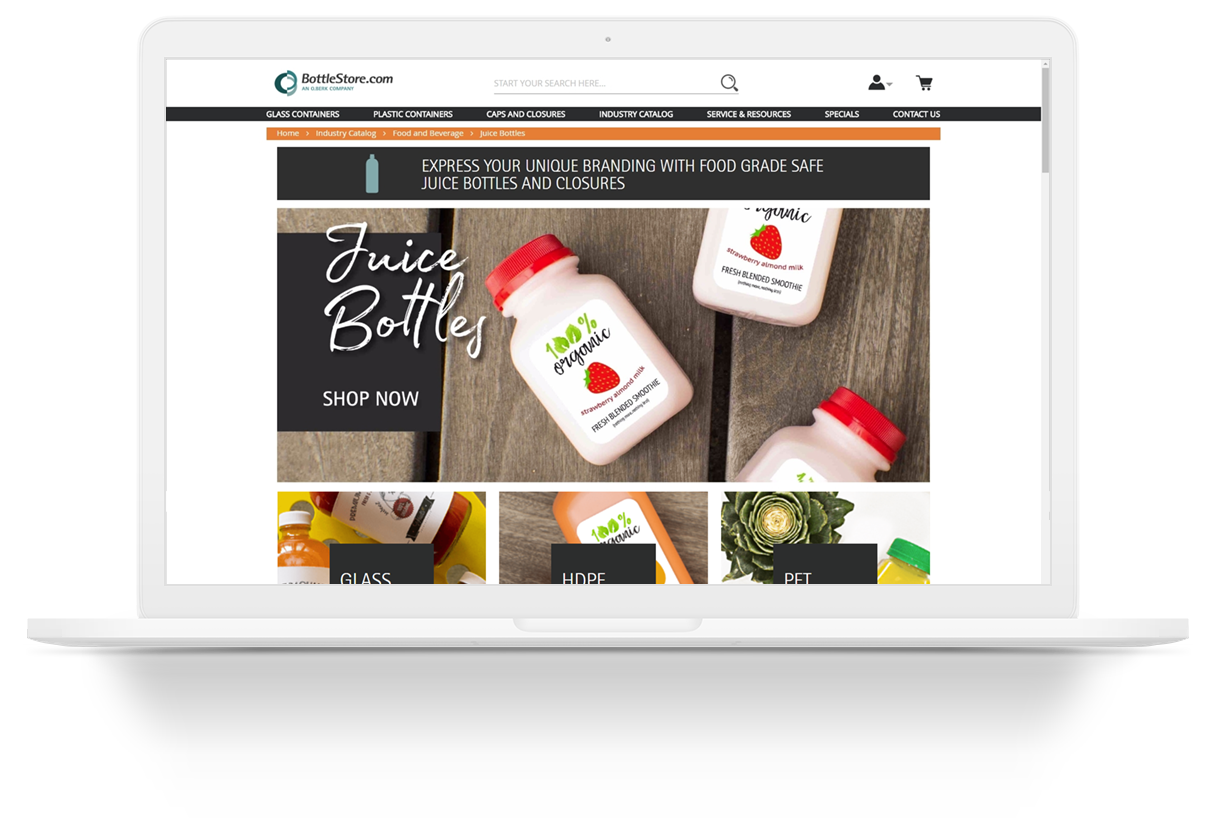 Our strategists and developers went through a rigorous research phase to fully understand all of the features that Bottlestore.com had in their Magento 1.x framework. Through this research phase, we were able to evaluate which functionality was no longer used, and which features we would need to bring over to their new Magento 2 build. We then assessed the functionality they wanted to keep intact and determined if there was an existing solution to implement it on Magento 2 or if we would need to develop a custom solution.
We upgraded Bottlestore.com from Magento 1.6 to Magento 2.1. Bottlestore.com chose to go with the native Magento 2 Luma theme to build out their new site design with. We heavily modified this theme to meet their design needs. We integrated: one-step-checkout, an extension to handle B2B sample requests, a custom stock status extension, order grids, Shipper HQ, the Avalara tax connect and then implemented additional data tables to migrate the data from these extensions.
PRODUCT & CATEGORY PAGE DESIGN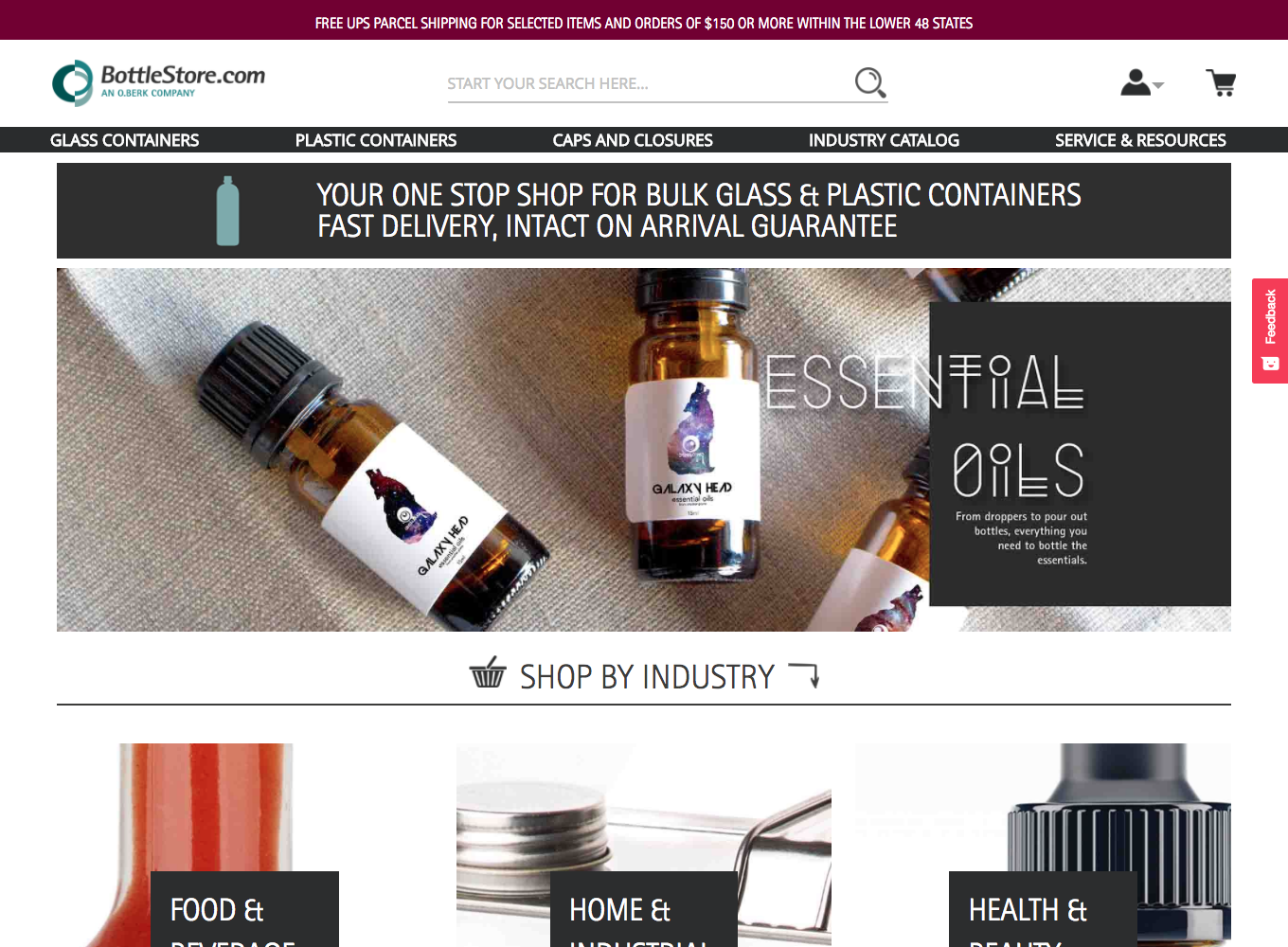 We built a custom design for the options area on the product pages. There is a grid of thumbnail images, with radio buttons, to select your option. When you hover over each individual option, you can see an enlarged image, the title/description, as well as the pricing for that closure. We also integrated the closure option thumbnails onto the category pages, so you get more of a detailed overview of what options you have for that product, all at a glance on the category page.
We built out an improved left sidebar for filtering capability on category pages. This new filter is an improved design for the new site and allows customers an easy way to drill down to specifics of what they are looking for – whether it be bottle shape, color, or fill capacity. The new left sidebar is also integrated with the search results pages so that it is seamless design/functionality across the category and search results pages.
DYNAMIC PRICING CUSTOM FUNCTION
By default, pricing would not update on product pages in Magento 2, so we built custom functionality to allow for dynamic pricing on the product pages. Now when you select closure options, the per piece and per carton pricing calculate your option selections, to show you the new price right on the product page, without having to wait until going to the cart to see the total price of what you have selected.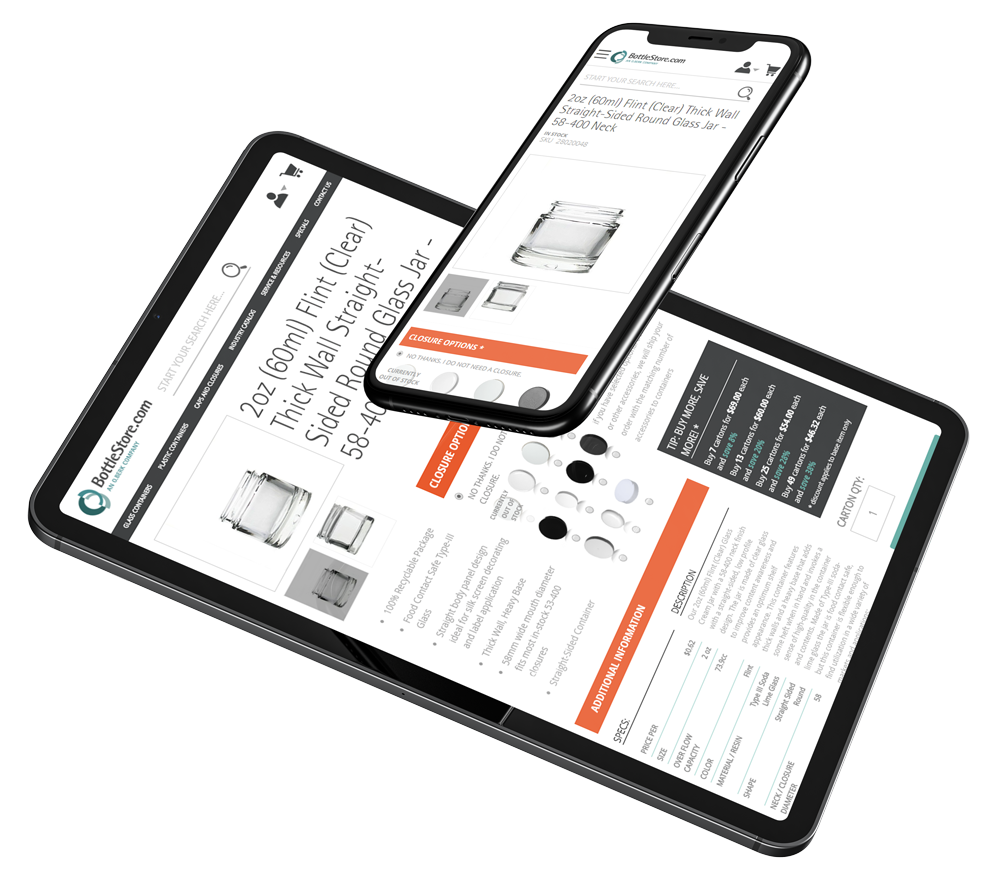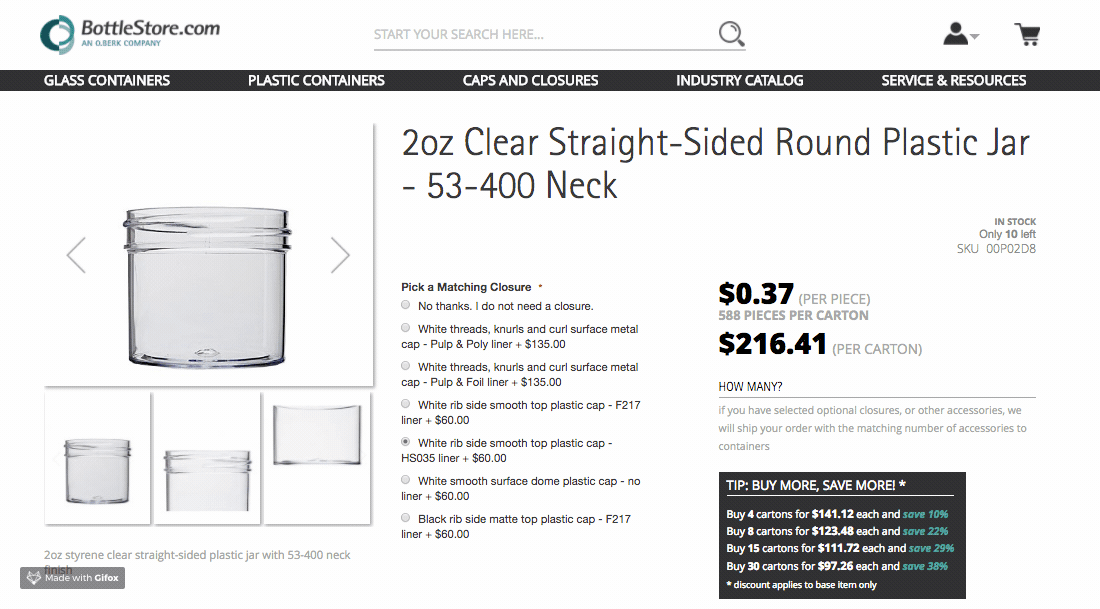 OUT OF 100 OF GOOGLE PAGE INSIGHTS - UP FROM 6/100
I just wanted to thank you again for your hard work and you and your team's continual ability to rise to the challenges we throw at you guys! Please pass along our thanks to your team for all of their hard work in taking us from a 6/100 to what I'm now seeing as a 79/100!
—Jessie Kressen
Bottlestore.com is the perfect example of what a business can achieve when engaging in Magento web customization. Do you have a unique business? Not sure where to start with advertising? Get in touch today and join Bottle Store & the thousands of other happy clients we have served.
READY TO START GROWING YOUR BUSINESS?
Schedule a free, No Obligation Consultation about our Digital Marketing Services
let's start marketing
Say Hello!
We would love to discuss your project with you. Get in touch by filling out the form below and we'll contact you asap.