Trade Show Email Marketing
Customer Paradigm offers a six-step email marketing system for you to follow up leads that are gathered at your trade show exhibit booth.  As you may know, it takes 6-12 interactions to turn a browser into a buyer. Our goal is to automate as many of these interactions, to build trust and confidence in your organization. It's not cost effective to call everyone who stops by your trade show booth on the phone. But with Customer Paradigm's Trade Show Marketing Six Step Process, you'll squeeze additional business from your trade show booth.
In a nutshell, here's how our six step system works: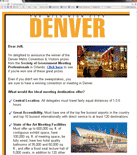 Drive More Traffic to Booth. A pre-show email is sent, enticing trade show attendees to come by
your trade show booth. The pre-show email frequently connects sales managers with customers and prospects before the trade show. We've found that a pre-show email campaign not only increases booth traffic, but prospects will often show up with RFPs or purchase orders in hand. We encourage you to offer a drawing for an iPod or a digital camera, so that (a) people are encouraged to stop by the booth, and (b) people will give accurate information that lets you follow up.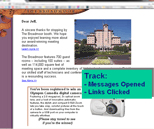 Lead Capture. At the trade show booth you can scan people in using a badge scanner or collect business cards from visitors. Or, you can use our web-based lead capture system that allows you to type in people's information and have them take a short survey (2-3 questions). The web-based lead capture system requires an Internet connection at your booth.
Instant Email Follow-up. If you use our web-based lead capture system, an instant email message is sent to the visitor, thanking them for stopping by the booth. If names are sent to us via a spreadsheet, CSV file or database file, we can send a thank you message within 24-36 hours.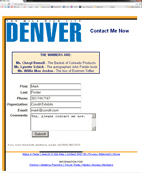 Follow-up email Messages. The winner of the booth prize — often a digital camera — is announced in a follow-up email message one week after the event. Leads are placed into the retention marketing email newsletter — making sure that each person is 'touched' at least once per month.
Response / Sales Conversion. Each communication allows the recipient to easily request more information in a non-threatening way. Our built-in Contact Me Now system allows recipients to have you contact them (vs. having to pick up the phone). We've found that this is one of the most effective ways to close leads, and let people who are interested raise their hand.

Tracking / Measurement / ROI. Sales revenue from leads gathered at the show is tracked and measured — allowing management to measure the value of each trade show expenditure.

View PowerPoint of Trade Show Email Samples Please read our a case study about how the city of Denver used our six-step process to squeeze 20% more business from their trade shows: Read Case Study >> To have Customer Paradigm contact you about Trade Show Email Marketing, please fill out the contact form below or call us at  303.473.4400