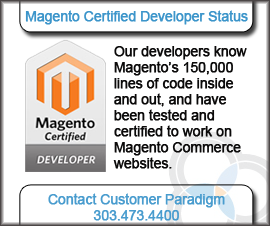 Magento Developer
Magento Developers: From 1 hour to 1,000+
We're here to help. And to make it easy.
(And to make sure the code works)
Click Here >>
Not all web hosting companies know how to set up Web hosting for Magento properly.
Based on many years of working with some of the best (and worst) Web hosting companies, we are thrilled to recommend these companies for Magento Hosting:
Nexcess is a company based in Ann Arbor, Michigan. They currently have the largest datacenter in the entire state of Michigan, and specialize in Magento hosting. Nexcess is a gold-level Magento Partner, and host some of the largest eCommerce sites in the U.S. Customer support is easy to reach on the phone, and we've been thrilled with their level of dedication and service to our customers. We recently sat down with many of the key employees at the Magento Imagine Conference in Las Vegas, NV.
Nexcess offer's the Magento SIP Plans provide the most stable, secure and scalable out-of-the-box Magento hosting solution. Each SIP (Secure Isolated Platform) is an entirely self-contained and fine-tuned e-commerce hosting environment. SIPs come with a pre-installed Magento store running the most recent Magento software and are optimized for increased performance, stability and security. More information on Nexcess Magento hosting here >>

Need help with a Magento site?
Free, No Obligation Consultation About Magento Programming: