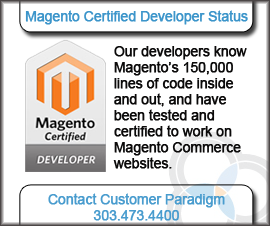 It's time to take your Magento eCommerce store to the next level! Providing a place for visitors to view and purchase your products is just the first step; the next step is to start driving targeted traffic to the site. Let Customer Paradigm start sending you qualified leads with our Marketing Solutions for Magento.
Customer Paradigm has been developing Magento since the very first release of Magento's open-source software. In response, our search marketing team started learning the intricacies and tricks behind making Magento as search engine friendly as possible. As a result, our team is uniquely qualified to handle all of your Magento SEO needs. From altering title tags, alt text or tags, updating meta data, creating landing pages, and optimizing for usability; the Search Experts at Customer Paradigm consistently strive to over deliver on every dollar you spend.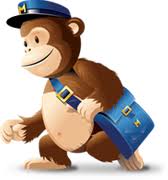 Once your site is ready to handle an increased volume of traffic through SEO, email marketing is the next step. From as little as $225 per campaign, the Email Experts of Customer Paradigm will deliver an email that is sure to strike a chord with your customers. Customer Paradigm started as a print design company, and grew as the web gained prominence and some of our top print designers went back to school to learn HTML and CSS. What resulted was a top-notch team that has created emails for clients as big as Xcel Energy and Discount Decorating. Whether your goal is to raise awareness, cause conversions, or simply offer your customers an exclusive deal, the experts at Customer Paradigm will deliver your message flawlessly. Plus we can help you integrate Magento with various email platforms such as Mail Chimp, so that your customers are privileged with a thorough feature-rich experience. Such integrations can also help improve your internet presence, decrease unsubscribing users and increase conversions, which in the end mean your company will get the best ROI possible.
Did you know that social media indicators can increase your ranking for targeted keywords simply by being shared? Do you know that there is a proper way to structure your tweets, posts, pins, and links to better rank for your keywords? Do you know the best time to schedule your tweets or posts to reach the most customers and increase the possibility for sharing? We can help you develop an organized, analytic based strategy for your social media efforts.
Put simply, the most inexpensive marketing method is leveraging your existing followers or fans with social media. If your using the Magento platform for eCommerce, then you have products that you want people to see and buy. Social Media is a delicate balance between marketing and SEO best practices. Let us help you with Social Media in order to boost your web presence. Our team of social media experts have carefully studied every aspect of social media and have created a process to maximize the impact of every tweet, post, pin, or stumble.
Arguably, the best part about Magento is the fact that it is open source; which means that the base code is available in its entirety for developers to see and modify. Therefore, in the new face of the social web, Magento has seamlessly integrated social media into their platform in the form of extensions. The beauty of having social media extensions instead of building it directly into the source code is flexibility. As time goes on, more and more social channels are going to open, and instead of needing to re-work the code every time you want to include the new network on your site, you can simply install or update to the newest extension. There are three ways that social media aspects can be incorporated into your Magento eCommerce design; one for optimizing conversions, one for sharing, and one to create a social aspect on your site. Let us help you bring all of these together in a user friendly way so that your customer's are encouraged to be the #1 rep for your company!
In a nutshell, RDFa allows you to place tags around specific content items (i.e. the price, the product name, manufacturer name), and when a search engine or eCommerce aggregator visits the site, they will be able to understand what all of the content means. Ever had trouble trying to pin, post, or share a product on an eCommerce site? RDFa tagging will fix those issues for you and your customers. For an eCommerce website, RDFa microformat tagging can help people find your products quickly and easily. Some of the sites we've tagged with RDFa information or microformat tagging have seen dramatic increases in sales and search engine optimization. If you want to be ahead of the curve from a search engine optimization and social media perspective, RDFa compliance is key.
A/B Split Testing is the concept of testing multiple versions of a web page against a control to see which version of a page performs better. For instance, one might typically test two different headlines on a landing page. One would then outperform the other, and you would know which is the top-performing page. This form of testing goes way back to direct marketing efforts like direct mail campaigns, but it still applies in today's high-tech world. For almost any website this is a process initiated through Google Webmaster Tools, and is an integral part of the Internet Marketing process for Customer Paradigm. Since we made the switch from traditional SEO to the more customer-centric concept of Conversion Rate Optimization; A/B Split Testing has become a standard practice. Let us help you set up an A/B test today, because you never really know what works until you have the statistics.
Updating your customers about what is happening with your company is just one facet of providing an eCommerce blog. Why not leverage the power of a blog to help increase conversions, your search engine rank, and entice new customers as well! A simple WordPress blog is a great way to tip your customers off to new sales, give them the details on new products, and boost your company's image. Plus with every new post on your blog your helping to increase your page rank in Google and other search engines. Google wants to see that you update your site regularly with relevant information, so keeping up with your blog is a great way to keep Google and your customers involved. Plus the longer you are able to keep visitors on your website the better your page rank will be. So writing, rich, interesting and engaging content can also help to increase your page rank. Need help designing and developing an eCommerce Blog? Let us help you and get you started down the right path for success. To have Customer Paradigm contact you about Marketing Solutions for Magento, please fill out the contact form below or call us at 303.473.4400