Black Friday 2017 saw a record $5 billion in sales in just 24 hours, marking a 16.9% increase over Black Friday 2016. 2017 saw eCommerce sales hit record levels – and we expect 2018 to be even bigger.
As 2017 winds down, we look ahead to some of the rising eCommerce trends that we expect to grow in 2018.
Perfecting the B2B Experience
B2B (business to business) eCommerce has seen steady growth – and is projected to pass 1 trillion in sales by 2020.
We can see the growing importance of creating an intuitive B2B experience, studies show that 93% of B2B customers prefer to purchase online. Buyers want an easy intuitive shopping experience that mimics the B2C (business to consumer) experiences with which they are familiar.
Magento has recently released their B2B module with the Magento 2.2 release and has been putting an increased focus on the use of Magento for B2B applications, as we can see from their increase in output of B2B related content.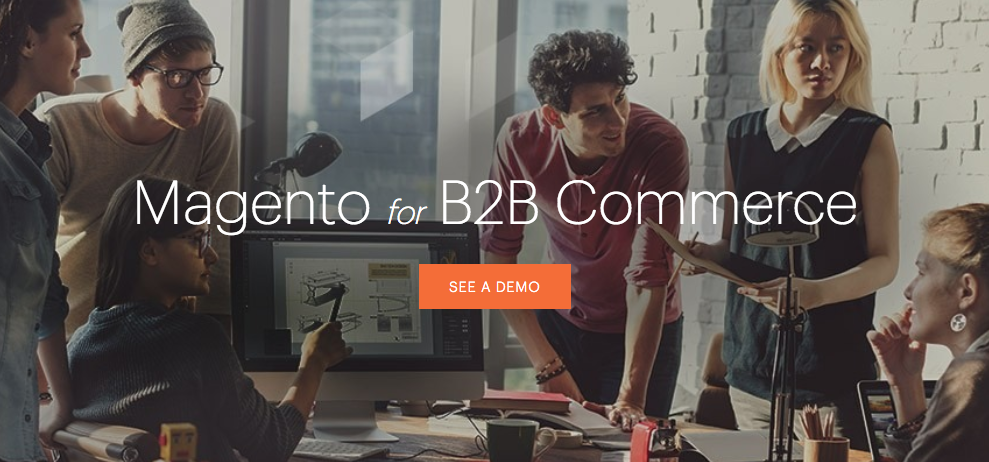 If you run a B2B business, now is the time to start focusing on your customer experience as this field continues to expand.
A Mobile Addiction – mCommerce
This trend of mobile shopping has been steadily on the rise – studies done by Adobe show holiday shopping on smartphones from November 1st 2017 to December 10th 2017 have reached over 16 billion.
With new improvements to fingerprint and facial recognition, making payments on mobile devices has become easier than ever this year – with studies showing that 70% of eCommerce traffic will come from mobile devices by the end of 2018. If you aren't optimized for mobile in 2018 you will be missing out on a huge segment of your customer base. Focus on creating a seamless experience between mobile and desktop.
Sephora is one company that provides a whole host features through their mobile app – you can match colors, see swatches, view tutorials, and more:­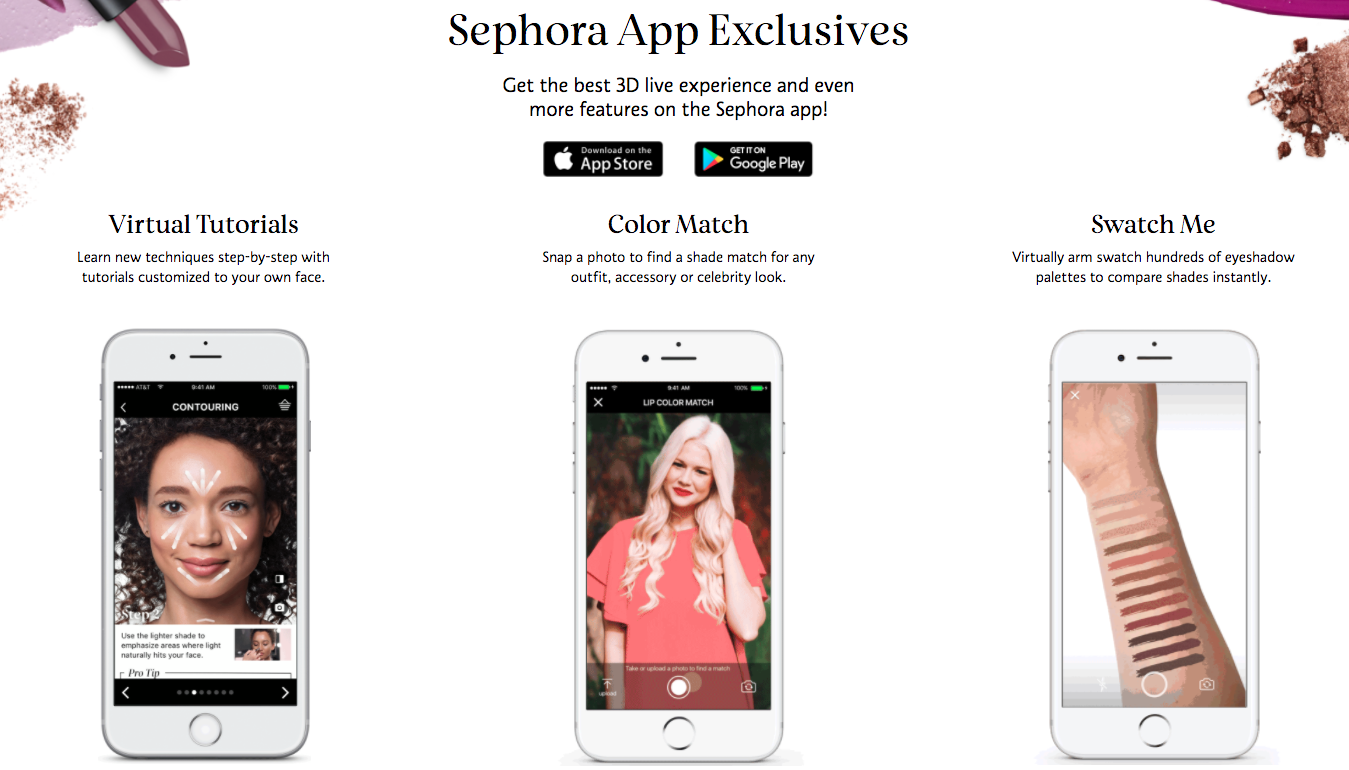 The Digital Line – Augmented Reality
We've seen the acronym AR thrown around a lot in 2017.
Augmented reality has the ability to change how customers perceive the world around them. AR can take the current reality of your customer and add something to it – for example the recent hit mobile game "Pokémon Go" lets users look through the screen of their mobile device and see the creatures from the game in the world around them. Companies like Apple, Amazon, and Samsung are eagerly investing in augmented reality technology.
AR can allow eCommerce merchants to show customers what a product would actually look like in their homes or lives before purchasing. We will see increasing ways for eCommerce merchants to take advantage of this technology as it continues to grow and mature in 2018.
For example, in September 2017 Ikea launched their AR application "Place". This app allows users to experience what different pieces of Ikea furniture will actually look like in their home.
Be Heard – User Generated Content
Utilizing user-generated content builds trust for your brand and makes your customers feel valued by giving them a voice.
With the widespread use of social media, everyone now feels like they have a voice, and it's human nature to want to be heard. eCommerce success relies heavily on positive reviews, creating social buzz through sharing, and word of mouth. Trust can be a difficult thing to gain for an eCommerce business. The 2017 Bright Local survey shows that 85% of customers trust an online review as much as a personal recommendation.
Encouraging and using your user-generated content on your social profiles and marketing campaigns is a simple way to build this trust. Not only does it build a good reputation for your brand, but it's an easy way to continually provide fresh content on your website. The Google search algorithm loves fresh, regularly updated content, and as such will help with your SEO.
Make it easy for customers to leave a review (but don't be pushy!) and encourage customers sharing photos of your product in use on platforms such as Facebook and Instagram. There are tons of third-party extensions such as Yotpo that integrate into Magento that allow customers to post reviews with photos, connect merchants to the social buzz around your business and have other features that build customer interaction such as a Question and Answer feature.
Online clothing retailer ModCloth regularly features photos shared by their customers: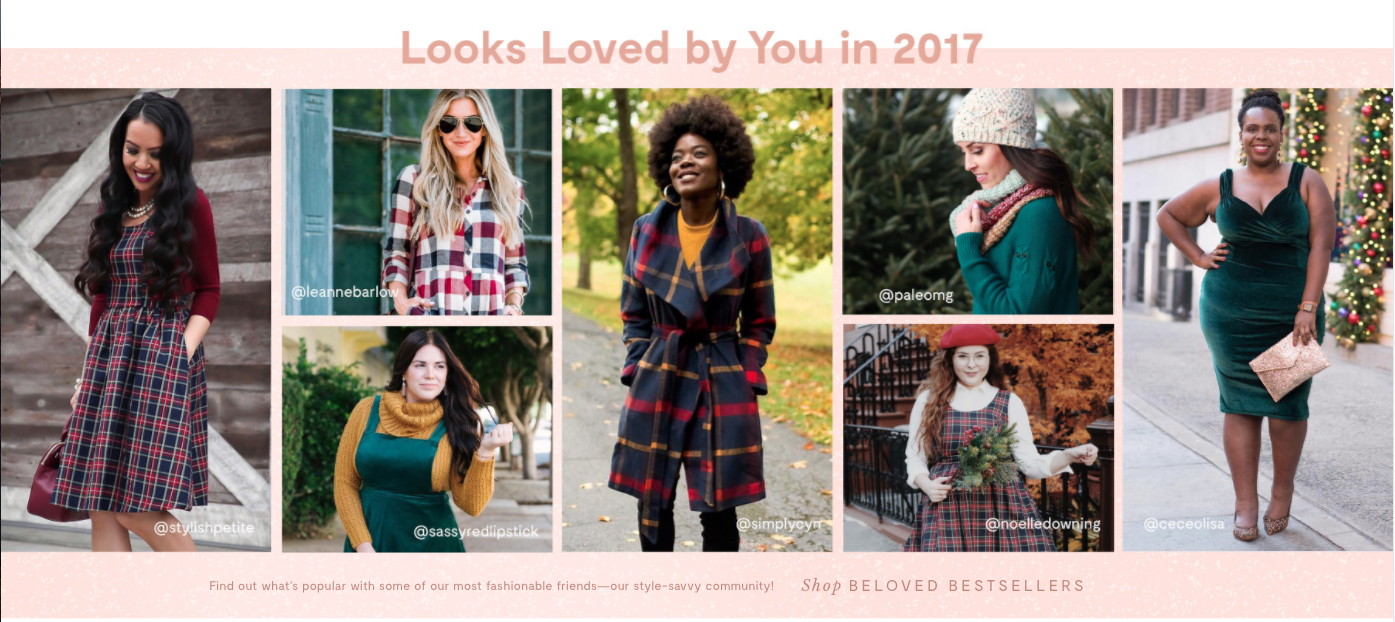 But What Have You Got for Me? – Personalization
Relevance to your customers is a key factor in engagement – and customer engagement with your brand means sales.
Relevance means you are able to deliver materials that satisfy a need. Personalization is a way to increase your relevance to a wider variety of customers. As customers get more difficult to engage with, being constantly bombarded by marketing throughout all aspects of our lives, personalization is going to become even more important to get the attention of your customers in 2018.
Magento 2 comes with several features right out of the box to help you create a personalized experience for your customers including the creation of customer groups and utilization of the up-sell, cross-sell, and product recommendation options. There are also a number of third-party services, such as Emarsys, that integrate directly with Magento to help merchants create personalized experiences for your customers across multiple platforms.
Amazon regularly sends emails with product recommendations based on your search history: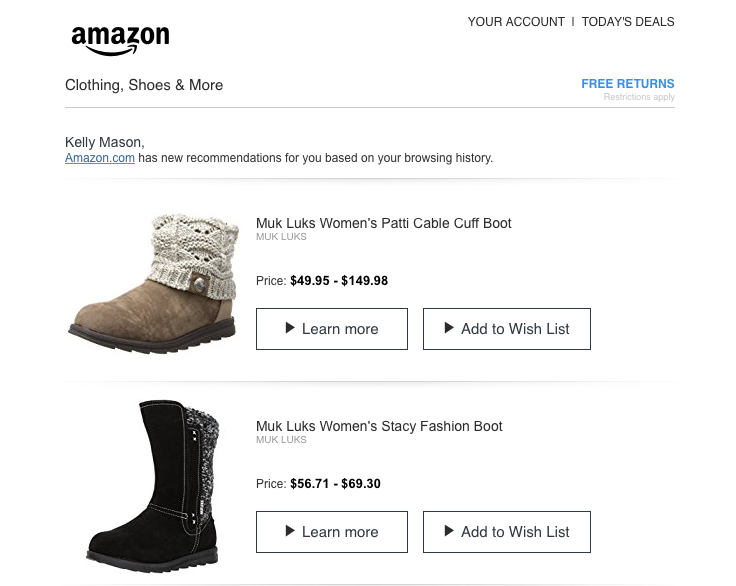 The Rise of the Robot – Chatbots
Customers now expect instant answers when they have questions.
This "I want it now" mentality is only likely to grow in the coming year. Oftentimes businesses don't have the capacity to provide 24/7 support to their customers. In our instant gratification world, this can mean lost sales for you, as customers are less likely to wait several hours to get a response from you. This is where the use of chatbots comes in.
Putting a chatbot on your eCommerce website, or connecting a chatbot through popular messaging services allows you to have an outlet that facilitates 24-hour support for your customers. Questions can be answered instantly, rather than having to wait until your normal business hours. In 2018 we expect to see an increase in the use of messaging platforms such as WhatsApp, WeChat, Facebook Messenger, and Kik especially among millennials and the Gen Z populations.
Studies show that 45% of users prefer chatbots as their main mode of customer service. The artificial intelligence used to power chatbots is rapidly improving, having an available API to connect to the popular messaging services, and the costs for merchants to implement chat bots has become affordable for even smaller and midsize businesses.
1-800-Flowers is one company that uses a chatbot when you opt to contact them through Facebook Messenger: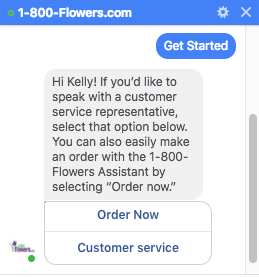 Eating with Your Eyes – Live Video for Social Media
Having a social media presence and knowing how to use it effectively has become a key piece of the marketing mix for eCommerce businesses. Social media technology is rapidly evolving and social media trends can come and go in the blink of an eye. Being able to stay on top of the emerging social media trends is a key tactic for reaching Millennials and Gen-Zer's.
A common saying among chefs is, "You eat with your eyes first".
This saying proves to be true across all industries now. Apps such as SnapChat and Instagram have huge appeal to these younger consumers who prefer to consume easily digestible visual content.
The use of live streaming video blew up in 2017, services like Facebook Live, Instagram Live Feeds, SnapChat, and YouTube became a huge new marketing tool. This trend is far from over, in fact, we expect to see an even wider usage of live streaming technology in 2018.
Live video streaming allows eCommerce businesses to share information, and interact with customers in a new way than ever before. Live video allows customers to essentially "eat with their eyes" first to entice them to take an action. Experts state, "Not using short videos is not an option." We expect that video will become a regular part of most content calendars in the coming year.
Clothing retailer Kohl's partnered with fitness brand Tone It Up to provide live workout videos to promote their athletic wear:
Photo Shopping with Visual Search
Having effective search functionality on your eCommerce store is massively important for your overall customer experience.
Image search has been around for a while, Google acquired the technology 2010, and online retailer Zappos has had the feature since 2009. Due to a recent improvement in the AI technology that allows image search to function more and more retailers are jumping on the bandwagon.
Visual search essentially allows customers to take a photo of an object and then use that as their search query. The technology reads an image by reading the color, shape, size, proportion, and any text in the image to complete the search query. In theory, the customer can snap a picture of anything on their phone and then search for it to buy. Many large retailers have adopted this technology on their mobile apps including JC Penney, Urban Outfitters, Home Depot, Nordstrom, and more.
In October of this year, eBay launched their image search feature allowing customers to use an image to search the (on average) 1.1 billion listings on eBay. With such a massive retailer adopting this feature and improvements to the AI, we are seeing a renewed interest in the technology and expect to see many more retailers adopting this feature in 2018.
Hey! – Voice Assistants for Shopping
Voice shopping is still in the early stages.
However, with an increasing adoption of digital assistant devices like the Amazon Alexa and Google Home, voice shopping is becoming a trend. Consumers are getting more and more comfortable with the use of voice assistants for music, movies, and weather – shopping is the natural progression of this technology.
Walmart's CEO predicts that voice shopping will become as common as talking with an assistant in a store. Currently, studies show that two out of five adults use voice search daily, and 42% say that voice-activated devices have become essential to their lives.
Merchants should consider optimizing their products for voice search for 2018, or expect to fall behind competitors that are already voice search optimized. There are many SEO tasks you can do to help optimize your business and products for voice search. For example, many people use voice assistants to search for things the way they naturally speak. Start formulating what natural questions might bring people to your site and begin optimizing for those long tailed keywords. Want to beef up your SEO strategy for 2018? Connect with a member of our digital marketing team today.
I Want It Now – Delivery Times
Consumers expect their online purchases to arrive faster than ever.
Amazon revolutionized eCommerce shipping, first with its 2-day Prime shipping service and then as it began rolling out free same-day delivery in select cities.
In our "I want it now," instant gratification culture, the market for one-day and same-day delivery is taking off. 19% of buyers said that same-day delivery is important and 4% have considered abandoning their cart if they item they were hoping to purchase didn't have same-day delivery.
As customers continue to make more purchases online, the need to be able to deliver those items faster will only grow in 2018.
Here's to 2018
2018 looks to be the biggest year yet for eCommerce, with sales expected to reach 653 billion dollars. Staying ahead of the trends will keep you ahead in sales for the coming year.
Need help optimizing your Magento eCommerce store to have your biggest year yet? Connect with a member of our strategy team and start reaching your eCommerce goals.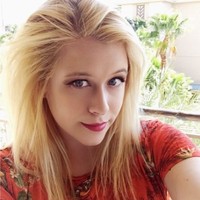 About Kelly Mason
Kelly is a Marketing Assistant at Customer Paradigm. She loves creating engaging and educational content and connecting with the community through social media. Outside of the office, she can be found eating her way through Colorado one brunch at a time and hiking in Rocky Mountain National Park.