In June 2017 Magento announced a rebranding of its product suite. This rebranding included renaming and reconfiguring of the three primary Magento platforms. Magento Community Edition, is now Magento Open Source. Magento Enterprise and Magento Cloud Edition have now merged to become Magento Commerce.
While fundamentally the same at the code base level, Magento Commerce comes with a more robust set of features out of the box than Magento Open Source. We created this graphic to make it simple to understand the differences between the two versions.
Magento Commerce vs. Magento Open Source – Infographic

Magento Open Source
This is the free version of Magento and aims to meet the basic needs of eCommerce merchants.
Magento Open Source remains true to its former Magento Community roots. While you can achieve much of the same functionality on Magento Open Source as you can on Magento Commerce, you will often need to install additional extensions and sometimes some custom development. It is important to consider what functionality you will need during the planning phase of your site.
Magento Commerce
Magento Commerce marks the merger of the former Magento Enterprise Edition and Magento Cloud Edition.
Magento Commerce provides enterprise-level features right out of the box. There are two monthly pricing tiers for Magento Commerce: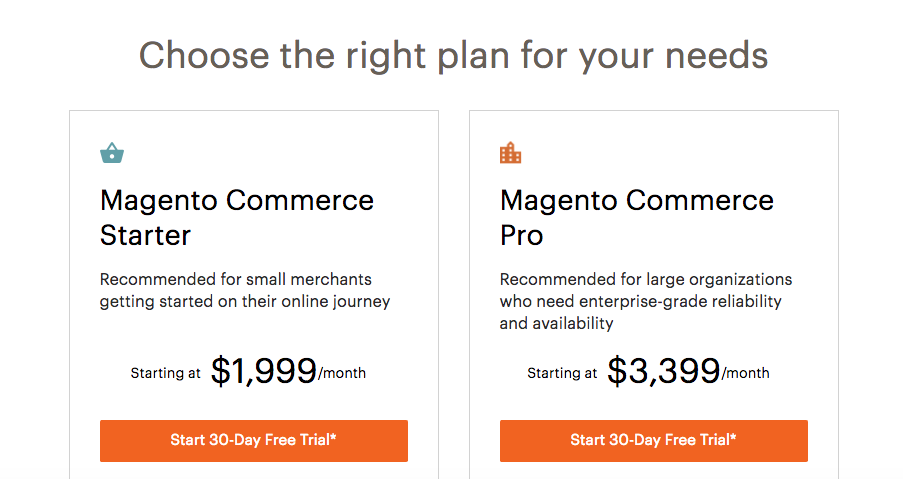 The Magento Commerce starter plan offers all of the features previously offered on Magento Enterprise Edition, plus deployment assistance, 24x7 email support, and cloud hosting.
The Magento Commerce Pro plan includes a few more features that larger businesses need to run smoothly, including all of the features previously available on Magento Enterprise Edition, plus deployment assistance, 24x7 email support, cloud hosting, dedicated hardware, dedicated launch manager, high availability infrastructure, and Magento Business Intelligence for no extra monthly charge.
Key Features Exclusive to Magento Commerce
There are several features only available on the Magento Commerce platform. They come with Magento Commerce right out of the box and don't require extensions or custom development.
Cloud Hosting
Both price tiers of Magento Commerce come with cloud hosting included. This provides your Magento store with a reliable AWS based hosting environment designed to support a Magento store. This hosting solution is scalable, and backed by a high-speed CDN, and performance management tools.
Rewards Points
Rewards points are a key part of creating a successful loyalty program. Magento Commerce provides a rewards points system that makes it easy to integrate into your overall program and Magento store straight from your Magento admin.
Gift Registries & Wish Lists
Magento Commerce allows your customers to create customizable, searchable gift registries and wish lists.
Segmentation and Targeted Promotion
Magento Commerce comes with features to help you create personalized shopping experiences for your customers. These features allow you to display dynamically generated content, promotions, and pricing to specific customers. There is also the ability to segment your customers based on a variety of options such as: location, gender, order history, wish list items, previous purchase amounts, and more. You are also able to target unregistered customers based on products they have viewed or put into a cart.
Visual Merchandiser
The visual merchandiser allows you to optimize your product category pages with ease. It provides a simple drag and drop interface and sorting rules to help you organize your category pages by variables such as: best selling products, colors, newest products, and more. You can also set rules to automatically assign products to specific categories based on their product attributes.
B2B Functionality
For those running B2B businesses, Magento Commerce now comes with B2B features built in. Previously implementing B2B business features had to be accomplished through extensions and custom development. Magento Commerce now provides crucial B2B features such as: the ability to create company accounts, set up multiple buyers, define specific roles, create custom catalogs and price lists to suit different contract terms, different payment options, order forms, requisitions, and a streamlined system for customers to request quotes.
Instant Purchase
Magento 2's instant purchase feature is the first of its kind to be seen outside of Amazon – who previously was the only platform with one-click purchase functionality. Instant purchase allows customers who are registered on your Magento store to use previously stored credentials to skip the checkout process and make purchases instantly.
Elasticsearch
Elasticsearch allows your Magento 2 store to handle search queries through large catalogs with ease. Elastic search offers your customer's suggestions, corrections to misspellings, support for attribute weighing, stop words, and synonym management to increase relevancy and help customers find what they are looking for quickly.
Technical Support
With Magento Commerce, you receive 24x7 support to help you resolve questions and technical issues. You will have a dedicated account manager that can help point you to valuable resources and make the most of your Magento 2 system.
Content Staging
Content staging features allow you to create, preview and schedule a range of content updates. You can easily optimize the timing of content updates on your Magento 2 store to create a seamless customer experience. All updates are managed through a timeline dashboard and can be automatically deployed.
Magento 2 Development Made Easy
Still not sure if Magento Commerce or Magento Open Source is right for your business? Talk with one of our Magento experts today and get started with your Magento development plan. Our Magento experts can help you determine the right fit for your business and help you start reaching your eCommerce goals.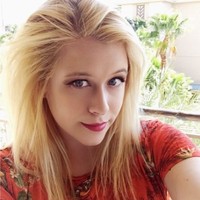 About Kelly Mason
Kelly is a Marketing Assistant at Customer Paradigm. She loves creating engaging and educational content and connecting with the community through social media. Outside of the office, she can be found eating her way through Colorado one brunch at a time and hiking in Rocky Mountain National Park.