By Scott Belford, Internet Marketing Director
Today (Wednesday, May 16th, Google has rolled out the first version it's Knowledge Graph. The Knowledge Graph enables Google users to search for things, people or places that Google "knows" about and instantly get relevant information in a "knowledge panel" in the upper right corner of their search result page. The contents of the knowledge panel varies for a given search query (and right now it only shows up for select search queries), but the purpose is to allow users to further refine their search results based on the intent of their query. A search for the word "buffalo" for instance, a yields a result that looks like this: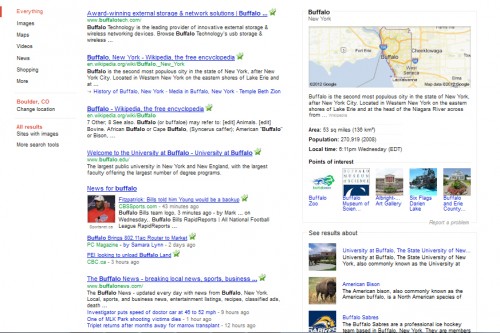 There's a big "knowledge panel" on the right with a Google map of the city of Buffalo, NY, and some information and statistics about the city that Google has pulled from Wikipedia, and some links to points of interest. Note that the points of interest urls do not link to any web page, but another set up search results (with a corresponding "knowledge panel" that are relevant to the particular point of interest that you've selected. Below are some are other links to searches representing potential search intents that Google has anticipated it's users may have when they type "buffalo" into their search bar, including "American Bison," the "University of Buffalo," and the "Buffalo Sabres" professional hockey team. Clicking on each option yields a new page of search results relevant to the particular category. Here is what I see if I click on "Buffalo Sabres," for instance:
My search results have all changed to results that I would get from a search for "Buffalo Sabres," and the knowledge panel on the right now has some information about the team, and links to search results for the city, coach, and a drop down menu showing search results for each player on the roster!
How is Google able to do this? Google boasts that it has compiled over 3.5 billion facts about the relationship with over 500 million objects. According to Amit Singhal, head of Google's search department, Google is able to match each object in its database with the most searched-after associated facts. So for a search for "buffalo," Google is able to anticipate a set of associations (American Bison, the City of Buffalo, the Sabres hockey team) that are based statistics and information that it's compiled from millions of individual searches.
There will be much more on this topic. According to Singhal, Google has just scratched the surface of the complete implementation of Knowledge Graph. Right now, for instance, the Knowledge Graph based results are heavy on informational content but lacks actionable content (many users who search Buffalo Sabres, for instance, may be most interested in getting tickets to the next Buffalo Sabres game, and this information doesn't seem to be included in the "knowledge panel" results), and it is not clear how and why Google selects the pages from which is culls images and content snippets for the "knowledge panels." We will continue to follow this latest update from Google.
Customer Paradigm is a full service interactive agency specializing in search engine optimization, internet advertising, and website development for ecommerce. For more information, visit customerparadigm.com or contact us to speak to a real person now.