In a previous article, we talked about why blogging has value and how to get started with blogging for your eCommerce business – we know that blogging is a great low-cost strategy to drive traffic and sales to your store.
So you're all set to sit down and start writing, but you don't know what to write about. Don't worry you're not alone.
Here are 14 blog topic ideas for any eCommerce store to help you get started your next article…
1) Staff Picks and Favorites
Posts highlighting staff picks, favorites, or recommendations from your catalog is a great way to introduce and highlight members of your staff while at the same time providing recommendations to customers. Featuring staff picks is a good way to humanize your brand by letting customers know that there are real people behind your business.
This is often a tactic seen employed at bookstores – both online in company blogs and in brick and mortar locations. For example, Powell books has many staff picks listed on their blog, and you can search by subject or staff member: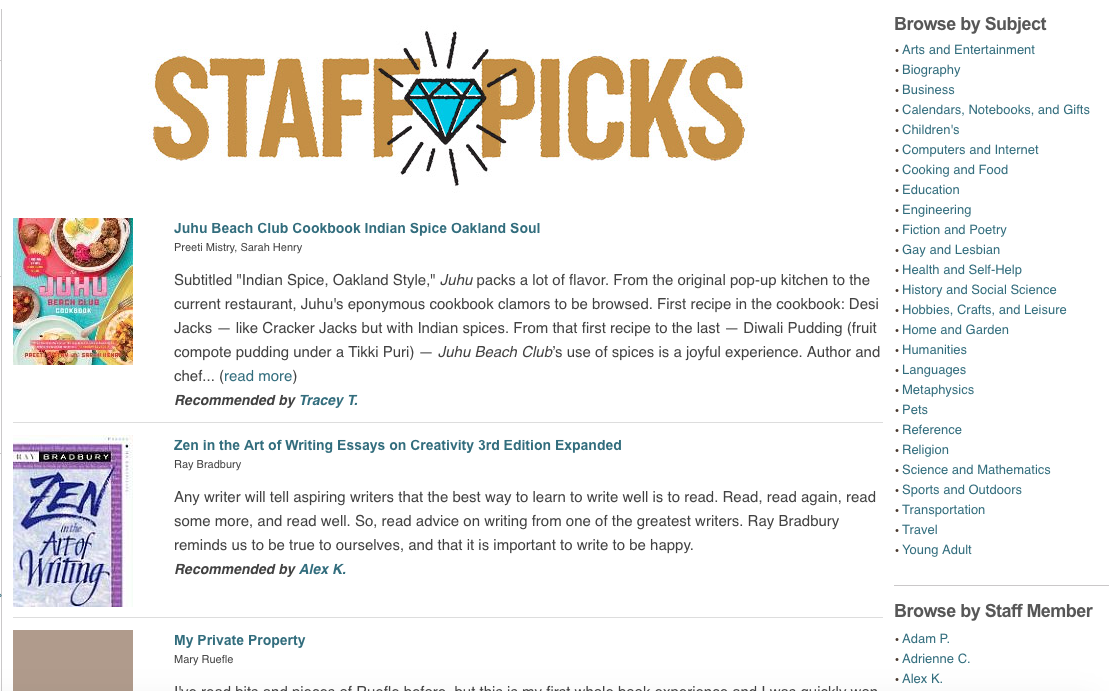 2) Gift Guides
We've talked about creating gift guides as a tool to help your customers during the holiday season, however gift guides can be created all year for any event or holiday.
Gift guides are a great way to remind your customers that an occasion is coming up and your products would make a perfect gift. Gift guides are a useful content type because not only will they be picked up in the organic search results for people searching for gift ideas, but they are also highly shareable since they are typically very visual. You should aim to include a variety of products at different prices from your store.
For example, online clothing retailer ModCloth has put together a gift guide for animal lovers on their blog and links to various products in their store that animal lovers might enjoy: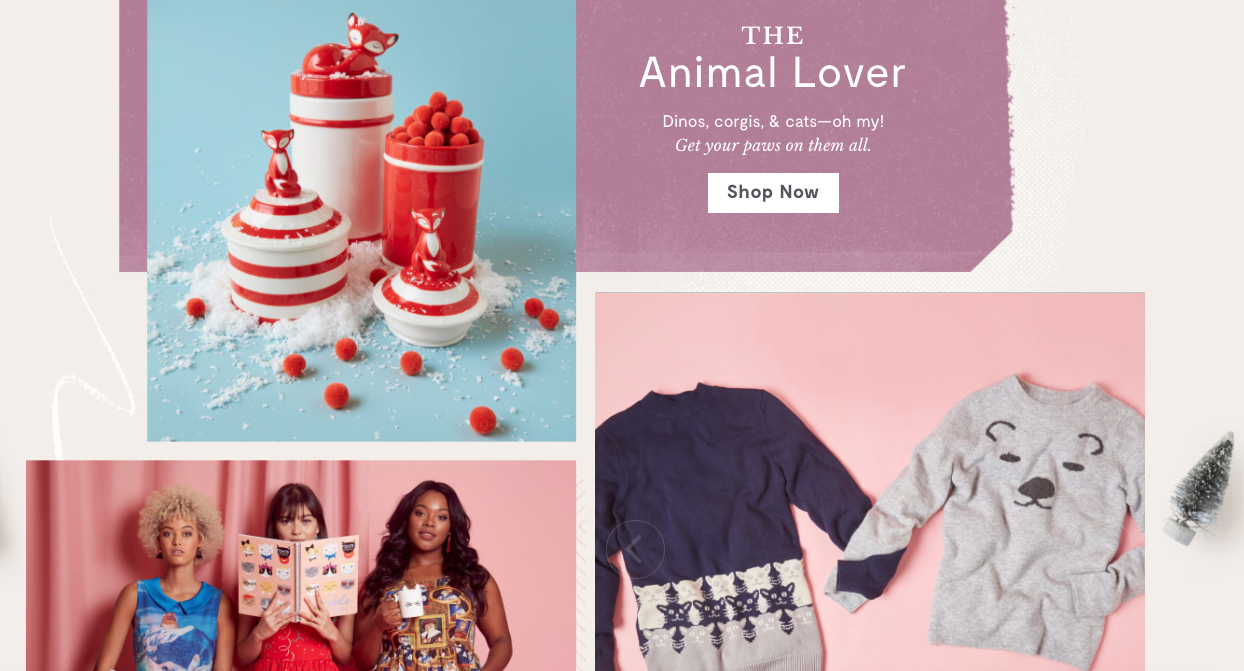 3) Industry Trends
Every single industry has trends that change over time, although some industries change faster than others. This is a topic that can be used over and over again as trends come and go. If you attend trade shows or other industry events you might even be able to spot trends ahead of time, giving you the ability to bring new information to your customers first.
For instance, online jeweler Brilliant Earth often creates articles about the latest trends in engagement rings: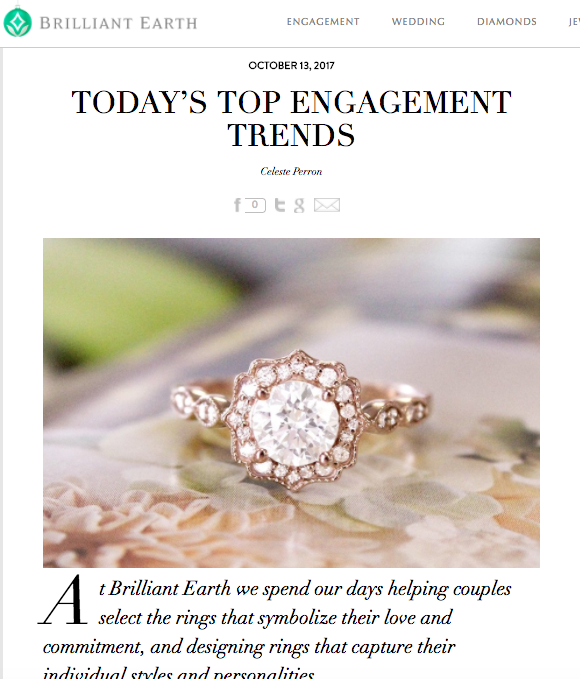 4) How-To's (Tutorials)
People want to know how to do things – show them! How-to posts (also known as tutorials) are a way to provide your customers with a valuable resource and also shows off your expertise while still promoting your brand or product.
While we aren't an eCommerce merchant, here at Customer Paradigm we create a lot of how-to posts to educate our community and our clients how to achieve different things on the Magento platform. (Check out our Magento tutorials!)
Nearly every industry will have something you can teach your customers surrounding your products – for example, craft supply store Michaels has a number of different how-to tutorials for craft projects using items from their store: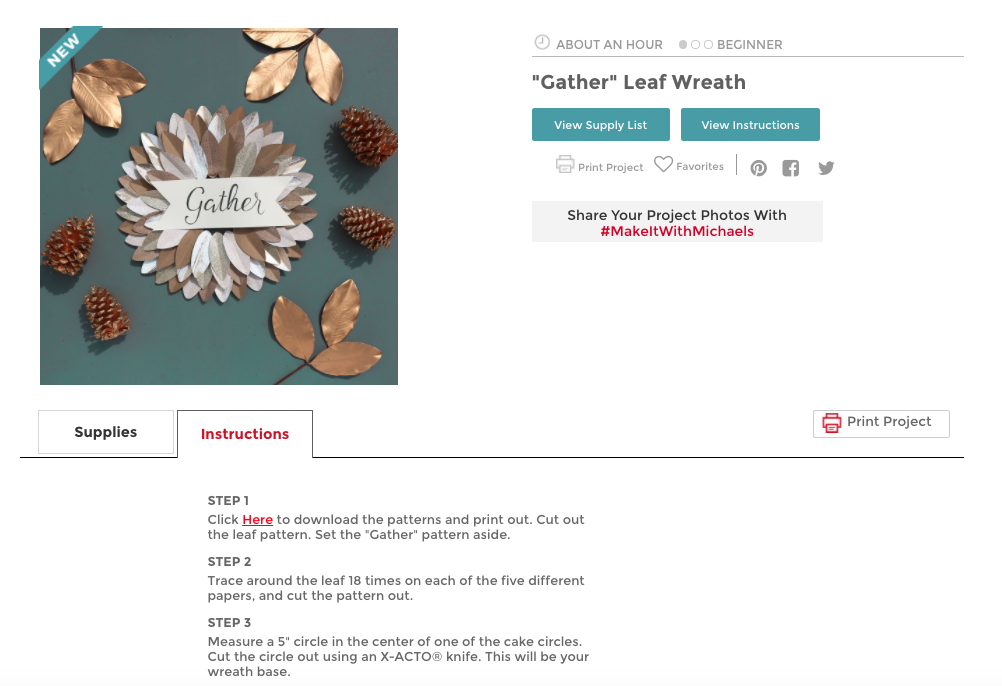 5) Answer a Question
Chances are your customers have questions. Answering commonly asked questions in your blog articles is an easy way to help solve a problem your customer is having with products in your store.
For instance, outdoor goods retailer REI regularly answers questions on their blog to help guide people in finding the gear that is right for them. This post aims to answer how much a hiking pack should weigh, and outlines all the different things you need to take into consideration when determining pack weight: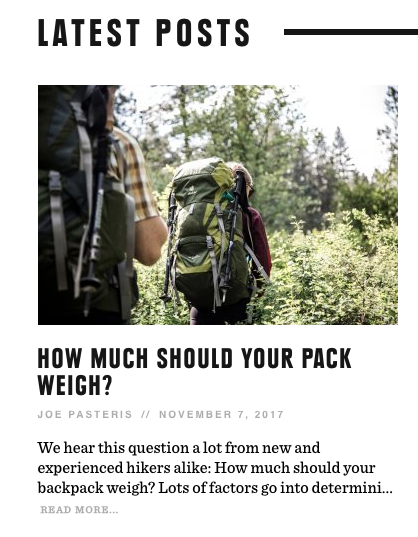 6) Feature a Product
Writing an article that highlights a product in your store can be used in a variety of ways. You could write an article to tell your customers about a new product, a best-selling product, or a little-known product that you want to bring more awareness to and more.
Articles that highlight products will help your customers know more details about that item when they are in the research phase of buying. Things you might want to consider including when highlighting a product are: how to style the product, how to use the product, additional product photos, customer reviews, where the product was sourced, and more. This is your chance to provide a wider variety of information on a product than might be appropriate for your product pages.
Kremp Florist (a Customer Paradigm client!) regularly uses their blog to showcase different types of flowers and themed arrangements they have in their inventory: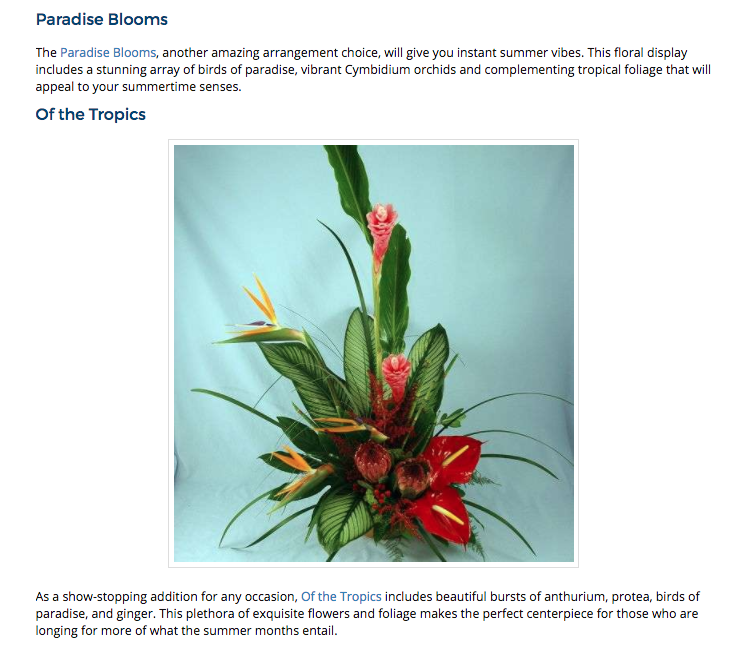 7) Teasers
Want to build hype around a new product coming to your store? Utilize your blog as a way to let your customer's know what is coming soon and provide teasers to wet their appetite.
For example, boutique soap and perfume store Haus of Gloi often posts teaser articles to let customer's know when new products will be going live: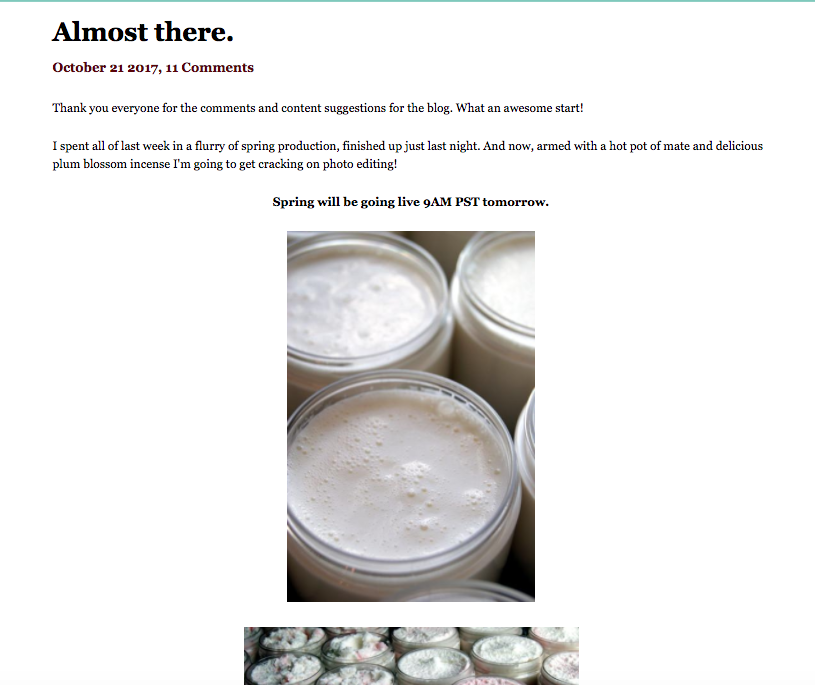 8) Interview an Expert or Influencer
Many purchasing decisions are influenced based on someone else's review of a product or brand. The weight of this influence is even heavier if the opinion is coming from someone famous or that we feel is an expert in a specific area.
Getting an expert to share information and their opinion through an interview on your blog is not only entertaining content for your customers but also extremely useful.
Beauty-focused magazine and beauty-box retailer Allure often uses celebrity interviews to promote their brand and products in their beauty-boxes: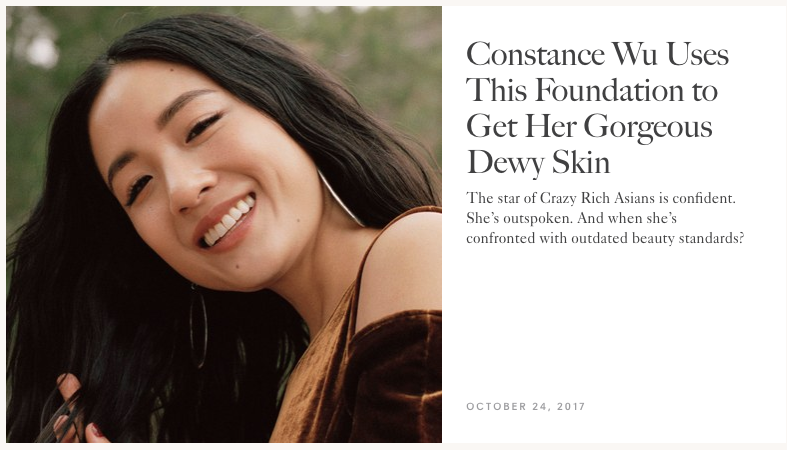 9) Round-Up
Round Up's are a popular type of blog post in many niches since they are a way to provide brand relevant, useful content to your customers and position your company to be seen as a valuable resource.
For example, the Sur La Table blog rounds up five of their current inspirations in the food world for August, providing a brief description of the person, what they do, and a link to their website: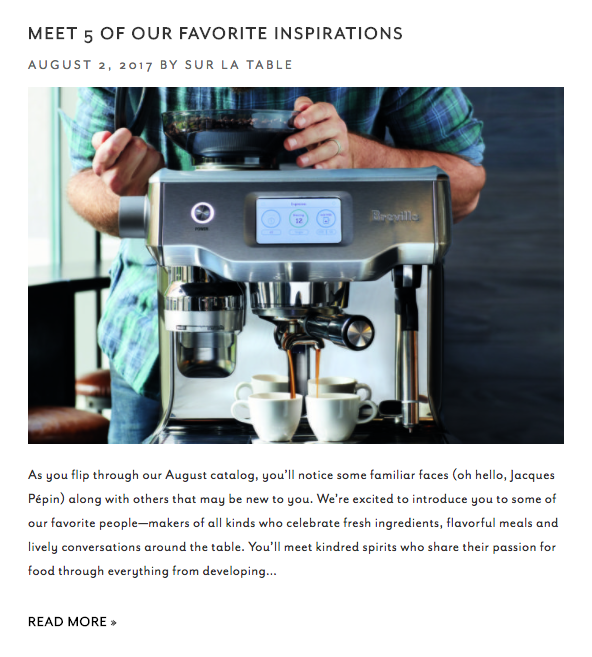 10) News
Customers are interested in knowing what is going on with your company. Blog posts on any company news such as upcoming sales, events, new locations, updates to your rewards programs, new customer service features and more don't have to be long and they keep your customer's in the loop and connected with your brand.
Cosmetics company Urban Decay uses their blog to talk about new collaborations: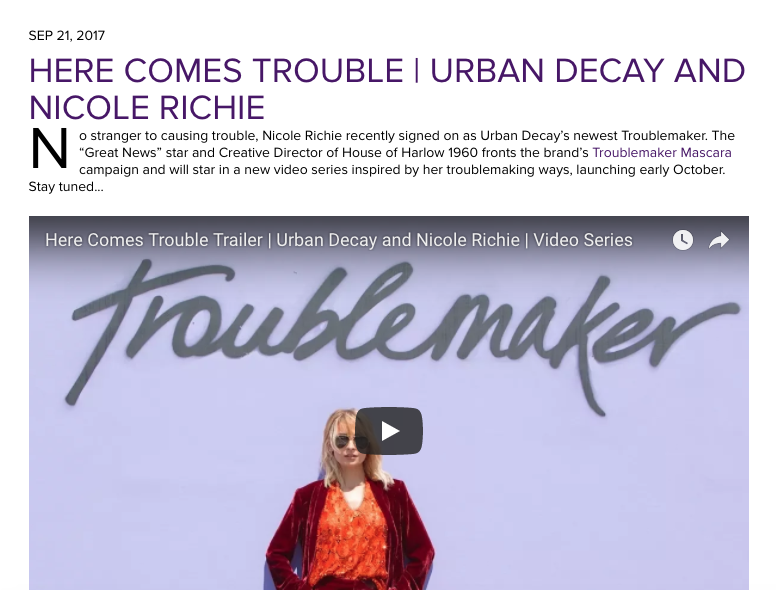 11) Feature Customer and Fan Made Content
Customers will often show off products they have purchased from your store on social media, in videos, and in reviews. Keep an eye out for content with your products or brand out there so that you can feature this content in your posts – you might want to start with searching hashtags related to your brand on social media platforms to identify who has posted about your products. Utilizing customer-created content is a great way to thank your customers and increase loyalty.
User created content can come in many shapes and forms and what content your customers put out there will be different for every company, for example, REI features customers in different "Member Portraits":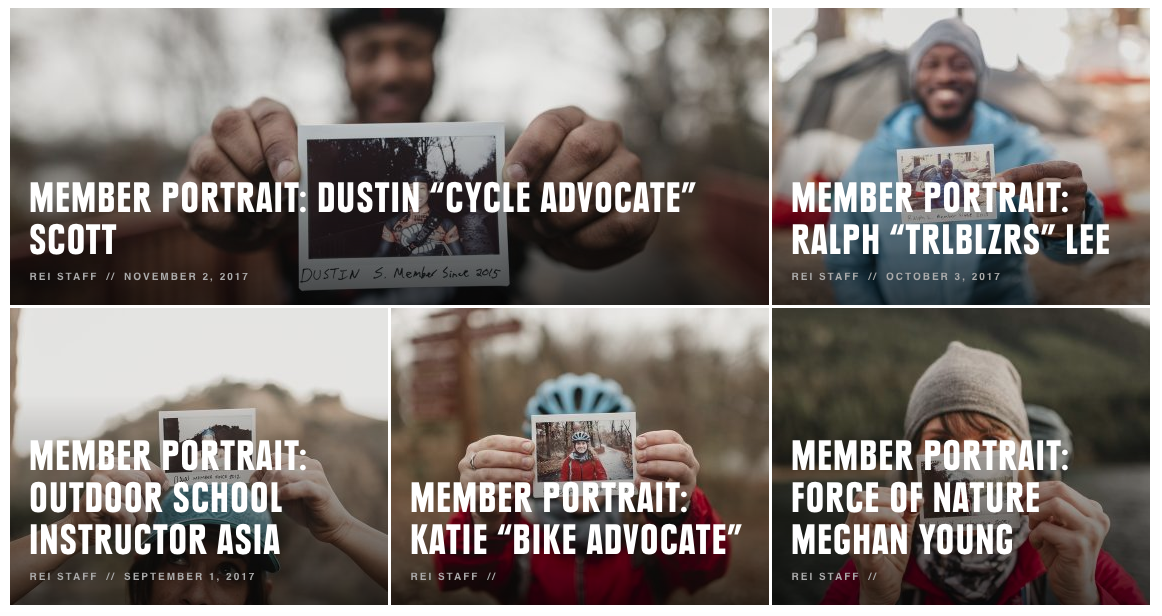 Beauty company Benefit Cosmetics features different fans showing off how they use Benefit products: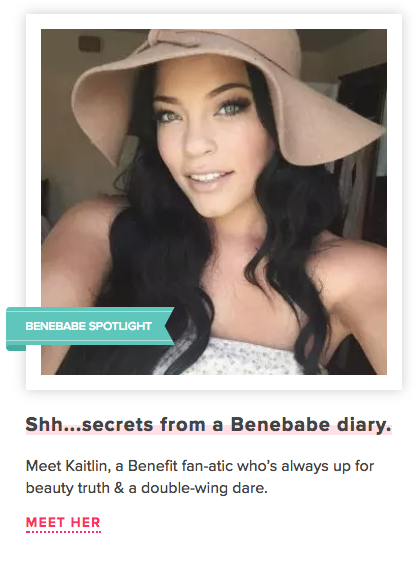 12) Lists
You're reading a list post right now! People love content that they can scan and digest quickly, and list posts fit this bill. You can make lists of nearly anything – and list posts are some of the most popular content online.
Our attention is drawn to subjects like "Top 10 Coffee Makers" or "5 Desserts to Dazzle Your Holiday Guests" because it is human nature to want to know what the best, top, hottest, and trendiest things are, and lists present that to readers in an organized way.
List posts can be used in nearly any industry – Mahabis is a company that makes slippers and focuses their brand on relaxation, simple pleasures, and being comfortable. They utilize many lifestyle type lists on their that relate their brand image, such as this post that gives a list of the four best places to relax: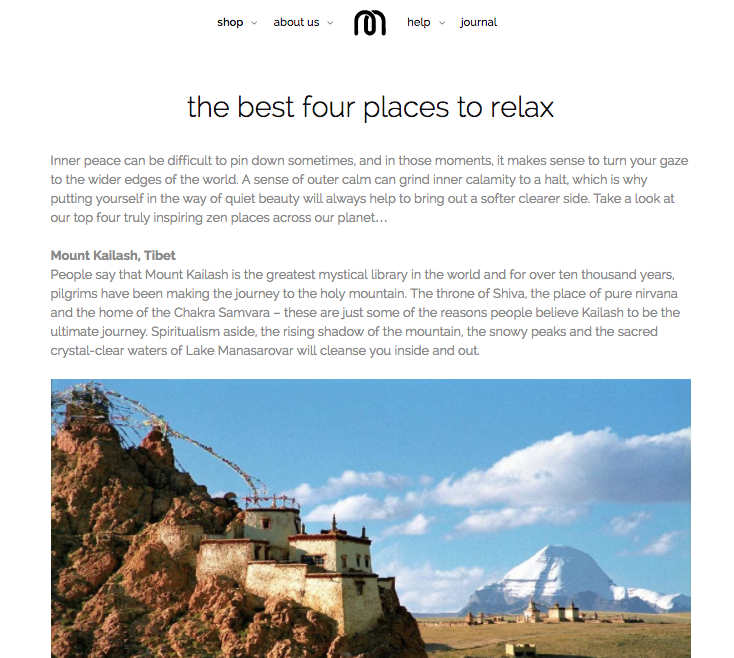 13) Company Culture
Posts surrounding your company culture are simple to create – you just have to look to events that your company has participated in recently. Posts about your company culture are a way to promote your vision, mission, company stories, and charitable causes you support. People want to associate the brands they like with having a human element to them and posts showing off your company culture are a great way to do this.
For example, beauty subscription service Birchbox posts about charitable events their company participates in, often including videos and photos in the post: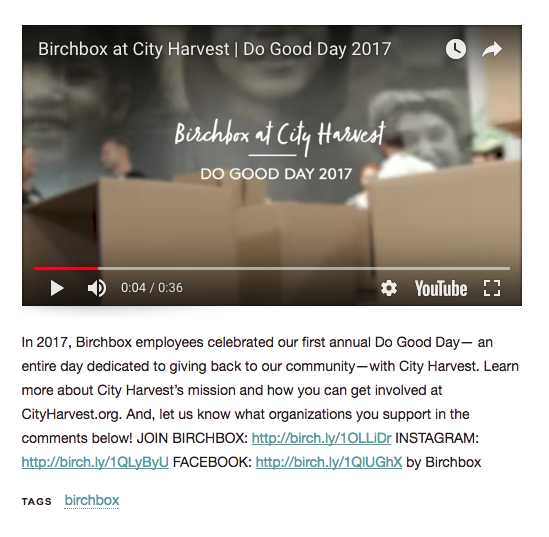 14) Seasonal Content
Every season brings with it different opportunities for seasonal content, each season sees a spike in related seasonal searches. Think about how your customers and products may relate to different seasons. Providing content that can serve as a resource for your customers is a great marketing tool around the holidays.
Cosmetics company Urban Decay used their blog to show off some Halloween looks this October using different makeup products from their collections: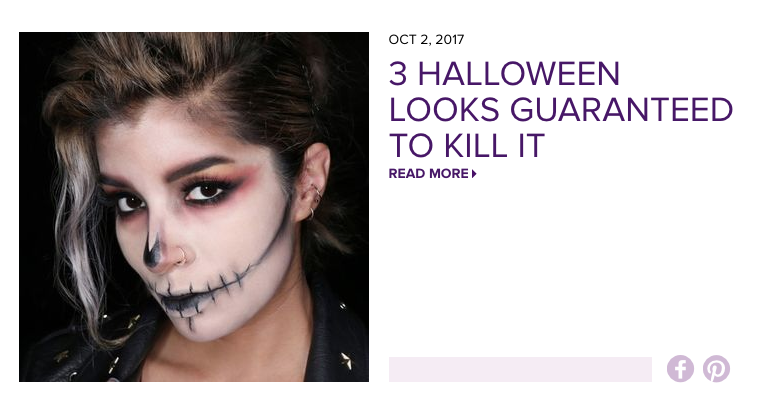 Closing Thoughts
Blogging is for everyone; content creation is the cornerstone of many SEO strategies and important for engaging customers with your brand. Your company blog can be a great asset for educating customers and bringing in new sales.
Do you need help getting a blog set up or with content creation for your eCommerce store? Connect with a member of our strategy team today via email, our new live chat features (check out that orange circle in the bottom right of your page!) or call 303.473.4400 to discuss how we can help you reach your eCommerce goals.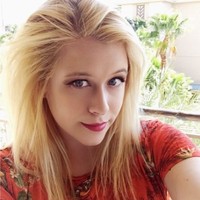 About Kelly Mason
Kelly is a Marketing Assistant at Customer Paradigm. She loves creating engaging and educational content and connecting with the community through social media. Outside of the office, she can be found eating her way through Colorado one brunch at a time and hiking in Rocky Mountain National Park.