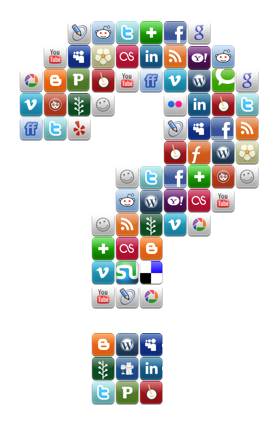 If you keep hearing that your website needs social media plugins, then the next question is, "which ones?" With so many social media channels it is difficult to know if you need to be on all of them or just the big ones? And, most importantly what does this plugin tell me where Google Analytics fails to cover? We will go over all these questions and the solution I have found so far.
Value of Social Sharing on Magento
Being a social media enthusiast I believe that people aren't solely on their personal profiles to watch their personal profiles grow, but they are truly there to see what is going on involving their interests and friends. Saying this, I believe the biggest mistake any business owner makes is disregarding the influence of social sharing simply because they do not understand the relation to their store and more importantly conversions. I hope that after reading this article you will re-consider your business approach to social sharing and profitability.
First, the most important reason for sharing, is that the recommendation of friends in your network tilt the tables drastically on whether or not you are more inclined to buy the product. According to Ragan.com 75% of people don't believe that ads tell the truth about their products and around 70 percent of people are more likely to buy a product if a friend has referred it to them. Unless your product is so revolutionary or perfectly fits the need of an individual it is rare that a user will work to post your product. But, if you make it a simple push of a button, it is much more likely your product will be shared.
Make It Easy For Users to Share Your Content With Social Plug-Ins
The second reason, with every individual who is engaged with your product whether sharing, liking or even referring, your product is able to be viewed by their entire social network. Talk about a pyramid of influence!
Think of Shares As Conversions for Media Reach
How Google Analytics Tracks Social Media
Google Analytics offers you the full flexibility to view your engagement through social media channels.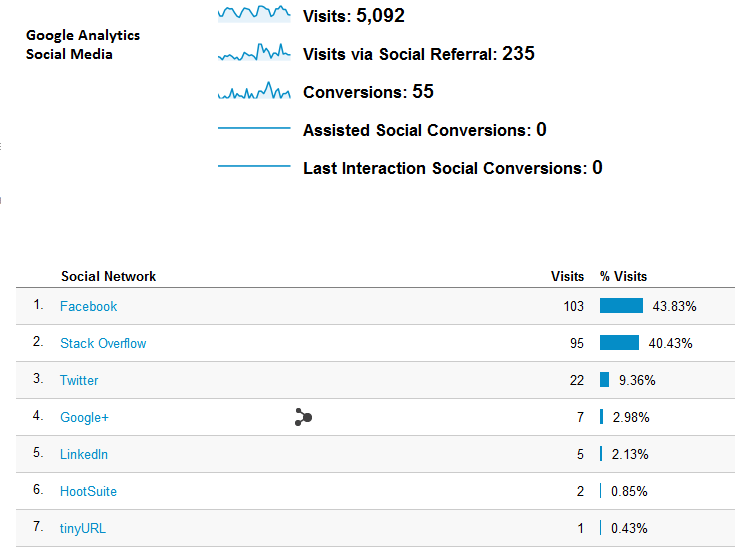 From this graph I am able to see how many visits I have received via a Social Media channel. I am also able to see a deeper breakdown of how many clicks are coming from what specific channels. This is a great way to discover which channels are driving the most traffic to your website.
You are also able to view the amount of conversions that come from social sharing, and the conversion value if your Google Conversion Tracking is set up correctly. This allows you to see the dollar amount in sales you have made directly from a user entering through a social media channel. This is very useful information if you are running a social media campaign and want to prove the profitability to a business.
If you are interested in learning more about setting up conversion tracking for your eCommerce store, pick up the phone and call Customer Paradigm today at 303.473.4400 to talk to a real person today.
How AddShoppers for Magento Tracks Social Media
 Add Shoppers is my favorite Social Media Tracking Extension for Magento.
Here is why, Add Shoppers takes basic information and gives you the pieces that really matter. It is great to have a large Facebook group and Twitter followers, but what if you were able to scale down

the mass of your Facebook followers and find the top 10 most profitable customers?
Once you have found those top 10 customers, what if you could market directly to them knowing they are more likely to share and recommend? What if you knew they would be fifty-percent more likely to convert? Would that be worth targeting?
With AddShoppers Magento Extension this information becomes readily available to you. With ROI tracking that is profitable for your business model I have yet to find another extension which gives you the same level of detail.
Three levels to track Social Media ROI on:
Single product level or SKU
Influencer level of a single customers
Store wide level
Not only are you now able to see how people are getting to your site, but you are able to view the other side how your products are being shared. You can now view a specific product and see how it has been shared via the social media streams. You can feature your most Pinned products or shared products on your screen. With this Conversion tracking you are able to view which social networks drive sales per product.
My favorite addition which shows to me that AddShoppers really understands the influence of Social Media on Magento eCommerce is their pre-purchase rewards application. This application gives shoppers and incentive to join your social channels by offering small incentives such as 2% of your next purchase. You have the ability to set different rewards based on different channels, through this users gain an incentive to join all of your social channels.
This can be a hard concept for many business owners to get behind because it seems like you are throwing away money to get one more like on your Facebook page, or one more Twitter follower. In reality, you are essentially paying for a targeted customer base. People that have an intent to buy will like your page in order to receive 2% off.
I hope I have cleared some confusion about the importance of having social media channels on your Magento website. I am so happy that I have found AddShoppers, if you are interested in getting this extension for your Magento eCommerce site call Customer Paradigm today at 303.473.4400 to talk about how you can add more shoppers to your social media streams! Or fill out the contact form below!