eLearning Series
A quick update to last week's Web marketing tip about publishing your book as an eBook. One of the books, 12 Strategies for Search Engine Optimization, is now available on Apple's iTunes bookstore! This comes on the tail of Amazon's big new press release that says Amazon is now selling 80% more eBooks than hardcover books. (LA Times Article). How did I get my free eBook into iTunes?
Acquisition Marketing Strategy:Update: Publish Your Content As An eBook
Last Week, I created two eBooks. This week, they are available to the more than 3 million iPad users through the Apple bookstore. The really good news: there are very few free business books, and people are hungry for content. After publishing it last week (see the previous issue if you missed the whole story), I opted-in to have the book published with Apple. And more than 250 people have downloaded it so far, too. Here's how it looks when you open it up to a page in the iPad book reading app. I selected a page that has a couple of images embedded into the text: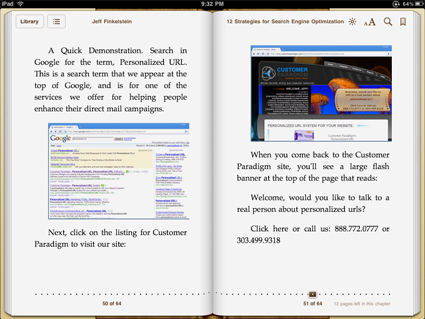 iTunes – Book Search If you open up the book store on your iPad, and search for "12 Strategies," the book will appear: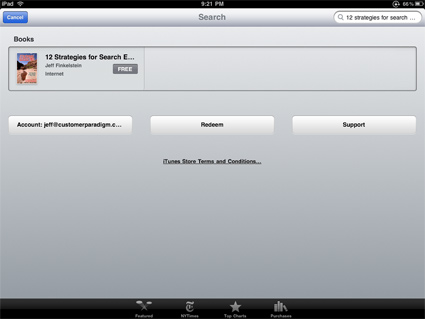 Clicking on the book gives more information about it: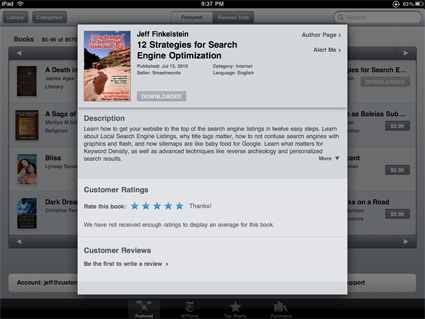 Download the two books:
Book Reviews Help This book has now been reviewed by two people… and this helps quite a bit in the search results and perceived relevance of the book:
Review by: Robert A. Boyd on Jul. 13, 2010: 





This article gave me a compact and concise outline of how search engines work, and how to take advantage of their features. It is clear that the author knows his stuff, and is willing to share it freely. As a Smashwords author concerned with promoting my own works, this is just the sort of thing I need. I strongly recommend it.
Review by: Jim Stock on Jul. 19, 2010: 




Really Good Book with lots of Good information. Thanks.
Summary. People are hungry for free content. If you have something that's interesting and relevant, an eBook might be a great way to get in front of more people in a permission-based way. I hope you found this case study helpful – please let me know if you'd like help with your online marketing or eBook Publishing.