What does it take to get the number one page rank on Google?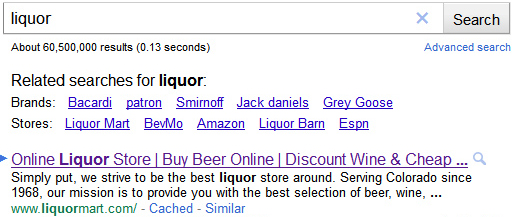 For the Online Liquor Store Liquor Mart it took a combination of knowing our clients' needs, understanding Google's algorithm for determining page rank, and keeping our practices sustainable. To begin, we listened to our client's needs and helped them obtain their goals without forcing them into ranking for keywords they did not need or want to rank for. By focusing on good, feasible keywords we helped our client obtain a highest ranking possible for the right keywords. Next we focused on improving the appearance and usability of the landing pages on the website. In order to really take advantage of a high Google Page Rank you really need a website that converts, so we optimized the Online Liquor Storefor that specific purpose. Recently "black hat" practices have been used by many companies to "trick" search engines into listing a website higher. However, in the long run these tricks back fire because Google and other search engines update their algorithms. We use best practices which don't try to "trick" the search engines into getting key terms to rank higher, such as:
Proper link building
Use of baseline analytics to determine best forms of traffic
Providing unique content
High Rankings – The Fruits of our Labors
By keeping our practices transparent and sharing all our work the client we get strong results in the long run. For Liquor Mart our techniques worked so well that we were able to get them incredibly high rankings for all their top keywords. Here are some of Liquor Mart's current Google Rankings:
Local Results: liquor store boulder – 1st beer store boulder – 1st wine store boulder – 2nd liquor boulder – 1st liquor delivery boulder – 1st beer delivery boulder – 1st wine delivery boulder – 3rd online liquor store boulder – 1st online liquor store Colorado – 1st buy liquor online boulder – 1st
Global results Liquor – 1st shop beer online – 1st online liquor store – 4th shop liquor online – 9th And of course Liquor Mart has seen a difference in traffic to their website. Check out the results below!
Visits from keywords since Jan 1:

Visits from the term "Online Liquor Store"

Visits from the term "Buy Beer Online"

If you would like to see results with your Search Marketing efforts feel free to Contact Us Now!