Confirmed: Facebook is Building a "Search Related" Tool
Oh how the opinions are coming out as Mark Zuckerberg founder of the social media platform Facebook brings his serious face to discuss the growth into a Facebook search engine. As he calmly boasts without even trying at Disrupt that, "we're [Facebook] basically doing 1 billion queries a day". For years it has been in the game plan but with the expansion of dealing with many other trends business takes time.
The Facebook evolution has grown so much. He has revealed to us that Facebook will be starting their own search entity. Currently there are search queries such as "where to eat Italian". He has admitted that the results are not worthwhile, but where there's a demand a business will supply.
What Do We Know About the Facebook Search Tool
Everyone is crawling over the new details based on what Mark Zuckerberg has said in relation to the new tool. What functionality will it hold? What will dictate the search results? Does it really have the power to compete with Google?
To be honest we all know very little about what functionality the tool will actually hold. But, we do know one thing that the search tool is being created and the questions which have sparked interest to spur the project have been in relation to businesses and friends.
"Where have my friends gone to get sushi in New York?"
For Users: From this, I assume that there will be a higher ranking for result within your friendship network.
For Businesses: Encouraging check-ins and ratings for your business will increase the likelihood for repeat customers or showing up higher in search results performed by friend networks.
"Do any of my friends work at X business?"
For Users: You may have a better chance of getting in contact with specific individuals that work at a location without having to go through the entire LinkedIn process of requesting people to be in your network or unable to message individuals without an upgraded account. You may also be able to research more about a business before you sign up. On a privacy note if you don't want to talk about work or be contacted for an internal opinion you may want to change your privacy settings for employment.
For Businesses: The businesses who have been skeptical about getting involved in social media and Facebook should deeply consider there involvement and employee moral. A disgruntled employee randomly contacted could be the difference between a great new employee which you have been aiming to get. LinkedIn should also consider their accessibility to connect with other users.
 Opinions: Will Facebook Search Engine Sink or Swim?
The first question for me is, "why now?" Is it because Zynga isn't doing well and I don't think will last much longer than another year? Currently Zynga is reported to be 11% of Facebook's income. Are they trying to create avenues of revenue through this grand search engine idea?
Undoubtedly, as Zuckerberg explains many times Facebook is well positioned to create a search engine.
1. Their tool starts out with billions of users
2. An already well established social network and there is no learning curve of their existing customer base on how to use the product.
3. Users are already tapped into individuals with opinions that they trust.
4. There has been proven marketability through Facebook.
You couldn't ask for a better starting point. But the question really comes down to, if they can succeed?
With the news of the new Facebook Search Engine coming out Greenlight Digital created a report asking individuals:
"Would you use Facebook Search Engine over your preferred search engine?"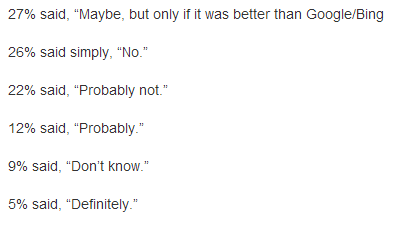 The Big Opinions..
The Google Enthusiast
"This whole idea is a joke.  Why would I want to use Facebook for search when I can use far larger and more comprehensive search engines like Google? I guess it depends on whether you're looking for accurate information or something your stoner friend clicked "Like" on a couple of years ago. Regarding the example given above for sushi restaurants, frankly I trust the comprehensiveness of Zagat reviews more than the limited experience of a friend visiting New York." -Yahoo User
"Man, when are you fools going to quit this, OH I THINK THEY CAN COMPETE WITH GOOGLE CRAP!, ZUCK talks alot , but maybe and truthfully , all of you will admit maybe, FB's focus should be services that actually make money…" -Anonymous
The Facebook Enthusiast
"Zuck is a pimp he will killlll the goog." -Facebook User
The Know-it-Alls
"Told you so 2 years ago!" – Facebook User
Your turn

What do you think about this Facebook Search Engine?

How will Google react?

Do you think Facebook can compete with Google?

If you enjoyed this article, please like our page: Facebook.com/Customerparadigm