Magento is one of the most popular online eCommerce platforms available and is rapidly becoming the industry standard. What makes Magento such a popular choice?
Free!

The Magento Community edition is completely free for anyone to use! Plus this free version is the same as the Professional edition (which runs at about $3,000/year), except it does not include support. Magento also features an Enterprise edition which allows for multi-site functionality, so you can have multiple stores on a single Magento installation.

Easy to manage.

Don't know HTML? Well luckily Magento comes with a WYSIWYG (What You See Is What You Get) editor for product/category descriptions. So even if you are completely unfamiliar with HTML you can still edit your product descriptions, ect from a simple interface similar to a regular word editor.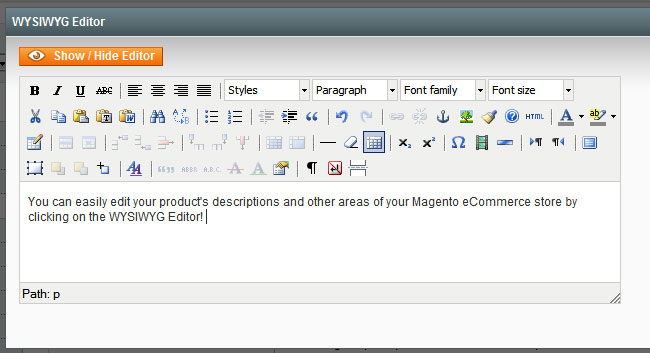 Magento's back-end admin interface allows people to manage their own store without having to know HTML or programming. So you'll never have to worry about paying someone else to make a quick edit or change to your website!
Pre-integrated with shipping and payment services.

Worried about how hard it's going to be to get your website running? Don't be Magneto has built in support for paypal and authorize.net, so you can start collecting payments and orders immediately! If your not using paypal or authorize.net there are free extensions for numerous other payment processors which are easy to install. Magento even comes pre-integrated with quotes for shipping using Fedex, USPS, UPS. So you'll never have to worry about under pricing your shipping and handling. Plus your customers will know they are getting the best price on shipping and handling!

Scalable.

Magento offers a very flexible database / file system, so when your business grows your website can too! Magento's database allows your store to load quickly even with a large number of products. So none of your customers will be left sitting waiting for pages to load, which we all know hurts conversions. In addition to having a fast database, Magento also allows you to import and export products. So if you'd like to feature products from another company (lets say a drop-ship company) you can easily import all the products, descriptions, ect without having to manually go in and enter the data which can be time consuming and costly.

Customer Service/Reporting

Magento comes with built in customer and order history, so your customer service representatives can easily look up an order and resolve any issues. You can also easily keep track of all your customers, market to them based on preferences, and add store credits to their account. Plus if you'd like to market to your customer using an outside method (let's say sending out a direct mail catalog) you can easily export your customers and all their information. Magento comes with easy to using reporting. Whether you want to know which of your products are best sellers or how much profit your store brought in last month, Magento makes it easy. You can even export any of the reports in Magento to a CSV or XML.

Transactional Emails.

Magento makes it easy to create transactional emails tailored to match your website's design. So you can deliver receipts, shipment confirmations and dozens of other types of transactional emails automatically to your customers. Plus you can set up specific store email addresses in the admin panel so your customer's can easily respond to the customer service email address.

SEO

Concerned about your Google page ranking? Magento give you the ability to create canonical URLS, edit Meta Tags and set page titles so you can increase your page rank with Google and be found easily by new customers.

Extensions

The large support community around Magento has already been hard at work developing hundreds of extensions for almost any modification or feature you might desire. Most of these extensions are free and easy to use. In the case that someone hasn't already developed an extension for your particular need, there are hundreds of Magento experienced developers and companies that will be more than happy to help you (especially us!)

Marketing Promotions and Tools

Magento features lots easy to use and set up marketing tools such as customizable coupons, customizable pricing for products, marketing landing pages, newsletter management, and customer wishlists. Plus you can assign specific up-sells, cross-sells for when your customers are checking out or looking at a similar product. You can even set up product comparisons and additional attributes for your customers so they can easily decide which of your products is right for them.

Completely Customization

Magento allows you to completely customize every part of your store. There are thousands of themes available for Magento already and it's easy to find someone (like us) who can design a theme for you. You can even customize the way specific customers view your store. For example if you have "elite" members you can apply a store wide discount and theme for them once they have logged in.
Have questions / need help with Magento?
Call us today: 303.473.4400 or click here to have someone contact you now about Magento