Google's new Google Maps interface launched to the public on Tuesday, July 16, 2013. It is beautifully laid out and most certainly appeals to the visual senses with very clean photography. This new version is an integrated combination of Google Maps, Google Earth, Google Places, and Google+, which definitely encourages users to get wrapped up in the Google world of search and social media. Zoom in to Street View or zoom out to see the Earth with the stars and galaxies behind her. The new Google Maps redefines and condenses what users look for when searching out new places.
A Smarter Search Box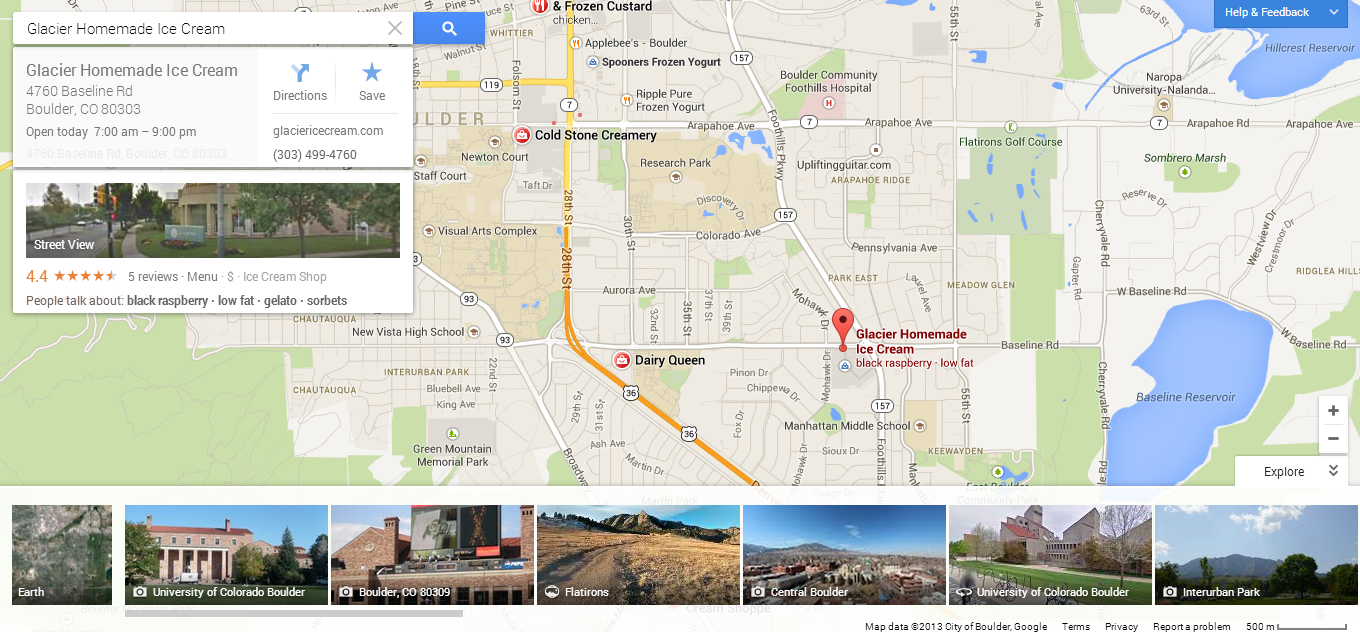 The search bar does more than recommend what others commonly search for; it shows your recent searches, search results from top reviewers, where people in your Google+ Circles have been, top results, and related searches. Also, a related paid ad may sit below the information box. The map is then populated with cute little icons coded by business type and sized according to relevancy. You'll notice smaller text below the name of the location, which I'll discuss in a moment. Then there are purple squares shown, which are paid ads.
Browse through the various locations and you'll notice that the small text you saw earlier is actually "What People Talk About" pulled from the Google Places reviews. For restaurants, it'll recommend dishes, something unique about the place, and more. This is featured on the information cards that pop up when you click on a location, which also gives a summary of business info, reviews, ratings, photos, an option to 'Save' the place, and a link to a menu if it's a restaurant.
If you click to the business's Places page, there's an option on the right hand side to "Visit This Place" by creating a G+ event invite. Visitors are encouraged to write reviews, upload photos.
Once you choose the location you want to get to, a link to the directions is easily accessible and, like the old Google Maps, you can choose the method of transportation: car, public transit, bike, or walking. There's even an option to check out what traffic is like in real-time before you go.
See the World
Street View was a big feature that people loved to use and people can see how much more crisp and bright the images now are. You can see people's faces. But get this, it's easier than ever to explore a new city or region when you switch to "Earth" view on the box on the lower left corner. Google Maps switches to a Google Earth experience and you can zoom in check out 3D buildings by tilting the view and spinning it around. It has a Sim City feel to it when looking in between the level of a helicopter and Street View.
After you're done exploring that feature in awe, make sure to check out the carousel on the bottom right, which has a photo tour. The photo tours are an image, 360 images, or videos.
The Google Lifestyle
Google seeks to provide people with a great user experience, bringing information to the user rather than the user having to work hard to find information. The new Google Maps brings together the tools people enjoy into one place—it's a tool to search for a place, find out where it is, see what it looks like, learn what it's about, learn what other people think of it, go there, share your opinions, and get other people to go there too. Google definitely knows the importance of the overall story of a person's experience and how much it means to share it with others.
If you are concerned with how the new Google Maps affects your business and social media marketing, please contact us for a FREE competitive SEO analysis.
Please join our Google+ page to stay up-to-date on Google.