Snapchat is known for their temporary photos and selfies you can text to friends but with their launch of "Discover," it's changing the SEO game. Discover is a new way of browsing news in bite-sized formats and an easy-to-use interface that throws a curve-ball to normal content marketing. According to Kevin Roose of Fusion, it's generating millions of views per day per publisher.
What Makes Snapchat Discover Different
Snapchat noticed that people were losing interest in using their app so they needed to figure out how to rebound from that. Keeping in tune with their quick images and noticing the gap in news readers for their demographic of 13-25 year olds, Discover was born.
Discover partners with a handful of publishers to feature only the most interesting content of the day on this app. Discover is built into the Snapchat app as an update and is a little difficult to find at first but the interface is completely different from the original Snapchat.
You have to click on the menu button on the lower right corner and then on the purple, glowing button in the top right next to the magnifying glass to access Discover. The purple later disappears and what remains is an empty circle.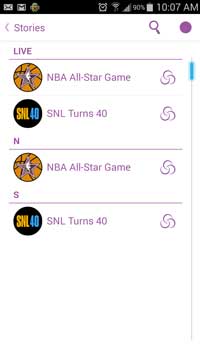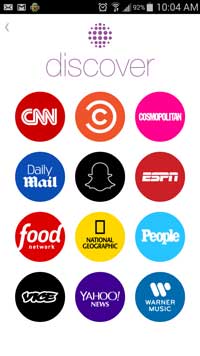 From there, you can find articles, videos, and images from CNN, Comedy Central, Cosmopolitan, Daily Mail, Snapchat, ESPN, Food Network, National Geographic, People, Vice, Yahoo! News, and Warner Music. Each publisher features a handful of what they think are the most interesting articles per day, only accessible from Discover that day, which can take between 10 seconds to 5 minutes to view. Swipe up to read or swipe left to move to the next one.
The goal here is to hook a new, younger audience that is not interested in getting their news from a traditional news source and there's no need to wait for the content to load. However, it's important to know that Discover is not a social media platform.
How Does Discover Affect SEO?
Although all of this content is specially designed for Snapchat Discover, none of it has SEO value. There are no call to actions, no external or internal links, no share buttons, and no traffic for search engines to gather. At millions of views per day per publisher, marketers would probably be baffled at why this isn't being leveraged for rankings or traffic.
What the publishers do get out of this is brand awareness, development of brand loyalty, and increased interest from readers in using other means of getting more information from them via online, TV, or at the old-fashioned newsstands.
Discover does offer paid ads to their publishers, which they share ad revenue with. The publishers get 70% of ad revenue if they sell the ads or 50% of ad revenue if Snapchat sells them. These ads are built into the browsing experience and you can swipe past them if you desire. As Discover continues to grow and develop, this may change.
Publishers and content marketers may need to make a decision whether or not to return to a means of spending time and money on investing into an app such as this where it won't directly boost traffic or the authority of their website but it could definitely build a strong foundation outside of search engines.
Customer Paradigm is a Colorado SEO, Email Marketing, and Web Development agency based in Boulder, CO. We specialize in Magento eCommerce websites, helping businesses acquire, retain and interact with their customers.