Shopping Cart Abandonment, A Problem with Potential
With the average online shopping cart abandonment rate close to 70%, that means that 7 out of 10 visitors add items to their carts and leave without purchasing. Shopping cart abandonment is one of the greatest challenges faced by an e-commerce store owner, and by the e-commerce industry as a whole – it is estimated that 4.6 trillion dollars of merchandise was abandoned in carts in 2016. However as many as 75% of shoppers report that they have intentions to come back to their carts at a later date, and so shopping cart abandonment also represents one of the areas of biggest potential growth if you can successfully lure the customers back to your store.
Why Do Shoppers Abandon Carts?
To get to the solution we must first understand why shoppers abandon their online shopping carts to begin with. A number of studies have been done on this subject, including one from the Baymard Institute that takes a look at the habits of 1.044 shoppers and the reasons why they typically abandon their online carts. The study ranged in responses from the shock of shipping/taxes/additional fees being tacked on as a surprise at checkout, to the checkout having too many steps, to requiring the shopper make an account, customers choosing not to convert due to an overall bad experience, to simply feeling like the site was untrustworthy.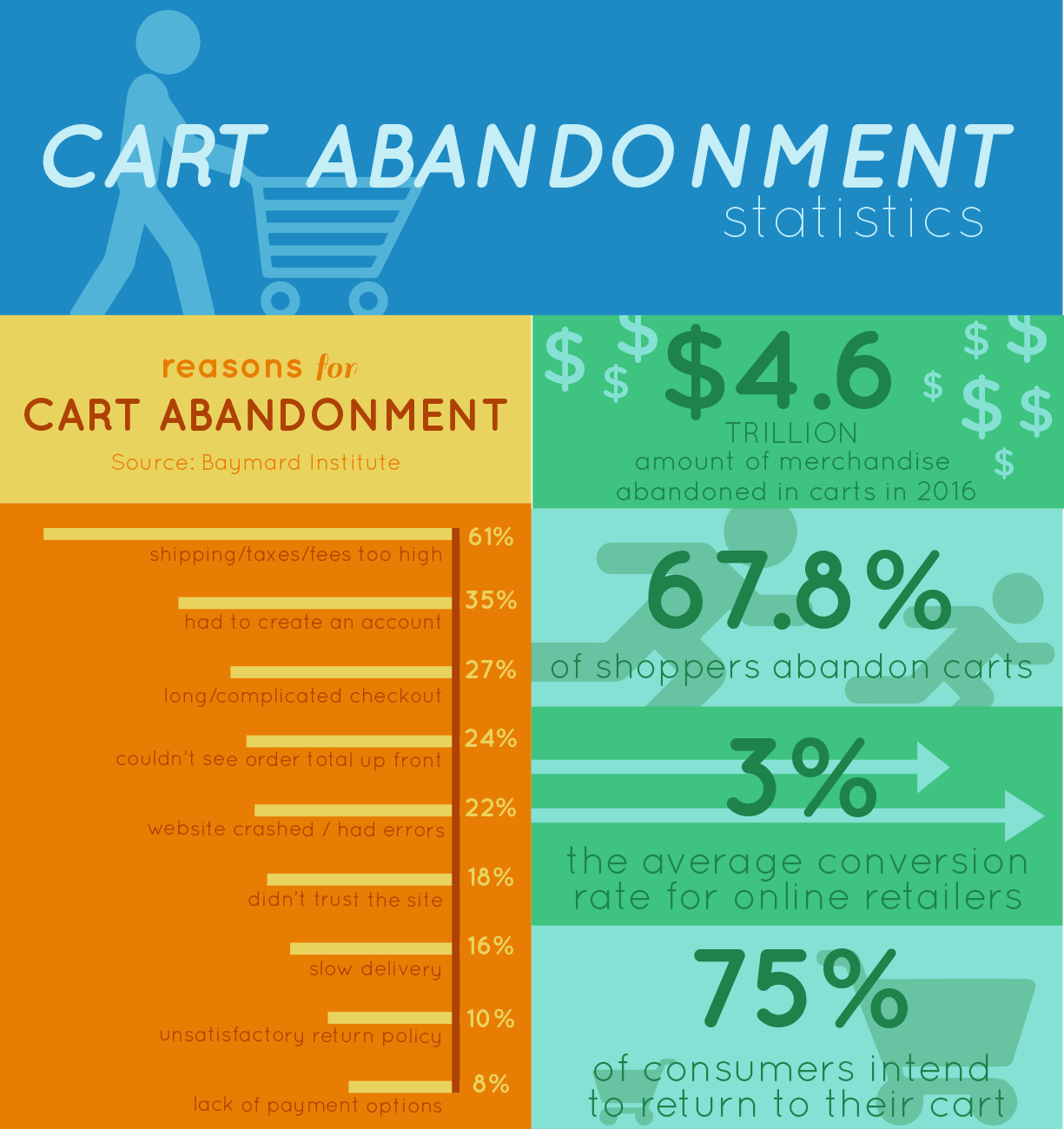 Strategies for Reducing Your Cart Abandonment
1. Elimanating Surprises
The largest cart abandonment comes from customers who's taxes, fees, and shipping are not calculated until the end of their checkout process. Particularly in a world where so many big box stores are able to offer free shipping rates, customers are less and less likely to pay large fees for shipping. Even less so when that rate comes as a shock after they thought they already knew the total their purchase would be. 77% of customers say that free shipping is the most important factor at checkout. If shipping is not free, allow your customers to put their zip code in somewhere early in the shopping process if you have shipping rates that will need to be calculated, or if you have flat rate shipping prices have those prices easy to locate.
2. Keep it Simple
Your checkout page should be simple, with as few steps as possible. If your checkout page is long, frustrating or has too many fields you may find this a large source of cart abandonment. Consider a one-page checkout option, or stripping down your checkout experience to only the bare essentials. This combined with allowing your customers to check out as guests and not requiring the creation of an account can cut down on frustration customers may experience when trying to quickly purchase something.
3. The Customer is King
Many customers abandon the shopping process due to an overall unsatisfactory experience with the store. Studies show that overall shopping experience has become as important as perks like free or fast shipping. Consider adding features that improve your overall customer experience such as a live chat feature, new studies show that 77% of shoppers won't make a purchase if there is no live chat feature. Customer experience is so important that 78% of consumers have bailed on a transaction or not made an intended purchase because of a poor service experience. So providing your customers with easy ways to contact your business, clearly posting your policies, FAQs, and other trust signals, and having an easy to navigate website will all add to the better customer experience and less cart abandonment.
4. Remarketing
75% of customers say they intend to return to their abandoned carts. This is where remarketing efforts can be very effective and bringing back lost customers. Utilizing email marketing campaigns targeted to customers who have abandoned carts, particularly if you offer promotions or deals can be a good way to bring these customers back to your store to complete their purchase. You could also set up pay-per-click advertising through Google, Facebook, Twitter and more to set up remarketing campaigns that will reach your shoppers where they already spend time on the internet. Remarketing converts so well because past browsing history is an incredibly powerful predictive sign for future purchasing activities – remember 99% of people don't purchase on the first visit and 75% say then intend to come back, remarketing is a great way to remind them they were intending to come back! Studies show that website visitors who are retargeted with ads are 70% more likely to go back to your website and convert. You may also want to consider setting up a persistent shopping cart so that when customers do return, their cart is still populated and waiting for them to check out.
Helping You Convert Customers
Shopping cart abandonment is a problem that spans the e-commerce industry for businesses of all sizes. However, cart abandonment does represent potential profit if you are able to make the necessary changes that will help customers convert. Do you need help increasing your conversion rates? Customer Paradigm can help you optimize your checkout experience to minimize cart abandonment.  Try us out! Call 303.473.4400 today!