eLearning Series
Thanks for all of the positive feedback last week about the Brooklyn Autism Center's fundraising case study. I heard from so many people who forwarded it along to their friends at non-profit organizations. This week, with oil in the news, I want to focus on a different client — one that is looking to generate leads for investment in oil exploration. Sound like a tough sell? It's counter-intuitive, but we've started to generate great results!
The Background:
Right now, with the BP Oil Spill disaster in the Gulf of Mexico, there's intense interest in alternative energy, and preventing future disasters from happening. Like it or not, the world is addicted to fossil fuels. Here in Boulder, Colorado, about half of our office rides their bikes or walks to work each day. But I know it's not realistic to ask everyone to give up their cars – the US economy and infrastructure is largely based on the car as personal transportation. At Customer Paradigm, we take environmental issues seriously, and have done a lot of work for Greenpeace and solar energy manufacturers, too. We've built sustainable development software planning tools for the Global Environmental Management Initiative (GEMI.org). We've also worked with BP, Shell and other energy companies to help them with marketing campaigns. But an interesting trend has also emerged. With the oil spill in the news, pricing for direct investment in oil exploration has fallen to low, low levels.
The Goal: Our client, Andy Leib, is an independent broker who helps bring investors and companies together. He wanted us to use search engine marketing to drive leads from Australia and UK. We're also helping the company, wwXploration, drive US and Canadian leads, too.
Our Pitch / Idea: Jesse Schultz and I listened closely to Andy. We tried to understand what motivated the end user to want to invest directly in oil exploration (high returns, and tax benefits if it didn't work).
The Strategy:Drive leads via geo-targeted Cost Per Click (CPC) advertisements on Google, Bing, Yahoo and Facebook. Traffic would be sent to a dedicated landing page on the wwXploration.com website, and code would be placed on the site to make sure that if a lead came in from overseas, special trackable phone numbers and contact forms would be displayed. Our goal was to create a compelling, trusted experience for site visitors.
How the Campaign Worked
Step 1: Build the Landing Page Before driving traffic via paid search engine advertising, we first needed a solid way to 'catch' them when they came to the site. Previous statistics for the wwXploration.com website showed that their conversion rate was dismally low. The conversion rate is calculated by how many people who visited the page and then filled out a contact form, or picked up and the phone and called the organization. One of the reasons their conversion rate was low in the past was because they merely sent everyone to the home page of their site, and "hoped" that people would fill out a form or pick up the phone: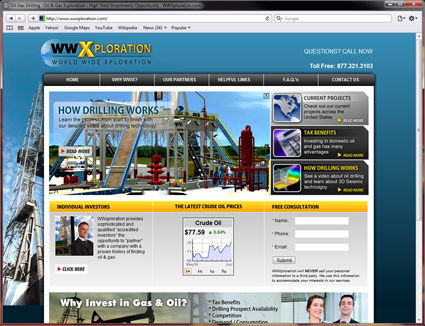 (Sending leads directly to the home page of a site is known as the "Kiss of Death" in PPC Advertising.) Instead, we created a landing page that allowed people to find out more information in a concise way: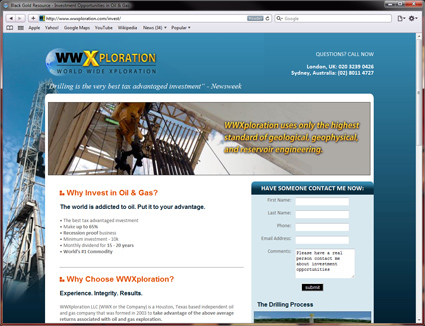 It tries to consolidate all the information that they need to know onto one short and simple page, and asks them to fill out a form for more information. And if the end user clicked through to other pages on their site, we used special tracking codes to insert the international phone numbers and contact forms that would go directly to Andy, for a quick response. Here's the standard header on the website for US-based clients: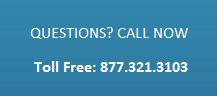 Here's the trackable header on the website, with international phone numbers, that follows the end user around the site when they come in from a PPC campaign:

Likewise, the footer navigation at the bottom of each page changed if the user came in from overseas. Here's the standard navigation with US-based phone numbers:

Here's the footer if they came in from the /Invest/ landing page from overseas:

Step 2: Drive Leads Via PPC Advertising  Once the landing page was set up properly, the next step was to create pay per click campaigns in Google, Yahoo, Bing and Facebook. Pay Per Click, for those that aren't familiar with it, works when your advertisement is listed on a search page (i.e. Google.com) when someone types in specific keywords. You don't pay for advertising impressions… only when someone actually clicks on your advertisement. This is how Google generates the majority of their revenue. Here's an example of a PPC Ad on Google:

As I've written about before, it's really easy to waste money doing pay per click marketing. For the campaign, we created specific ad groups to geographically-target the ads to people in Australia, the UK, New Zealand and other areas. We created literally thousands of permutations for keywords for advertising, so that if someone searched on a keyword, we could capture their click for the lowest cost possible. We also put in lots of negative keywords (so that the ads weren't displayed when someone had the term "free" in the search. Contact Form: Main Call to Action The landing page featured a contact form, which invited a person to fill it out and learn more: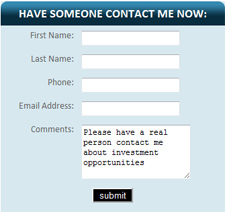 As soon as it was filled out, the wwXploration team received an alert email letting them know they should contact the person right away: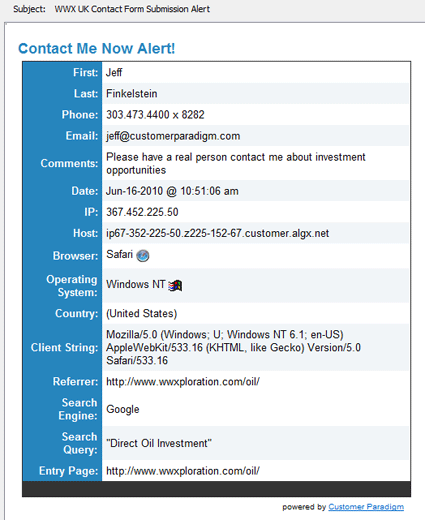 Results
The second day the campaign ran, the client received four phone calls and three contact form submissions — way ahead of expectations. They're thrilled with the initial results so far. Client Feedback: "The phone just keeps ringing with great leads! I'm really happy." In summary a well designed landing page, with strong calls to action, combined with Pay Per Click Marketing generated strong leads within two days of activating the campaigns. I hope you found this case study helpful – let us know if we can help with PPC advertising campaigns for your organization. To have Customer Paradigm contact you about PPC Advertising Campaigns please fill out the contact form below or call us toll free at 888.772.0777 or 303.473.4400.