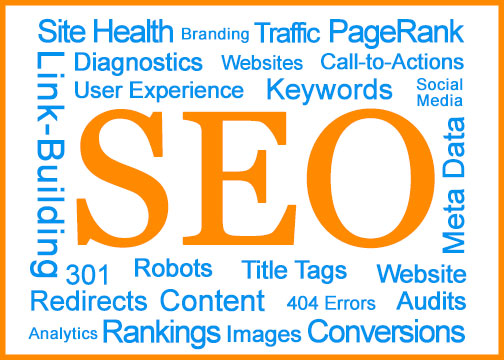 SEO goes beyond increasing your website's rankings in search engines; it looks to improve the overall health of your site through website diagnostics. Website diagnostics looks at the technical side of your site and how it affects user experience, which is how helpful and easy it is for somebody visiting your webpage.
A website that is easy to use and relevant to the visitor results in better leads and conversions. Your conversions can be anything you think is valuable to your company such as completing a sale, signing up for a newsletter, liking your social media page, filling out a contact form, etc.
There are many companies out there claiming to provide a great service by notifying you of whether or not your site shows up in search engines, providing mass link backs to your site or how your site looks on a pc, laptop, tablet, and mobile. They often will charge you upfront to run a diagnostic. However, most of the information is already available to businesses and some SEO companies exercise black hat SEO tactics to push search engine rankings as well as instill fear in clients.
We at Customer Paradigm do our best to always adhere to white hat SEO methods so that our clients' websites remain healthy and are not punished by the frequent Google Penguin and Panda SEO updates. We provide free diagnostic reports that highlight the most important technical strengths and weaknesses your website currently has as well as what your competitors are up to. The primary key to improving your website ranking is by improving the health of the site and the user experience. The goal of the website diagnostics is to recognize any potential issues before they become a big problem.
Every single day, Google bots are crawling every page of your website to check out what kind of content is on there. They search through the text and html for certain keywords and information each page provides and decides how relevant this page would be to people looking for information in search engines. The goal of Google is to provide relevant information to the users. If your website is relevant with fresh, updated content, Google rewards those sites with higher rankings. If your website has little relevant content and barely has any updates, then it will drop in rankings.
In addition to having relevant content, how well a site is built and designed for an easy and friendly user experience is also taken into consideration with search engine ranking. Our diagnostics team addresses errors that appear since they affect user experience quality through things such as meta data, links, and 404 errors. We'll also let you know if your site is not being indexed by Google and any other important things to note on your site.
Once all the basics diagnostics are covered, we go beyond the essentials and continue to look at the overall user experience that each website has. For e-commerce sites, it's essential to identify why sales aren't increasing and where and why users leave the site. For every type of business, it's important to instill branding throughout the website and form a trusting relationship with users in order to get more leads into conversions.
A great SEO company will address these issues with you and talk about plans to continue to improve your website over time. It doesn't end there either; SEO extends itself to offsite link building, social media, and more to improve page rankings. It's important to understand that SEO is not something that happens overnight, over a week, or even over a month. Quality SEO improves websites over the course of several months or more for long term website benefits and organic search engine rankings depending on the size of your site.
Similar to the health of a person, you cannot take a pill that will make you healthy in a day or week. Rather, improving one's health requires in-depth improvement of the body and mind, which gets better as time goes on, so long as that person continues to work on their wellness on a daily basis. For online businesses, it all starts with a website diagnostic to identify which areas need improvement before real progress can take place.
If you're interested in a free diagnostic and competitive analysis or how SEO can help your website, contact us today!