Facebook rolled out a new layout again, this time with a significant change to the top of the page with a large white search bar and a boxy Facebook logo. Like many of Facebook's updates, people wonder, "Why did they change it?" At first click, the search function seems to only offer ideas that people may not have previously used Facebook for like "Photos of my friends before 2005" or "Restaurants nearby," which are pretty neat new features.
However, these are actually very simple features compared to the more in-depth searches that a business can take advantage of to cultivate their online marketing and branding strategies. Businesses can gain a greater insight in understanding the behavior of their Facebook fans and users, which in turn results in a more focused online target market.
Not an Ordinary Search Bar
The new Facebook Graph Search goes beyond searching for a business or friends; it helps you figure out what people like. It's important to know what your customers like because it plays heavily into your brand strategy, positioning, and online marketing tactics. The primary reasons people like pages on Facebook are because: 1) they love the brand, 2) they are interested in the brand, or 3) they are looking for deals. In order to be a stronger brand, gain more consumer interest in your brand, and/or attract them with sales, it's important to know what they are interested in beyond your product alone.
Focusing on the Consumer
Consumers look to brands to reaffirm their lifestyles or to mimic the brand personality that they can relate to. Basically, brands help guide consumer interests by providing relevant information and solving a want that already exists. If the brand interacts with the consumers, all the better for a good relationship!
For example, there is a consumer who likes organic food. An organic juice brand gains the interest (and hopefully conversion) of the consumer by talking about the environmental and health benefits of organic food on Facebook, discloses where their fruits come from, and has an online conversation with the consumer about what else the company does to live the organic lifestyle. These actions offer interesting, relevant information and providing an organic juice meets the want that already exists. The fact that the consumer gets to know the brand a little bit more on a level greater than the brand trying to sell them a product makes the relationship stronger.
What Kind of Ways Can You Search with Facebook Graph Search?
Facebook helps you get to know your consumer better by providing the search functionality that combines likes and interests. To start, you can search who likes your page.
The search results consist of all the people who like your page and a general overview of other things that they like. You can also look at who likes your competitors and get an idea of how they differ than yours. In order to get more specific information, you can also search two things that people like at once.
What's more specific than searching two likes? Using the "Refine this search" box on the right side of the screen where you can specify by gender, relationship status, employer, current city, hometown, school, friendship, and name.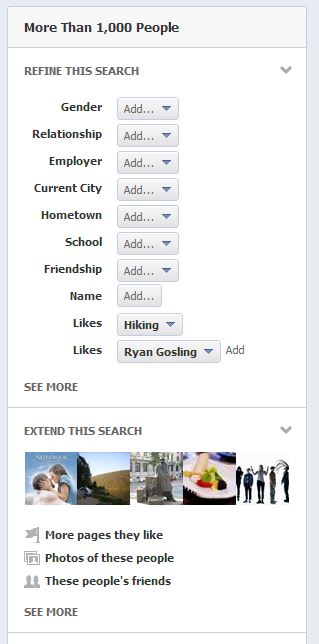 These are all ways to better understand who your consumer is as a person and figure out if you are hitting the right target. By understanding their likes and interests, your brand can better cater your brand message, campaigns, and product development to your target. Specifically for Facebook, you can improve your Facebook contests and the prizes that you give out based on their general interests.
Everyone's Favorite Word: Networking
Facebook Graph Search allows businesses and people to also network and connect with other like-minded companies. For example, search for, "Groups of people who like dogs and organic food." Then you can have your business Page join the group and participate in discussions to increase brand awareness as well as gain some followers. Another way of networking is by finding out which pages your followers also like that you should maybe like too.
If you have a brick-and-mortar business, it is also helpful to connect with the businesses around you that you support for more brand awareness.
It's exciting for businesses to have such an in-depth look into the interests of consumers. A lot of these function were actually made for Facebook ad targeting but it is certainly a great resource for doing market research, especially when it comes to branding, competitor research, and figuring out what your point of difference is.
If you are interested in learning about how social media marketing can help your business, please contact us for a FREE competitive SEO analysis.