Magento 2.0 gives the store owner a multitude of ways to set up sales and promotions for the customer. One of the most common ways you might want to set up a promotion on your store is to have a flat discount, hidden with a coupon code that your customers have to enter at checkout. Customers must know the code to get the deal. For instance, you could send out your coupon code in a promotional newsletter, through a social media campaign, as a banner on the front of your store and more. For customers to get the promotional pricing they have to enter the coupon code at checkout.
We are going to set the promotion up as a 'Fixed Amount Discount for the Whole Cart,' through a new Cart Price Rule.
Creating a Fixed Price Discount With a Coupon Code
From the Administrative Dashboard –
In the left-hand side menu select "MARKETING"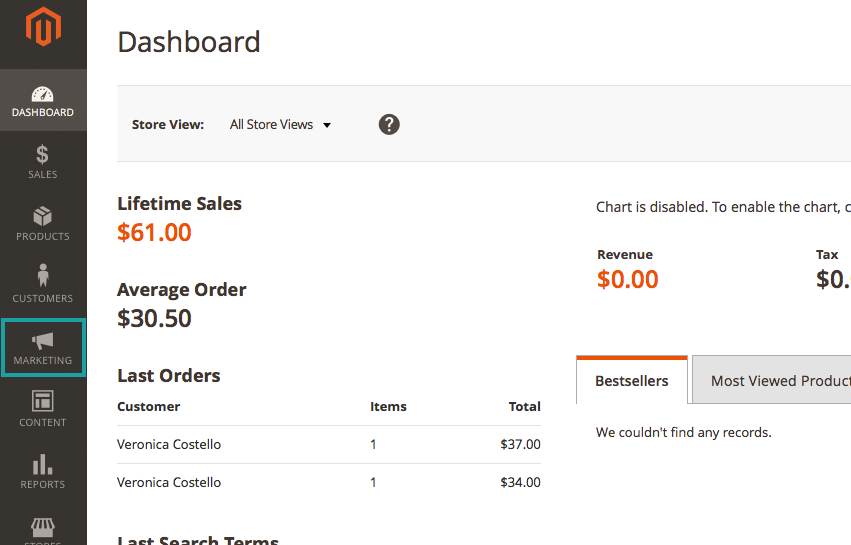 From the "MARKETING" Menu –
Under "Promotions" select "Cart Price Rules"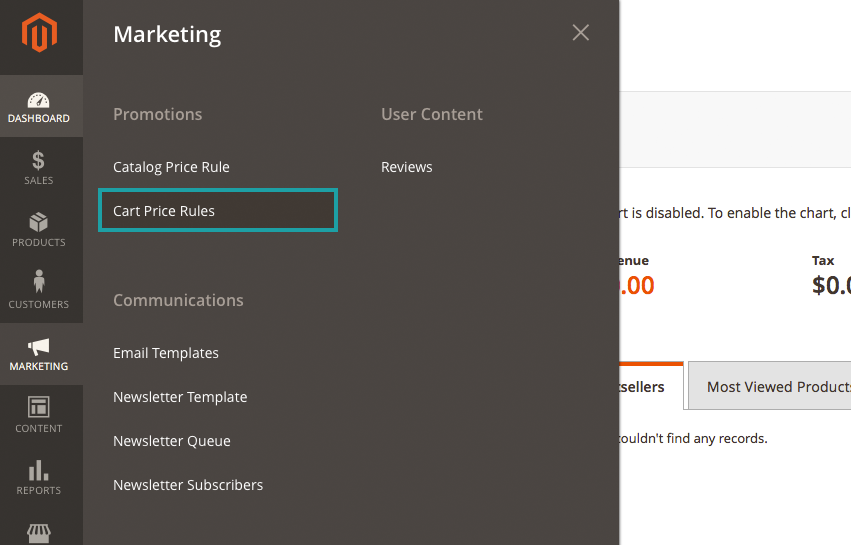 From the "Cart Price Rules" page  –
Select "Add New Rule" from the top right-hand corner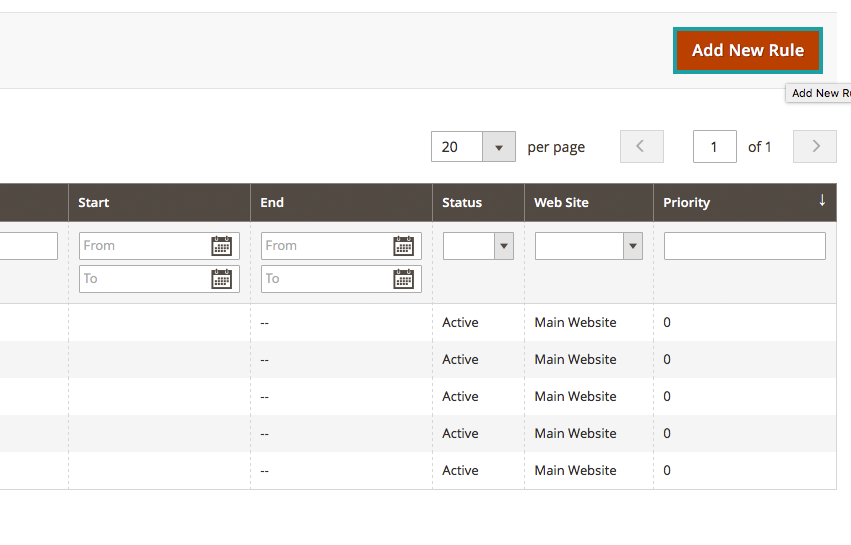 On the "New Cart Price Rule" page –
Enter:
Rule Name: The name of your rule, this is just for internal reference
Description: A description of your rule – it should indicate the purpose
Status: Active / Inactive (in this case we want our new rule to be Active)
Websites: Identifies which of your websites (if there is more than one) that your rule can be used on
Customer Group: Select which of your Customer Groups that you would like the rule to apply
Coupon: This indicates if there is a coupon associated with the rule – in this case we are going to switch the dropdown to "Specific Coupon", once you do this, two new fields will appear below
Coupon Code: In this field you will enter the code required to active your new deal at the checkout
Uses Per Coupon: The number of times a coupon can be used
Uses Per Customer: How many times the coupon or promotion can be used per customer (applies to logged in customers only)
To/From: If you want your rule to run during a certain time (i.e. a holiday promotion)
Priority: The priority in relation to your other rules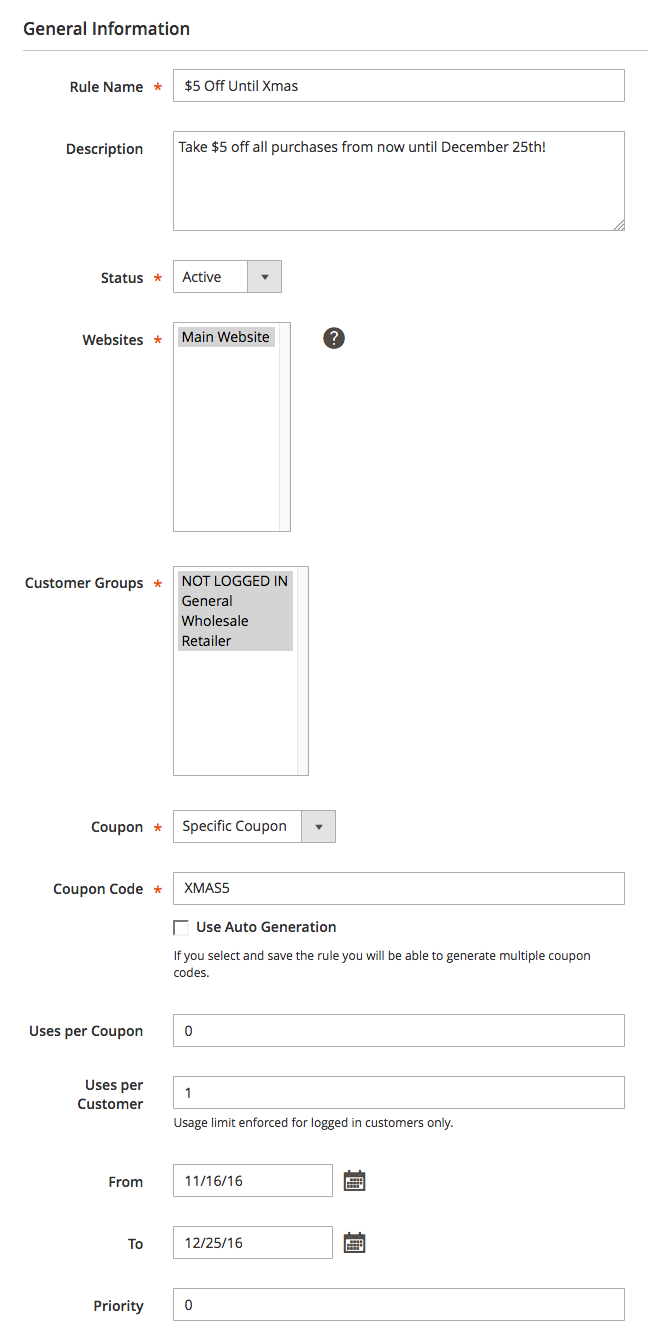 Once you have filled out all of your general information –
Under the "Cart Price Rule" Menu, Choose "Conditions"
If you want your new promotion to only apply to certain products, categories or other conditions, this is where you can set that. Since our promotion is simply to take $5 off of any order that utilizes the coupon code until Christmas, we will not set anything here.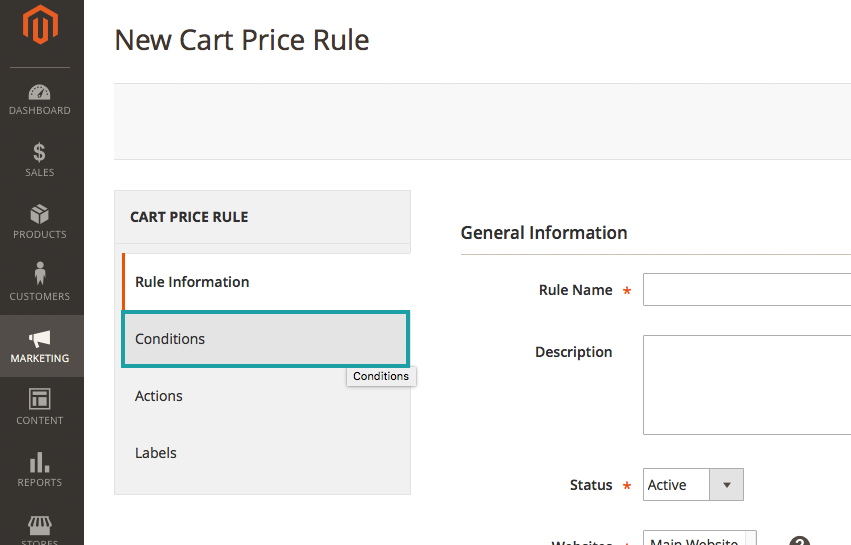 Now select the "Actions" section –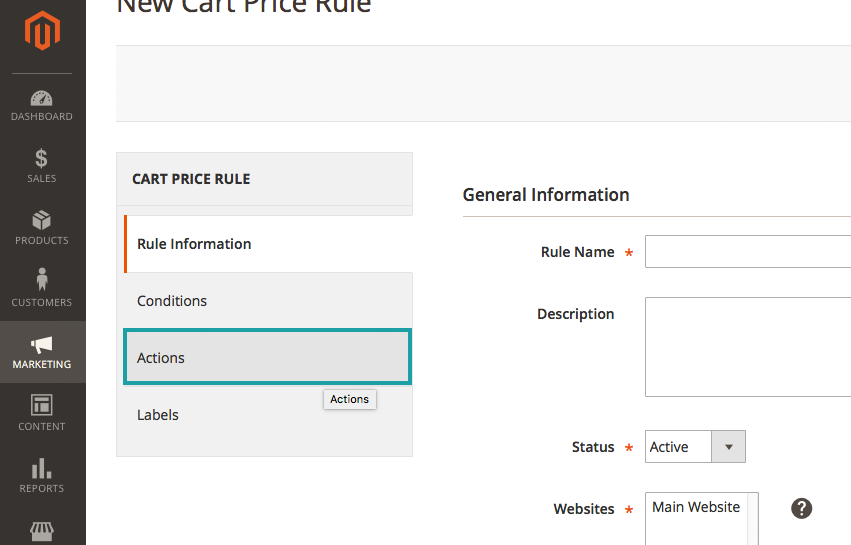 Under the "Actions" tab we are going to set all of our Pricing Structure Rules –
Apply: This is where we will set what type of promotion we want, in this case we are going to choose "Fixed Amount Discount for Whole Cart"
Discount Amount: This is where you set the dollar amount for your discount, in this case I am going to set 5 for $5 off, but you can set whatever denomination you want
Maximum Qty Discount is Applied to: This is the maximum amount of products the discount can be applied to, in this case I am going to leave this field blank as I do not want to set any sort of maximum
Discount Qty Step (Buy X): If you selected the "Buy X Get Y" type of promotion this is where you would set the amount the customer needs to purchase in order to get the promotion. Since we did not choose this we will leave this field blank.
Apply to Shipping Amount: Here we can designate if we want the promotional pricing to apply to the shipping costs
Discard Subsequent Rules: If you select "yes" Customers will not be able to use this discount with any other discounts.
Free Shipping: You can set whether or not you want this deal to include free shipping.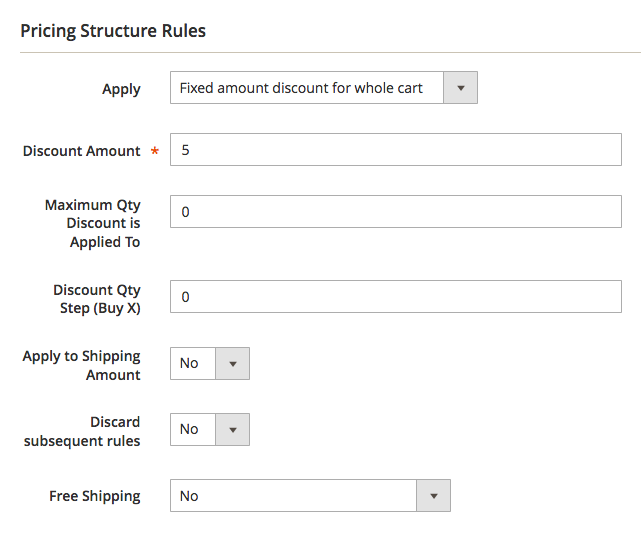 Once you have set all of your Pricing Structure Rules –
Click on the "Labels" tab, here you can set any labels you may want for your promotion.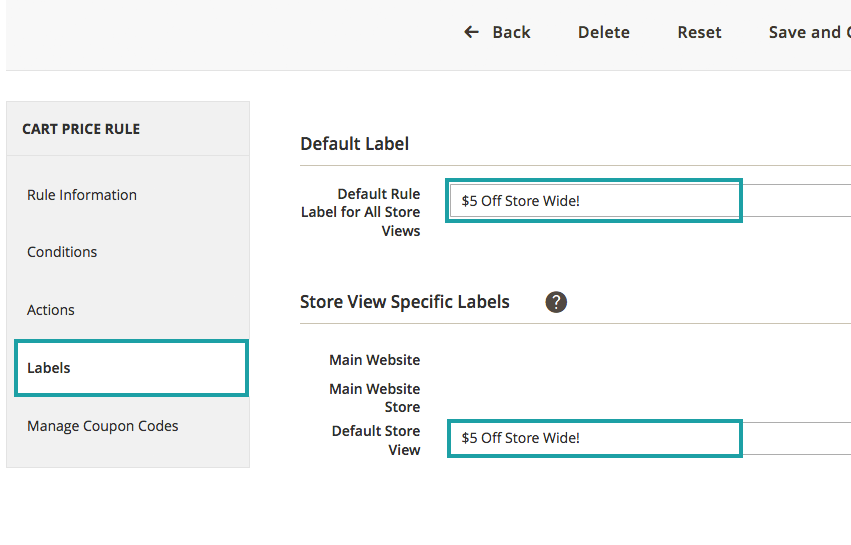 Once you are done hit "Save" –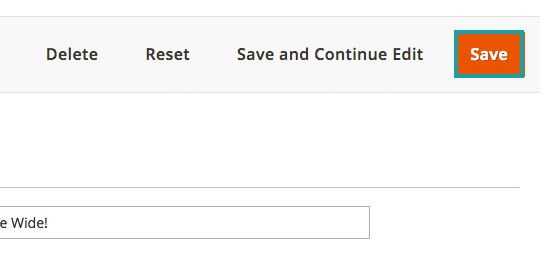 When you insert the coupon code at checkout it will look like this: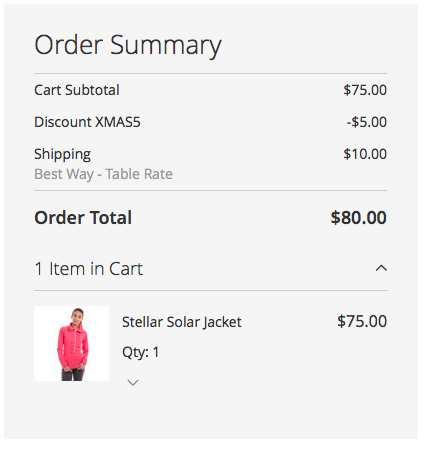 Setting up promotional coupons is a great way to interact with your customers, make them feel special, and create repeat business. Be sure to check out our post on setting up a Buy-One-Get-One-Free promotion to learn how to configure even more Cart Pricing Rules for your Magento 2.0 store!
Customer Paradigm can install, maintain or upgrade your Magento platform! Customer Paradigm could be the perfect fit for you! Call 303.473.4400 or visit here to have a real person contact you now >>