In e-commerce, every product description acts like a sales associate. Your description needs to adequately sell your product the same way a physical sales person would in a traditional retail setting. Product descriptions can make or break a sale.
It is widely known that content needs to be optimized correctly to stand out to search engine bots for our pages to rank higher in the organic search results. It is equally important for your product pages and descriptions to stand out to customers if you want to increase your conversion rates (remember, conversions are sales!). Store owners often overlook the important step of optimizing the copy for their product descriptions because this task can be time-consuming. However, it is critical to optimize this essential element. Simply using the provided manufacturer description can be detrimental to your bottom line. Customers do considerable research when shopping online, your store is unlikely to stand out if it is using the same product descriptions as many other stores. Likewise, with search results, if your product pops up with the same description other stores are using, it is unlikely to stand out in the search results. Optimizing your product description copy will help your products stand out and ultimately help you sell more.
In this guide we will:
Learn what to research before writing
Learn how to craft product descriptions that convert
Learn how to format product descriptions and pages
How to Write Product Copy That Sells
Step 1: Research
The first step is to conduct research. Research serves a few important purposes including to: provide you with inspiration, help you understand what your customers are looking for, and help you understand how your competition sells the product.
Get Inspired: Before you can write great product copy, it can help to read some great copy. It can be challenging to simply sit down with the specs of a product and begin writing. Doing research into how other companies describe their products can provide you with inspiration that can serve as a jumping off point. Which leads us to the next important part of the research phase. You don't necessarily have to only read descriptions for the product you are selling – pull up some online stores that you personally enjoy shopping at and see how they craft their descriptions. Examine what makes you want to buy from them. You might also find inspiration in other places, for example, from other long form pieces of writing (i.e. how editorial writers handle talking about products in their articles).
Know Thy Enemy: Know your competition. How do your competitors describe these or similar products? By researching how your competitors handle their product descriptions, you have a chance to see which factors are successful and which fall flat. Surveying the competition can alert you to key phrases or wording that is crucial to include in your copy. On the flipside, you might also learn what things do not work in a product description, and you can now be sure to avoid them – a lesson that is equally as valuable. This step can be as simple as a Google search for the product you are selling and browsing through the first few pages of other merchants selling it.
Know Your Audience: When you are crafting your product descriptions, it is important to have worked through this step thoroughly. You need to understand why customers buy your product – for instance, do you have an entirely unique product that cannot be purchased anywhere else? Or do your customers buy your product because you sell it at a lower price than other retailers? Knowing exactly why your customers buy your product will help you know how to craft your copy.
It is also important to understand what your audience wants. Performing thorough keyword research around the product is important so that you can tie in the keywords your customers use to search for your product back into your description.
If you need tips on how to execute this step, check out our guide on "How to Define Your Target Audience and Sell More".
Step 2: Content
Once you've completed your research, you are ready to start writing your copy. Many store owners and copywriters make the mistake of writing descriptions that simply describe the product. A better tactic is to focus on ways to try to sell the product – each product description acts as a sales pitch.
Tell a Story: Storytelling helps to appeal to your customers' imagination. Since your customers can not physically hold or try out a product before purchasing, they have to rely primarily on the power of imagination to envision what having the product in their lives would be like. For instance, if you are selling perfume online, not only can your customers not see or touch the product before purchasing, but they cannot smell it either – a key factor when purchasing perfume. Instead of simply listing the scent notes in the perfume, you could craft a story around it, what type of feelings the scents might evoke while at the same time working the scent notes into your story. The perfume brand Pilar and Lucy does an excellent job at crafting stories around each of their scents to serve as the product description: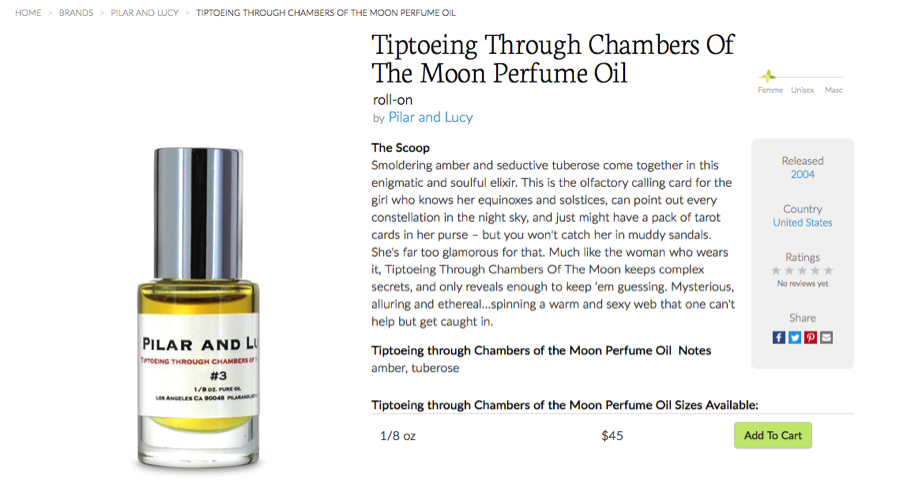 Features and Benefits: It can be easy to simply want to list the functional features or specifications of a product. While it is important to have the key features of your product available, this is not the primary information customers are often seeking. People shop to fulfill a want or need. Your customers want to know what the benefits of a product are. They want to know how this item is going to solve a problem in their lives, how it will make their lives better, more enjoyable, or more productive. Simply put, they want to know, what's in it for them. For instance, if you were selling handmade holiday sweaters – the features of this product would be that they are warm, and made with 100% all natural alpaca wool. However, you could imply that there are additional benefits to this product – by wearing a festive holiday sweater you are embodying the holiday spirit, which will bring joy to those around you. This implies that by wearing this sweater the benefit to your customer's lives will be increased enjoyment of the holiday season.
Tone: Chances are that you are not trying to sound like a big corporation – or you wouldn't have chosen to run your own e-commerce store! Setting the tone in your product descriptions is important. Tone is a key factor in engaging your audience and setting yourself apart from the competition – you don't want to sound like everyone else. You want to set a tone that fits your brand, and lets your brand's unique personality shine. You can utilize tone to fulfill a number of end goals including: to appeal to your customer's emotions, be relatable, instill a sense of urgency or help ease purchasing guilt. For example, if you are a funny person, you wouldn't go up to people and tell them you are a funny person. You would tell jokes throughout the conversation to set a tone to others that you are funny and have a good sense of humor. ThinkGeek does an excellent job at setting the tone throughout their product descriptions that they are geeky, quirky, unique and have a sense of humor. For example: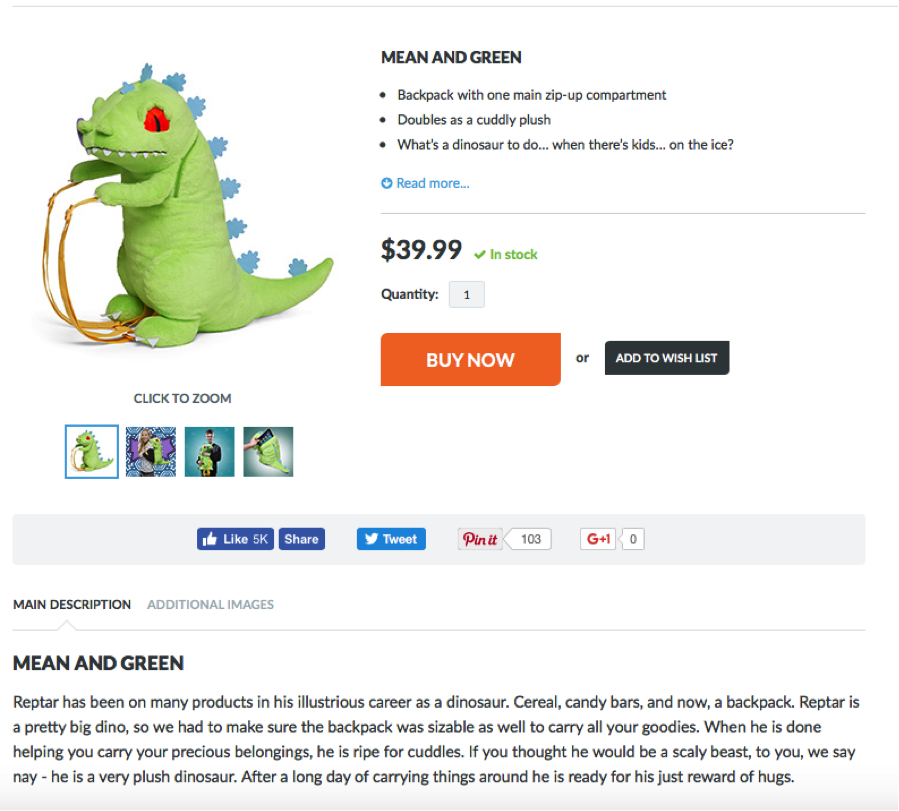 Best Writing Practices: It's important to remember to follow best writing practices for all your product descriptions. Be sure to use complete sentences, correct grammar, and punctuation. Additionally, you might want to consider some of these tips when you are writing your product descriptions:
Superlatives: A superlative is an adjective used to describe the highest or greatest quality of something. It can be tempting to want to say, "These are the warmest sweaters in the world." Or this is the "Most effective vacuum cleaner on the market today." However, it is best to avoid superlatives unless they are justified. For example, the Amazon Kindle Paper White sells itself as being the "Highest Resolution e-Reader" but then follows up that claim with a statistic that says "has an improved high-resolution 300 PPI display for crisp, laser-quality text", which supports the claim that this is the highest resolution e-reader.
Sensory Words: Sensory words are descriptive words that describe how we smell, see, taste, hear, or feel something. Utilizing these types of words can help your reader better experience what the product is like through reading the description.
Jargon: Jargon is language that is unique to certain groups (for instance within a certain professional or academic field). It is best to avoid using this sort of language as it may alienate some of your customers. If your customers are unfamiliar with the words used in the description, they may feel that the product is not meant for them.
Step 3: Formatting
Correct formatting is critical for all pages on your site. Studies show that most people only read about 16% of the content on a page. Product pages are no different. You've just spent time researching and crafting product descriptions – you have to make sure the information is laid out in a way that is enticing and easy for viewers to read. Suggestions include:
Using large headings and subheadings with key points that are easy to grab onto while scanning
Listening features and benefits in lists
Large font for readability
Different colors in your headings and body texts
White space around your content to guide your viewers
Utilize an F-pattern layout to cater to how most people read online
For example book retailer Barnes and Noble utilizes effective formatting – with an easy to read f-pattern layout, headings in different size text, high priority information is highlighted by various colored text, and they utilize white space to guide your eyes around the page: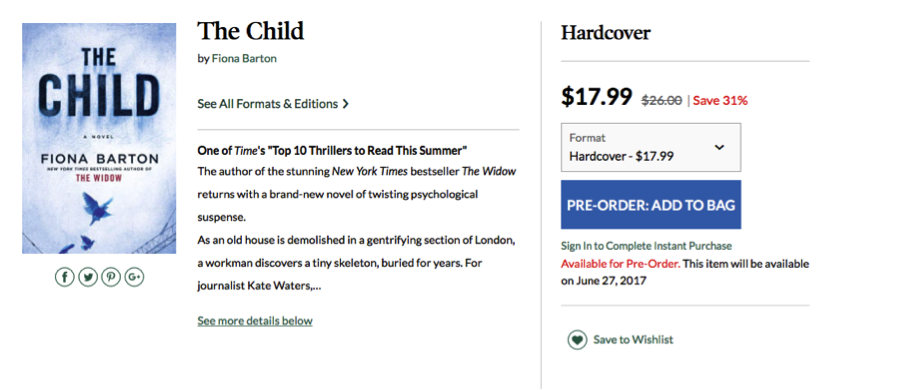 Closing Thoughts
While many store owners think they can just start listing products online and start selling – it is crucial to optimize your product descriptions. Optimizing your product descriptions will help you to stand out in the SERPs from the large quantities of products all using the same manufacturer descriptions and also to stand out to your customers. Being able to step inside your customer's head and provide them with a product description that appeals to their wants and needs can significantly improve your conversion rates and give you an edge over your competition. Customer Paradigm has extensive experience helping e-commerce store owners optimize all aspects of their stores. Connect with us today and let us help you reach your business goals.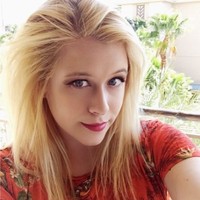 About Kelly Mason
Kelly is a Marketing Assistant at Customer Paradigm. She loves creating engaging and educational content and connecting with the community through social media. Outside of the office, she can be found eating her way through Colorado one brunch at a time and hiking in Rocky Mountain National Park.