When it comes to AAMCO Colorado all 18 locations in Colorado are here to serve all your transmission and auto repair needs. They are devoted to educating their mechanics in the most recent training to handle any new problems that may arise as new car models are born. With over 50 years of experience, they have the tools and knowledge to handle a variety of auto repair needs.
AAMCO began their CPC campaign on June 1, 2011. Their first month of performance was 217 clicks. After a year, in June of 2012 their CPC campaign has received 1,100 clicks.
AAMCO CPC Campaign Success
Many people run their CPC campaigns and once they get to their "ideal" goal they stop managing their campaign and keep writing the checks to Google. What if your existing campaign is doing well, but you have the option to be more efficient? What if you could get the same amount of clicks or more, for significantly less in cost? When does it become worth your time? At Customer Paradigm our goal is to make your marketing dollars consistently work harder for your business.
Below you can see a graph of the changes from a 6 month period in costs and clicks. As you can see, in January AAMCO Colorado CPC campaign received 1,894 clicks at a cost of $7650.65 for the with an average cost per click of $4.04. In June we had a big push for efficiency and we received more click at 1,968 at a total cost of $6692.99 for an average cost per click of $3.30. This is a huge improvement of an increase in clicks, a decrease in cost and conversely a decrease in average cost per click.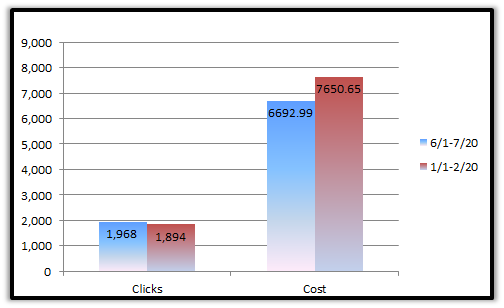 Although, there is a decrease in costs through a more efficient campaign. There is always more competition entering the field, and as the market gets more flooded the average bid levels for ad positioning will increase. In order to maintain the desired amount of clicks per month, the average cost spent per day will increase. To maintain a huge influx in costs, work on the efficiency of your campaign, the ad copies and SEO value of your website's landing pages.
If you are interested in increasing the efficiency of your CPC campaign please call us now at 303.473.4400 to talk to a real person or fill out the contact form below.