Free PDF Summary
Does your email comply with the new CAN-SPAM Act?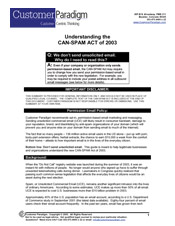 Download our free PDF summary, "Understanding the CAN-SPAM Act of 2003." Included are best-practice recommendations, as well as a detailed Deployment Checklist to use prior to each email campaign. Featured as the top summary in Entreprenuer Magazine.
Are your messages transactional / relationship messages or do they qualify as commerical electronic messages under the new anti-spam law? Did you know that failing to place postal address in your messages could result in up to three years in jail and fines of up to $250 per message? Avoid mistakes – download the summary today:
Get your FREE copy today:
"Understanding the CAN-SPAM Act of 2003"
Please enter your email address to receive a
link by email to the free PDF summary:
Why do we ask for your email address?
If there are important updates, errors or ommissions in the report, we want to inform you by email. Your email address will not be sold, given away or transfered to another party. You may unsubscribe from updates / notifications at any time. Full Privacy Policy
Summary Includes:
Background on CAN-SPAM Act
Relationship / Transactional Messages
Commercial Electronic Messages
Do Not Email Registry Information
Fraudulent Headers (including FROM, Subject line)
Functioning Return Email Address
Opt-out / Unsubscribe Recommendations
When you need to include a valid physical postal address in your email messages
When the ADV warning label in subject line is needed
Open Mail Relay / Blacklisting
List gathering / management / privacy issues
What to do if your emails contain sexual content
How CAN-SPAM will be enforced by the FTC, State Attorneys General, ISPs (including fines and jail time)
Reward system for people who turn in spammers
Wireless Commercial Message Rules
PLUS: Free Email Deployment Checklist to use prior to each campagin (make sure your team avoids mistakes with their email marketing).
Click here >>
Q: We don?t send unsolicited email.
Why do I need to read this?
A: Even if your company or organization only sends permission-based email, the CAN-SPAM Act may require you to change how you send your permission-based email in order to comply with the new legislation. For example, you may be required to include your postal address in all outbound email messages (see free report for more details).
Anti-Spam Statement:
Customer Paradigm recommends opt-in, permission-based email marketing and messaging. Sending unsolicited commercial email (UCE) will likely result in consumer backlash, damage to your reputation, brand, and blacklisting by anti-spam organizations of your domain (which will prevent you and anyone else on your domain from sending email to much of the Internet).
Bottom line: Don?t send unsolicited email. This free summary is meant to help legitimate businesses and organizations understand the federal ?Controlling the Assault of Non-Solicited Pornography and Marketing Act of 2003? (also known as the CAN-SPAM Act, which takes effect January 1, 2004).
Questions? Need More Information?
Call: 303.499.9318