I hope your February is off to a good start!
We've recently released two new Magento 2.0 modules into the marketplace, and are having great feedback.
The first one is Custom Maintenance Mode extension, that allows a store owner to be able to put their store into a "Coming Soon" status with a custom page and message, while products, graphics or other items are updated. Without this extension, you'd have to set the maintenance mode using SSH or FTP, and whitelisting your IP address (so that you're not locked out of the site) is complicated. (This extension is free.) More details >>
Our second extension is an Inventory Synchronization Module that allows a Magento 2.0 store owner to have inventory levels for some or all products synchronized from external sources. We've tested the system to use more than one million records. It can work with CSV, tab, and other delimited files, as well as XML. The system can reach out via FTP, sFTP, HTTP or work with files local on the server. This is one of the more common requests for omni-channel retailers who have inventory in multiple locations. (This extension is $115.) More details >>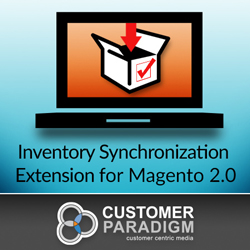 Let me know if you'd like a tour of any of the new extensions.
Thanks,


Jeff Finkelstein
Founder, Customer Paradigm
303.473.4400