eLearning Series
In the wake of unspeakable tragedy in Haiti, today's eCommerce tip focuses on secure online donations – and the pros and cons of the different mediums. I encourage you to give if you're able.
eCommerce Tip #7: Online Donations Best Ways to Donate – Quickly
If you're like me, you've been glued to the TV, newspapers, and websites that are covering the horrific tragedy in Haiti I feel so fortunate to have food, water and shelter, and like so many others around the world, we want to do something to help those in need. In today's eCommerce tip, I'll discuss the different options for online giving, including the pros and cons for each.
Text Messaging: In one day, the Red Cross raised more than $5 million using text messaging (CNN). Spread virally by Twitter, Facebook and other social networking sites, site: From your cell phone, text "Haiti" to 90999 to donate $10 to the International Response Fund. The money will go directly to relief efforts in Haiti, and is billed directly to your bill. Or, text "YELE" to 501501 to donate $5 to Yele Haiti.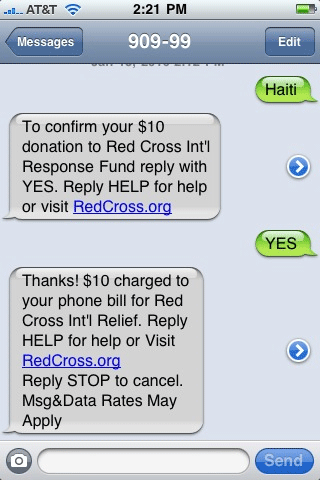 How it Works: When you send a message to a 'short code' like 90999, your cell phone transmits a message to a system set up by the Red Cross that confirms your transaction. Before your phone is charged, you have to confirm by replying "YES" back via text. Many of the cellphone companies are waiving the text messaging charge; mGive that handles the mobile text giving system is waiving many of their usual charges as well.
Advantages: Quick. Fast. Easy. Wildly Successful. Allows the 96.2 million text messaging users in the United States to easily donate. You don't have to visit a website, find your credit card. For many people, a $10 donation won't impact their bank account or force them to skip a meal. But $10 can buy 200 doses of antibiotics (at 5 cents each).
Disadvantages: The biggest drawback to text messaging donations is that it can take up to three months for the money to be distributed to a charity like the Red Cross or Yele. This is because these systems rely on you to first pay your wireless bill at the end of the month, and then it can take more time for the wireless carriers to process the charges. That said, I expect many of the wireless carriers will try to speed up this process.
Online Donation (Via Credit Card): The traditional way of donating online works by visiting a secure page on a site like the Red Cross: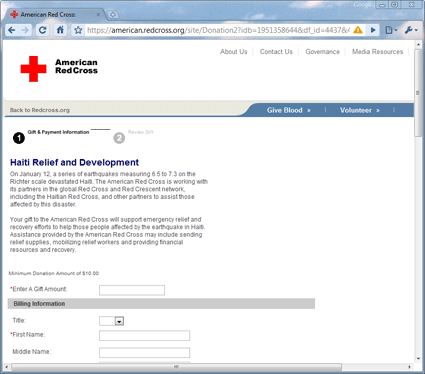 How it Works: When you visit the secure donation page, you enter in your information, including the amount you want to give, your name and credit card information. When you hit "Submit," the Red Cross donation page connects to a payment gateway that checks to see if your credit card is valid, that your name and address match properly. The payment gateway then gives a success message if the charge is approved, or a decline message if the person typed in their credit card number incorrectly. The funds are taken from your credit card immediately (although today, the Red Cross is reporting that due to high volume, it make take up to 12 hours for the charge to appear on your statement). Money is then deposited into the bank account for the Red Cross, usually within 1-2 days. You receive a confirmation email that confirms your transaction. You will also receive a tax-deductible statement that you can use to subtract your donation from your taxable income, too.
Advantages: Easy to give more than $10, and do so in a secure way. There are 227.7 million Internet users in the United States – more than double the number of people who text message. The money arrives quickly into the bank accounts of charitable organizations, where it can be distributed rapidly.
Disadvantages: It's takes more steps to donate than using a text message. It's tough to use your credit card to donate with an online form from your mobile device. Part of your donation is eaten up by credit card transaction feeds (often 2-3% of the transaction). Donate Via Check: Believe it not you can also still donate via check: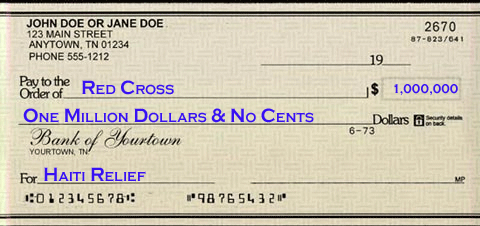 How it Works: This is for those folks under the age of 25 who don't seem to know what a postage stamp is or how they can pay a bill that's not online. When you write a check, put it into an envelope, and add a stamp, the post office delivers your check to the organization, where they deposit it into their account. You receive a confirmation letter via postal mail that confirms your donation. You will also receive a tax-deductible statement that you can use to subtract your donation from your taxable income, too.
Advantages: No transaction fees. Ideal for larger donations. Many organizations cannot make a sizable donation on a credit card as well. Money is available very quickly.
Disadvantages: You need stamps, an envelope and a checkbook. It can take more time for the money to arrive. Someone at the organization must physically deposit the check, type in your address and information, and mail you a confirmation letter.
Summary: Making it quick, fast and easy to donate in small amounts is breaking all former fundraising records. But there are pros and cons to each approach — and at this point, mobile giving can take longer for your donation to have an impact.