eLearning Series
Today's tip – displaying recently viewed items – can help people better navigate your site and increase sales.
eCommerce Tip #5: Recently Viewed Items I Can't Figure Out How To Get Back To That Product!
If you're like me, you've been on an eCommerce site and clicked around on lots of pages. And then, when you want to go back to that must-have item, you can't seem to find it. And that can be really frustrating. This is a pretty common issue with eCommerce sites (unless they have less than 5 or 10 products).
One Solution: One easy solution: display a recently viewed items list, built into the navigation of the site.
This list should show: The name of the products you're recently visited A thumbnail image of each product A link to return to that product page. I'd recommend keeping the list to 10 items, but give people the option to scroll back through all of the products they've visited on the site. Here's an example of a "Recently Viewed Items" system we placed on a wallpaper business site: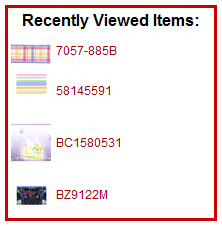 A Better Customer Experience: Adding a recently viewed items section to your site allows customers to browse more easily – because with one click they can easily return to items they'll looked at on the site. Perfect for shoppers who can't make up their mind, a recently viewed items system can increase conversions because it allows site visitors to compare items quickly and easily.
An Alternative: Just Add Items to Your Shopping Cart: If a site doesn't have this feature, I wind up adding anything interesting I find to the shopping cart. The drawback to this method is that: Sometimes you'll forget to add something to the cart It takes longer… each time you add something to the cart, you're taken away from the page, and it can take 8-10 seconds of additional time to get back to what you're viewing. If you do wind up buying something, you'll have to go into the cart and remove items from it… which takes extra time and effort.