eLearning Series
If you've noticed a change to Google's search results in the past few weeks, it's because they've implemented a new system called "Google Instant." This is just for people who go to the Google.com site; it doesn't currently work from a Google search toolbar. As you type, the search results start to appear before your eyes.
According to Google, before Google Instant, the typical searcher took more than 9 seconds to enter a search term. Using Google Instant can save 2-5 seconds per search. All this is wonderful for the end user. But how does this affect Search Engine Optimization and Cost Per Click (CPC) Advertising for businesses and organizations?
Search Marketing Case Study: Google Instant Google Instant: What It Means for SEO & CPC:
As I've written about extensively in the past, the Web is an asynchronous medium: most people type much slower than they can read. Google's research shows that people read ten times faster than they can type. Google knows – they handle more than 20 billion searches per day. Google has tried to tackle the typing delay, and delivers search results instantly… in part by trying to predict what you are searching for. So if you start to type in "Customer Pa" into Google, our site will be displayed: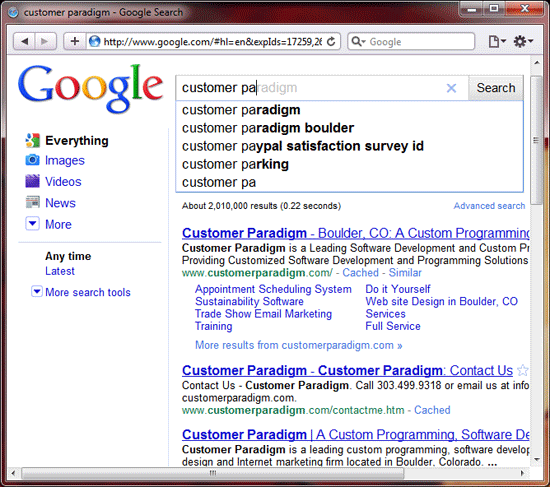 As you type, the results appear right before your eyes. According to Google, this doesn't affect how ads are displayed or how search engine optimization is ranked. However, Google does acknowledge that ads and search results will now be shown for new "predicted query" results. Google gives the example that if someone types "flow" into Google, their algorithm predicts that the user is searching for "flowers" (the predicted query) and therefore displays search listings and ads for flowers. Those results will continue to show unless the next letters that the user types lead to a different predicted query. Here's a screenshot of typing "flow" into Google: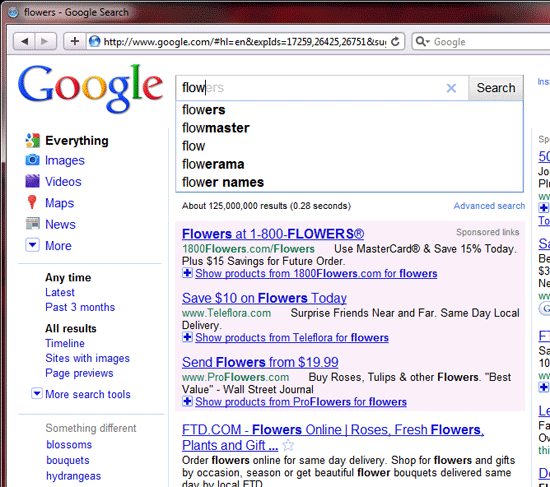 Ad impressions are counted differently than before, too: According to Google, when someone searches using the Google Instant system, advertising impressions are counted in these situations: The user begins to type a query on Google and clicks anywhere on the page (a search result, an ad, a spelling correction, or a related search). The user clicks on the Search button, presses Enter, or selects one of the predicted queries The user stops typing, and the results are displayed for a minimum of three seconds. Google acknowledges that their Instant search results system might affect the overall advertising impression levels. However, they feel that Google Instant may be able to improve the quality of the clickthroughs to your site, as it's helping people search using terms that, according to Google, more directly connect them with the answers they need.
Long Tail Keywords May Be Affected: A search term such as "car stereo" is a high volume search term. People spend a lot of time and energy to get great search positioning for a keyword such as this, as a #1 result guarantees a tremendous amount of traffic. Long Tail Keyword Graph: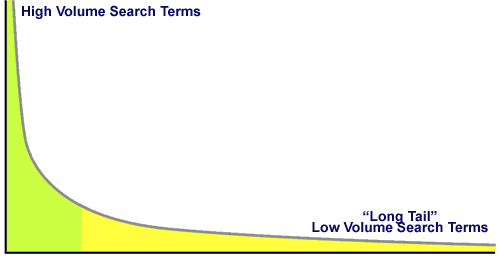 A long tail keyword, such as "car stereo for 1965 VW Beetle" doesn't have the same volume of people searching for this query, so the competition is a lot less intense: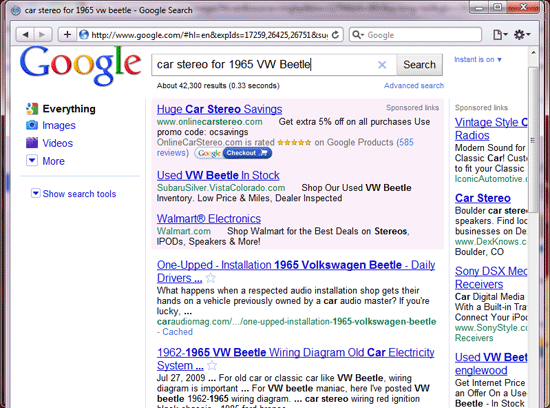 The worry from search engine optimization experts is that with Google Instant, search results are displayed as a person types, so they may be less likely to keep typing the whole long tail keyword search. Therefore, it may be increasingly important to optimize your site for shorter keyword terms vs. the longer tail keyword terms.
Cost Per Click Prices May Increase: If predictions are true and long tail keyword searches decrease, more and more advertisers will be forced to bid for the more expensive, shorter keyword terms. This may run up the price of Cost Per Click (CPC) advertising as a result.
More Information: Want to better understand how Google Instant affects your site's search engine optimization or cost per click marketing? Contact us for a no-cost consultation.