eLearning Series
Thanks for all of the fabulous feedback last week on using videos on your website. This week's tip is simple, but is a foundational element of success in social media marketing: the headshot.
Social Media Tip #2: Successful Headshots Social Media is About People Connecting with People
Customer Paradigm Selected Team Photos
Jesse Schultz, Project Manager

 John Rush, Interactive Marketing Specialist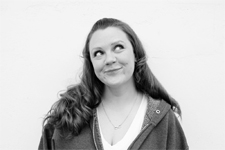 Jennifer Taulman, Marketing Assistant
Ryan Locke, Programmer
Scott Belford, Office Manager
Esther Balbois, Designer
Charity Johnston, Accounting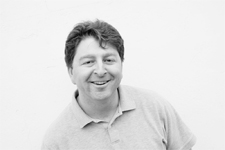 Jeff Finkelstein, Founder
Clifton Forlee, Programmer
Ali Schultz, Project Manager
Headshots Are Critical – The secret to a good headshot is that it can convey a wealth of information in a fraction of a second. For our team's headshots, master photographer Peggy Dyer helped us create a look and feel which conveys the truth that our team enjoys the work that we do, and is full of fun and energy.
We chose black and white photos, because the absence of color helps create an artsy, classic look. People want to connect with people — and not with a faceless company.
What's the Perfect Headshot? The perfect headshot is one that literally jumps off the page. And stops people in their tracks. A good headshot should convey who the person is, and help place a face with a name. In today's world, when so many of us work with people across the country and the world, a photo can help cement a relationship and create trust and confidence.
Mistakes To Avoid With Headshots: Your best bet is to work with a professional photographer, who can capture the essence of who you are in a visually compelling manner.
1. Distracting Background. A point-and-shoot camera has a really small lens. While this makes it a lot easier to carry around, a lens that is four inches wide captures light in a whole different way. A small lens focuses everything tightly ­­ but for headshots having everything in focus isn't as compelling.

Small Aperture Lens Opening: (everything is in focus)
For best results, you'll want a camera that has a large aperture lens, that allows you to blur the background. I have a 1.4 aperture lens on my Canon 50D that allows me to keep the person in focus, but create a nice blur on the background.
Wide Aperture: (only part of the image is in focus)

In the images on the right, you'll notice that they were taken against an off-white background, and your eye isn't distracted by the background — the people jump off the page.
2. Things Growing Out of People's Heads. A sure kiss of death is the telephone pole or tree that appears to be growing out of someone's head. It's a common mistake with amateur photographers. Pay attention to what is behind the person.
3. Lack of Good Lighting. Good diffuse lighting can help create a compelling image. The images on the right were all taken outdoors against a white wall; the weather was cloudy and overcast, so there were no harsh, direct shadows. The built-in flash on your camera can often be too harsh and directional. It's better (if possible) to use a flash that you can bounce off of a ceiling or other diffuse reflector to create a less direct light source. That said, sometimes it's nice to keep part of a person's face in shadow – that can create a nice effect.
4. Not Close Enough. When you're using a headshot for a social media site like Facebook, MySpace or LinkedIn, make sure that the image is shot close enough that you can see the detail in someone's face. When the image is sized down to a small thumbnail, a close up on their face is critical. It's not very helpful to show a tiny image of someone where you can't see their face.
Need A Good Headshot? If you need a good headshot, let us know. We have friends that are photographers all across the country, and can create an image that brings out the real you!