What is Inbound Marketing?
Inbound Marketing is a broad term referring to the process of attracting visitors to your site; at Customer Paradigm, Inbound Marketing is a process of attracting qualified visitors. Far too often we have taken on clients who have had SEO work done for them before, and left unsatisfied because of the results. The difference is that at Customer Paradigm, we know there is a huge difference between sending visitors to the site and sending leads to a site; a process we call Conversion Rate Optimization. A quick look at the linkscape of one of our competitors sums up the problem with one-size-fits-all SEO package: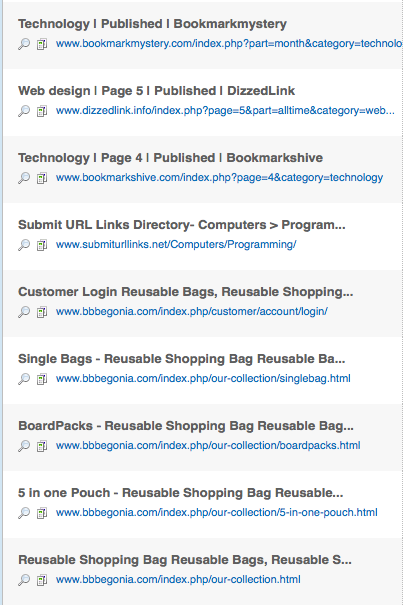 Judging from their inbound links, most people would assume that this company sells shopping bags of some kind, not web design and SEO services. However, this is the sort of work that you can receive if you get yourself locked into a contract that promises a certain number of links in a set amount of time.
The logic behind this kind of inbound marketing is that any one link is equal to any other link from the internet. So these companies go out and try to find the lowest hanging fruit, and get links from there. Do you think that someone browsing the forums of a company selling a "5 in one Pouch" are going to follow a link pointing to web development?
At Customer Paradigm, our guarantee is: the links that are pointing back to your site are relevant and would actually be clicked on.
What Does a Customer Paradigm Client see on their Linkscape?
Wilderness Aware Rafting is one of our oldest clients, and one of the most challenging to optimize for. They lead White Water Rafting, Jeep, and Horseback Tours in Colorado and Arizona. Needless to say, because of the quality of rapids in Colorado, and the natural beauty here; competition for this industry is incredibly fierce. Here is a look at their linkscape, taken from the same source as the image above: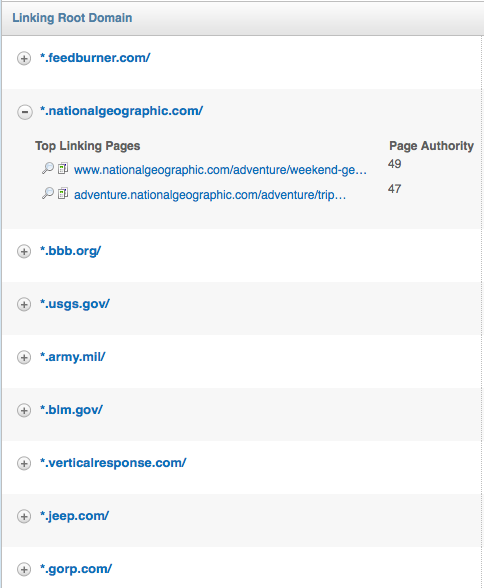 First, you'll notice that we had to expand one of the groups because we have multiple links from each of these domains. Unlike in the previous example where the links are coming from different parts of a particular site's forum, these are actual content pages on the site itself. Customer Paradigm does not have a one-size-fits-all mentality, we believe that every individual business has its strengths, and needs to be marketed to those points of differentiation.
As search engine algorithms get more sophisticated, they have begun to recognize that links from websites completely unrelated to an industry are spam and will be ignored. If you were looking for information about White Water Rafting in Colorado, wouldn't you trust a site with links from National Geographic and the Bureau of Land Management more than from a shopping bag website? What if you wanted to take a Jeep Tour through the gorgeous Breckenridge area of Colorado, wouldn't a link from Jeep.com be more convincing?
Instead of taking an approach that any link will do, Customer Paradigm strives to take your Inbound Marketing to the next level. A complete Internet Marketing Package would include on-site optimization to create landing pages designed to capture qualified traffic, and a link building campaign to send visitors to that page. Our inbound marketing methodology is one based on the principals of sustainability and scalability.
How Exactly Does Customer Paradigm Attract Qualified Links?
Inbound Marketing is the art of leveraging any relevant methods for attracting links and traffic to the site, but Customer Paradigm takes it a step further. With search engines cracking down on black-hat tactics, the way to attract qualified links to your site is in building relationships within your industry niche on the web. This can be done with Social Media, Classic Link Building, or Guest Blogging. The premise is pretty simple, the way to convince someone to link to you is to provide them something of value in return for the link.
We steer away from outright buying links, as there is no obligation for that webmaster to keep your link active after he receives your money! Instead, we aim to provide value by creating local business networks and guest blogging. Local Business Networking is a powerful means of getting qualified inbound links coming to your site.
With so many small businesses all over the US, many business owners are looking to network with businesses in their area to exchange links for their mutual benefit. We actually get on the phone with local businesses in your area and try to set up a link exchange for the mutual benefit of both parties. Guest Blogging is probably the best way to target both search engines and human eyes to bring people back to your site. The premise is a simple one, one of our SEO Experts with tons of writing experience plans, writes, and edits an article related to your website, and sources it on a relevant blog.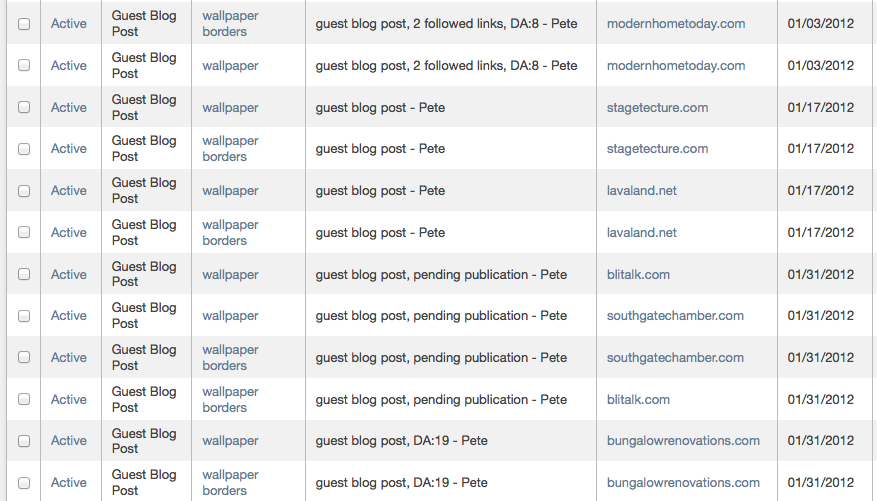 Here is January 2012's guest blogging results for one of our clients that sells wallpaper and interior decorating supplies. These are all full articles, 800-1000 words, that point back to relevant landing pages on their site.
When either a human or a search engine bot sees these links, it makes sense that a wallpaper company is blogging on interior design blogs, and the links carry additional weight than just random forum posts. In exchange for providing them with free content, these blogs allow you to place links pointing back to your site in the article itself.
From a search engine perspective, this adds context to the links found on the page and since the links pointing back to your site are usually the only external links on that page, they are immensely valuable. For the human aspect, if someone is willing to search and read a blog article about a topic, it is far more likely to click on the links in the article to learn more. Of course these links are pointing to an already-optimized landing page designed to both retain that visitor and push them to convert! Customer Paradigm will take your existing inbound marketing strategy and throw it into overdrive.
To have Customer Paradigm contact you about Inbound Marketing, please fill out the contact form below or call us toll free at 888.772.0777 or 303.473.4400
Free SEO Analysis
We would love to hear from you! Please fill out this form and we will get in touch with you shortly.