Search Engine Marketing for Magento eCommerce Websites
TOP FIVE REASONS TO CHOOSE CUSTOMER PARADIGM FOR MAGENTO SEARCH ENGINE MARKETING
1. We Help You Get Results. Customer Paradigm understands that your Magento website is a tool to help your business succeed. We want to help you sell more products, and everything that we do is oriented toward helping you achieve your ecommerce goals. We've been helping Magento and eCommerce sites reach their internet marketing goals for nearly ten years. No frills, no gimmicks. Just a consistent focus on your bottom line.
2. We Don't Mark Up Ad Spends with Google, Yahoo, Bing or Facebook. Unlike other CPC marketing firms, Customer Paradigm doesn't mark up the advertising. Everything is billed directly to you, and you have full access to your account in Google AdWords, Yahoo, Bing or Facebook. We charge only for our time to set up the campaigns and manage them on an ongoing basis.
3. Our Accountability. We Measure and Track Results… and Show Them to You. We try to take a lot of the guesswork out of search engine marketing by adding tracking and measurement code that allows us to know who's coming to you site, what keywords they used to get there, and which keyword terms convert into paying customers. Without adding solid tracking, it's all just guesswork.
4. Low Prices, Outstanding Customer Service, No Long-Term Contracts. If you're unhappy with our performance, we make it easy to go. We find that other companies that lock you into a long term contract for SEO can often be good at first, but they have little incentive to work day-in, day-out to generate outstanding results.
5. We're Magento Developers, Too. Customer Paradigm SEO specialists work in our open office next to Magento programmers and designers. We can execute our strategies faster than traditional search consulting firms. We know Magento.
For more information about reaching your Magento search engine marketing goals with Customer Paradigm or a FREE SEO consultation for your Magento website, call 303.473.4400 or click here to have a real person contact you now.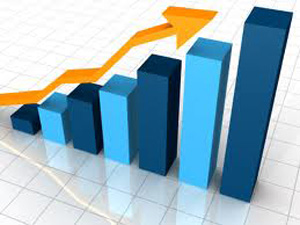 Looking for Magento SEO?
Customer Paradigm can help.
So you've completed your brand-new Magento ecommerce website. And now you want people to visit your site and buy your products. Or maybe you've had a Magento ecommerce website for a while, but believe you could be getting more traffic and selling more products. We can help.
Customer Paradigm is an award-winning Magento website development and internet marketing agency located in Boulder, Colorado. We provide comprehensive internet marketing strategy, interactive advertising campaigns and website optimization for Magento ecommerce websites to help companies increase website traffic and attract and retain new customers. For more information about reaching your Magento search engine marketing goals with Customer Paradigm or a FREE SEO consultation for your Magento website, call 303.473.4400 or click here to have a real person contact you now.
Why Does Your Magento Website Need Search Engine Marketing?
Because you want your Magento store to be successful. The majority of web traffic is driven by the major search engines such as Google, Bing, and Yahoo. Your potential customers are using them right now to find the best place to buy your products. Search engine marketing for Magento is the process of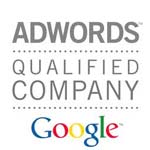 understanding how your potential customers search, and how to improve your rankings and effectively utilize targeted advertising. Ultimately, so you can reach those clients: improving traffic and conversions for your Magento website and helping your Magento ecommerce store make more money. For example, suppose you were the owner of a Magento website that sold golf balls, shoes, and other equipment online. Customer Paradigm would identify what keywords your customers are searching for, and which of these keywords are most effective to target for driving traffic and conversions to your Magento website. Then we'd set up search advertising to target customers searching on those keywords, optimize your Magento website to increase it's search engine profile and conversion rate, and build links back to your site to help improve your page rank and domain authority: enhancing its profile to search engines and improving your rankings.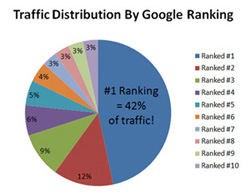 The major search engines rank websites based on an algorithm that determines the relevance of those sites for millions of different keyword combinations, and the algorithm is constantly changing. Research shows that the greatest share of traffic (and online sales) go to the sites that rank best for critical keyword search terms (see the graph at left), and decreases exponentially.
It doesn't matter how attractive your website is, or how good your products are, if you aren't on the first page when a potential customer types in a critical keyword (such as "discount golf equipment online"), their business is probably going to go to a competitor who's site ranks higher than yours does. On the other hand, improving the search engine ranking on a critical keyword for your site, even a few places, can increase your traffic significantly, potentially making you thousands of dollars!
How Will Customer Paradigm Improve Your Magento Website's Search Engine Marketing – and How are We Different?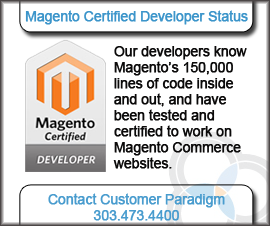 Search Advertising for Magento Sites
We have a different approach to search engine advertising for Magento than most firms. Instead of charging you a percentage of your advertising budget, all advertising is billed directly to you, with no markup. We bill you only for our time to set up and monitor campaigns. Charging a percentage of ad buys, such as 15%, creates an incentive for the marketing agency to make sure you're spending as much as possible. Instead, we help focus on what matters most to you – acquiring new customers through keyword research. No budget is too small or too large. Some of our clients spend $50 per month, while others spend tens of thousands on search engine marketing campaigns. Magento search advertising management, despite all its benefits it can quickly become time consuming and distracting. You must keep an eye on your ROI, campaign performance metrics, and the PPC strategies employed by your competitors. You have to constantly test ad copy, create landing pages, monitor bids and employ various marketing strategies on a daily or weekly basis to maximize your ROI and sales. We can help!
Organic Search Engine Optimization for Magento Websites
We believe that the key to strong organic search engine optimization for Magento websites is the creation of highly-relevant content and high-value back-links through white-hat SEO practices. Strong organic SEO requires you to constantly update and optimize the content on your site, and to increase the number of quality back-links to your website to reach and retain high search engine rankings. Additionally, other factors like keyword density, meta- and title tags, URL writing and more need to be managed, along with the structure of your website to ensure optimal performance so pages load quickly and consistently across Internet browsers. We can help!

At Customer Paradigm, we believe that both search advertising and SEO offer opportunities, depending on your individual business model. We promote an integrated approach that coordinates both search advertising and SEO strategies to achieve your online marketing goals. And, because Customer Paradigm is also a leader in the development and programming of Magento websites, coupled with our in-house web development team, we can execute our strategies faster than traditional search consulting firms. In our open office format, our search engine marketing specialists sit next to our Magento designers and programmers.
Is Magento Search Engine Marketing with Customer Paradigm Effective?
See for yourself. In the winter of 2010 Liquor Mart, a liquor, wine, and beer retailer located in Boulder, Colorado, launched an online Magento store and hired Customer Paradigm to increase their search engine profile. Customer Paradigm used a coordinated strategy of targeted, high-value backlink building and content optimization to enhance Liquor Mart's SEO profile: and the results speak for themselves. Liquor Mart now ranks #1 in the world in Google for the terms "liquor," and "buy beer online," among others. That means if you went to Google.com and typed in "Liquor," the first result you would see is Liquor Mart (feel free to visit Google and check it out yourself!). Research shows that around 40% of people who search for a given keyword will click on the first result!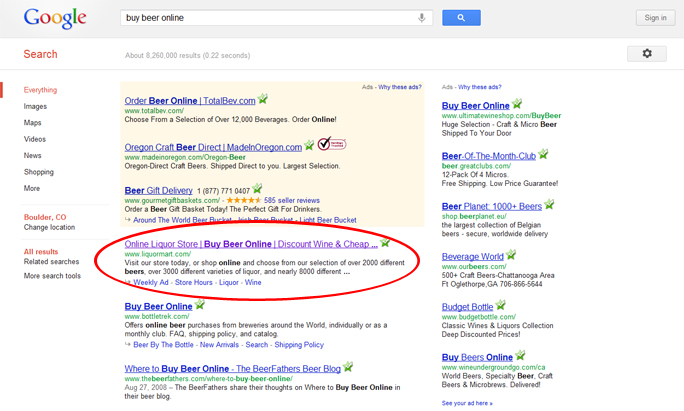 Goal Tracking, Reporting, and Accountability for Magento SEO and Search Advertising
Customer Paradigm closely tracks and analyzes every aspect of your Magento search engine marketing campaign with Google Analytics, Google Adwords, and multiple analysis tools. This allows us to distill down to those processes and keyword targets that work, and monitor and respond to any changes in the way the search engines are evaluating your site or search trends. It also allows us to generate detailed monthly reports, so that you can see our progress for yourself.
Our Magento Search Engine Marketing Promise
Unlike other search marketing firms, we: • Never lock you into a long term contract. • We never "mark up" the CPC ad buys – they are billed directly to you. • We always provide you access to talk to a real person, who understands your business goals. To have Customer Paradigm contact you about Magento SEO, please fill out the contact form below or call us toll free at 888.772.0777 or 303.473.4400