P3P Privacy Policy Experts
Does Internet Explorer 6.0 Block Your Website's Cookies?
Do You Have a P3P Privacy Policy?
Many sites that want to demonstrate their commitment to Internet privacy have posted privacy policies. Yet most privacy policies on Web sites are only able to be read by a human sitting in front of a computer.
A P3P-compliant privacy policy translates the words read by a Web site visitor into language that is understood by computers.
Internet Explorer 6.0, for example, can read P3P-based privacy policies and will block or accept cookies based on specific settings in the browser.
If your site uses cookies (especially from more than one domain), a P3P privacy policy may prevent your cookies from being blocked.
Customer Paradigm's P3P Privacy Policy Creation:
Comprehensive review of a site's privacy practices, data information handling procedures, and privacy policy.
Create & deliver P3P-compliant privacy policy in XML
Upload (or assist uploading) the files into the proper directories
Test the P3P privacy policy using the W3C's P3P privacy policy validator and IE 6.0's privacy policy reader
The Customer Paradigm team guarantees your satisfaction. If for any reason you are not satisfied with the work we perform, we will work with you at no additional cost until you are satisfied.
Case Study: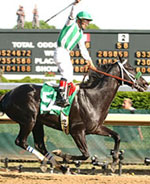 One week before the 2002 Kentucky Derby, Internet Explorer Users (about 30% of browsers) could not use the Churchill Downs collection of 13 websites. Cookies were being blocked due to a lack of a P3P privacy policy.
By creating a P3P privacy policy and modifying the HTTP headers with a compact privacy policy, users no longer had their cookies blocked.

Problem solved by Customer Paradigm's P3P experts.
Here's What Our Clients Are Saying:
"My Web site wasn't working with the new Internet Explorer 6.0 browser — all of our cookies were being blocked. Customer Paradigm quickly developed and implemented a P3P Privacy Policy for us — we're now up and running without any problems."
— Rabbi Jamie Korngold, Chief Spiritual Officer, AdventureRabbi.com
"Customer Paradigm's P3P Privacy Policy service helped us go from a non-working site for our Internet Explorer 6.0 users. They are thorough, pay attention to detail, and really know their stuff. I'd recommend them to anyone."
— Kent Wolf, DiscountDecorating.com
"AOL users couldn't click through and use our Website — meaning a lot of lost revenue. With a P3P Privacy Policy now in place, AOL users with IE 6.0 can now use our site without having our cookies blocked."
— Webmaster, SunshineDrapery.com

This site is P3P-Compliant | View P3P Policy View Privacy Promise & Policy