Ooops. I just made a big mistake and broadcast it out to (many) thousand people via email.
In this case, I was moving too quickly, and mis-typed my email address that was in the FROM line of the email. I made a mistake in the domain name – the part after the @ symbol. In this case I used '@CutomerParadigm.com' instead of '@CustomerParadigm.com.'
If I had made a typo in the part on the left side of the @ symbol – jefff vs. jeff, then I could have quickly set up a forwarding account so that anything that went to the jefff@ would forward to my real account.
But that doesn't work if you mess up the domain name.
So… what to do?
I did two things.
1. Registered the domain name and made the bad email address a working, valid one. This way, if someone tried to reply to the older / incorrect email address from the email campaign, it would still go through:
First, I registered the 'mistyped' domain name at Godaddy, CutomerParadigm.com.
I then set up an email forward so that the @CutomerParadigm.com would forward to the actual account at @CustomerParadigm.com
I also set up the main domain name to forward over to the www.CustomerParadigm.com domain name, as a 301 redirect.
Total elapsed time from domain registration to email address forwarding properly: 27 minutes.
Total cost: $9.85 for the domain name, and I had a free email forwarding account as well that I could use.
2. Sent out a corrected email campaign. This time from the correct email address in the from line.
I blamed the error on too much snow in Colorado. (It's been snowing here and across the US like crazy.)
I also included a really cool photo that I took over the weekend of Boulder, CO in the snow. Visit here for the image >>
The photo was designed to share something else, something more personal, that would be well received by the audience. (And it was.)
Because the email address was invalid earlier, it's likely that a lot of people didn't receive the previous email.
Finally, I'll take a bit more time next time and test the FROM line.
Here's a look at the corrected email message: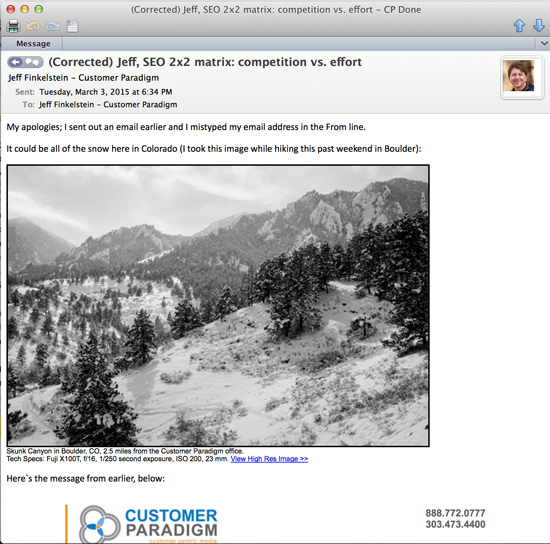 Click here for full size screenshot of corrected email message >>