Commonly Asked Question: What is the difference between Magento and WordPress?
Comparing Magento and WordPress is like comparing apples to oranges. From the outside both platforms may appear similar – they are both highly SEO friendly, easily customizable and have a huge online support community. At the very core of both platforms, you will find that they are both content management systems.Their differences lie in their intended purposes.
If you are just starting a new website for online sales, or already run a content based website and are looking to add some eCommerce features it is easy to find the options daunting – here is what you need to know!
Magento

Magento is an open source eCommerce platform. Magento's main focus is on features dedicated to facilitating eCommerce. Magento is used by over 250,000 businesses worldwide. From "mom and pop" shops to massive corporations, Magento is able to support a wide range of eCommerce sites.
Magento is functional and customizable – allowing businesses to develop sites to fit a wide range of needs. The primary function of Magento is to build a site for selling numerous products online
WordPress

WordPress is an open source content management system – primarily aimed at blogging and other content driven sites. Over 60 million websites are powered by WordPress. WordPress is considered to be very user friendly, with a huge range of plug-ins and templates.
While you are able to achieve some eCommerce functionality on a WordPress site through plugins (such as the widely popular WooCommerce plug-in), it is very basic.
How Do I Choose?
1)  Function of Your Site
If the main function of your website is to sell products online – Magento is going to offer you the most versatility in how you are able to do so. With Magento you can set up a multi-vendor online market place and sell both physical and digital products.
While WordPress can handle some eCommerce functions through plug-ins – such as selling digital products that do not require any complex shipping – if you have a store with over 500 physical items that will need to be shipped then Magento is going to be your best bet. With Magento you will be able to integrate multiple payment and shipping options with ease.
WordPress is all about publishing, and posting informational content online. If your goal is to publish a blog or informational website that sells only a handful of products in a simple way then WordPress might be the best solution for you. If your main goal is content marketing, then you might find Magento to be limited in this aspect.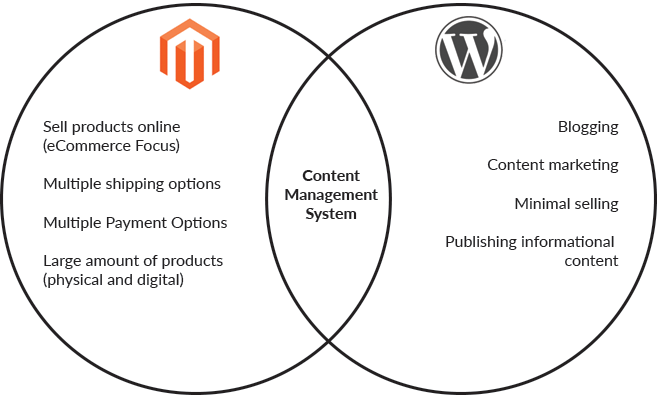 2) Behind The Scenes
While both platforms are content management systems, you will notice some differences in development.
Magento files are set up across a number of files and folders that share the same name. Where in WordPress all the files are largely contained within the same folder but have a unique naming convention.
Another big different in development is that where Magento is mainly object oriented, WordPress is largely driven through PHP scripting.
WordPress has it's famed "Widgets" – objects that control the structural elements and design within a template. Magento has both CMS static blocks and widgets – while widgets offer a higher level of overall functionality, the CMS static blocks are used to place text/images on a page or template.
The Verdict
There is no one-size fits all solution. For a website focused on eCommerce – Magento is the more robust system. However if you are planning to focus mainly on content or blogging, then WordPress may be the choice for you. It is also important to note that we have developed websites that incorporate both systems.
Customer Paradigm loves developing for both Magento and WordPress platforms. We can help you make the decision about which solution would be best for your website.  Call 303.473.4400 or visit here to have a real person contact you now >>