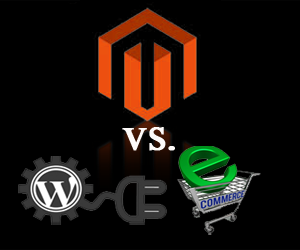 With so many eCommerce platforms available, it is hard to figure out which one is right for you. Many platforms offer different functionality which is necessary for some eCommerce stores, while simple functionality may be your piece of pie. Our experience has been stores that have invested in a simple functioning eCommerce platform but as time goes on, their business grows and they want to offer more customization, they eventually migrate their eCommerce site to Magento.
From our experience, choosing an eCommerce platform that your business is able to grow into is the best route (unless you don't want business to grow). This route is better than investing in one eCommerce method may do the trick for your business at its infancy stage, and then needing to migrate your whole site to a new platform that can handle all your desired functionality and customization.
At Customer Paradigm our general rule of thumb for deciding if your site should be run on Magento or a WordPress Plugin is the question of what is the goal of your site?
If your goal is to sell products we highly recommend Magento. If your goal is to post content and blog then WordPress CMS is recommended. Generally, when the amount of products you have to sell are more than 25 it is a smart move to switch to Magento.
First we will go through the Magento and WordPress similarities, then we will look at the functionality that Magento has that WordPress does not, then the functionality that WordPress has that Magento does not.
Magento and WordPress Similarities
They are both Open Source platforms – they are both free (Magento Community version)
Ability to integrate blogging into their functionality
Ability to easily add products
Ability to use themes to design and personalize the look of your website
Magento vs. WordPress eCommerce Plugins
One advantage of Magento vs. WordPress eCommerce plugins is the fact that Magento was developed specifically for eCommerce. The
overall functionality is going to be more tailored towards a business structure for sales.
Customization of shipping options
Various payment integration
Custom Shipping methods
Dynamic pricing functionality
Order fulfillment
Gift Cards
A more secure eCommerce platform than WordPress third party plugins
Ability to add more functionality than a WordPress Plugin
Great forums available on the web if you run into problems because Magento is the most widely used eCommerce platform
If Magento sounds like the right eCommerce solution for you, please call
Customer Paradigm
to talk to a real person at 303.473.4400 or fill out the contact form below.
WordPress eCommerce Plugins vs. Magento
WordPress is ideal for your eCommerce needs if you are only selling a few products. If you mainly have a site that is driven by content and news updates and you sell a few t-shirts or tickets to an event then the WordPress eCommerce Plugin will work for you. Unfortunately I can not cover WordPress eCommerce plugins in one bullet point list, because the functionality is dependent on the 3rd party plugin you choose. Below is a list of the general well known facts about WordPress eCommerce. 
Tons of eCommerce 3rd party plugins to choose from to fit your needs
Easily integrate your eCommerce into your existing WordPress theme
Not as secure as Magento, WordPress has been frequently hacked.
Unfortunately, 3rd party plug-ins are less reliable which isn't good when it comes to selling products or tickets.
If WordPress eCommerce sounds like the right route for your business here are a few plugins that we recommend WP-Commerce and Jigoshop. If you are interested in WordPress Design and Development call us now at 303.473.4400 and talk to a real person.