Dr. Robert Nagel a respected endontist created Evologie when finding a  solution for his daughters monthly blemishes and breakouts. He consulted with many medical physicians and tested his product with many scientists studying acne. As he consulted with many medical physicians it became more apparent that there is a great need for an acne solution that does not temporarily fix blemishes, but rather heals and protects the skin.
Evologie came to Customer Paradigm with a complete set of PSDs outlining every detail of their new Magento site. . We knew that we could make the designs come to life, after viewing their products and hearing their business goals it was an easy decision to go with a Magento eCommerce platform.
Here's How we Made it Happen on Magento
Themed the Magento Community site in accordance with their Photoshop document designs and Excel guides and created a custom WordPress Blog to match!
For the standard Facebook Like button there appears a count indicating the amount of people
that have liked the page, we modified this Facebook extension so that the "Like" button becomes a clean button with no added on numbers when signed in.
We also added the standard social media share buttons on each product page. This is a great way for users to increase their engagement with the site, and to spread the news about this product if they have a friend to share this great product with.
And finally there is the Evologie Social Media icons located at the footer to stay involved with the Evologie site if you want to follow their Tweets, or join their Facebook Group page.
Custom Free Sample System for Magento
When ordering an item, you are prompted to go through all the payment fields to complete your order. But, what if you want to offer FREE Samples because you know your product is so good? In order to solve this situation and preserve the default full check out for purchases, Customer Paradigm developed a completely customized separate checkout page to offer Free Samples with a promotional code.

 Plus this free sample system helps to capture additional information about the perspective customer such as age and what the product will be used for.  It also features a check-box for the Newsletter sign up to help increase email subscriptions.
If you have ever visited a website where you click on a tab and the whole page reloads? Then after it reloads you have to scroll back down the page to where you were looking. We have inserted a tabbed CMS system with static blocks in Magento that prevent the reloading of pages when shifting from tab to tab.

Custom Video Player Module
When viewing a video we have inserted a video player similar to the lightbox feature for photos. When you click on an image to view a video, the custom video module pops up and gives the user a more concentrated view and aren't distracted by the content on the page.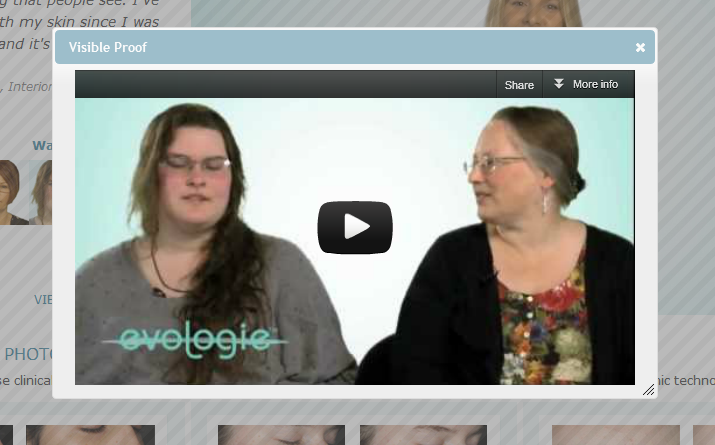 Customized Product Page with Recurring Order Options
When it comes to items like acne treatments, prescriptions or even make-up having your necessary supplies delivered to you without having to reorder allows you to avoid ever running out. Customer Paradigm developed a product page with the recurring order options in time increments of every 30 days, every 60 days, or a one time purchase.

To view the Evologie site please go to: www.evologie.com
The Evologie website has shown us how any eCommerce business can be taken to the next level and customized to tailor to your business goals and customers needs with custom Magento Extensions. If you are interested in Magento eCommerce for your business call us now at 303.473.4400 to talk to a real person, or fill out the short contact form below.