I'm starting to get caught up from the Magento Imagine 2017 conference… and I've put together my recap. For the past six years, I've attended the Imagine conference. This year, I was a featured speaker (more below) and Customer Paradigm had a large booth

presence as a Diamond Level Sponsor. (But I also had my camera with me.)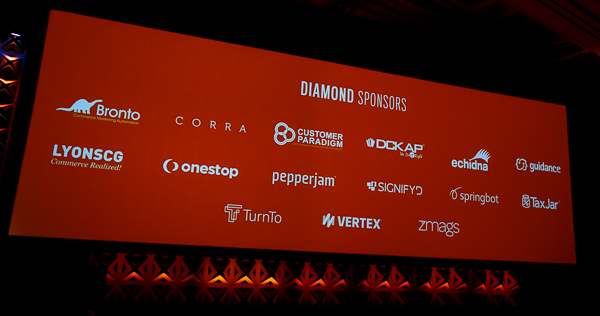 The image below was at the legendary party – I used a slow shutter speed, rear curtain flash, and rotated the camera during the shot (that's what happens after I have a camera and a glass or two of fifteen year old Scotch).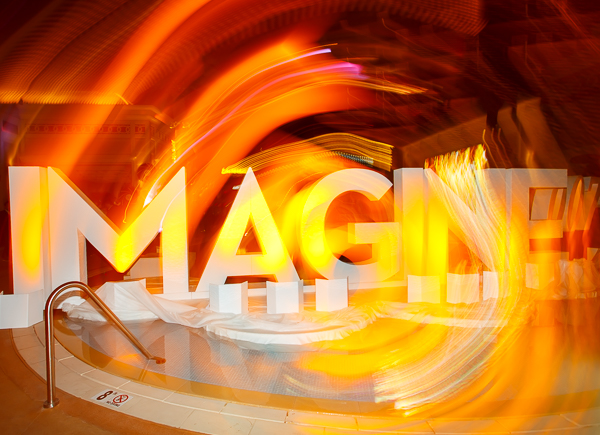 Top highlights from the show:
Magento 2 has taken off.

Last year, Magento 2 had just been launched a few months prior, and people were trying to figure it out / how to integrate extensions and systems with it. This year, we've seen a high adoption rate of Magento 2 by merchants in the marketplace. Magento will discontinue support for the 1.x platform in 2018 as so many people are migrating over to the newer platform for speed, security and to have a clean slate.

More merchants than ever before are attending the conference. When I first started going to the Imagine conference, it was mostly developers, solution partners like us, and hosting companies / extension providers. This year, more than 2,700 people attended, and 35% were merchants.
Magento keeps adding onto the platform in innovative ways. There's a new CMS system, Magento Shipping, B2B functionality, and a Facebook extension coming soon to help with Social Commerce.
Non-Screen Ordering / Voice as the next wave of the future. Six years ago, mobile was on the rise. Now it's voice / non-screen orders as the way that a lot of people are placing orders on eCommerce sites. Integrating Magento 2 as a 'stateless' system via API will start to gain momentum in the next few years.
Magento continues to dominate as the #1 eCommerce platform in the ecosystem.
Okay… now for the recap:
Nexcess met us at the airport and gave us a stretch limo ride to the Wynn: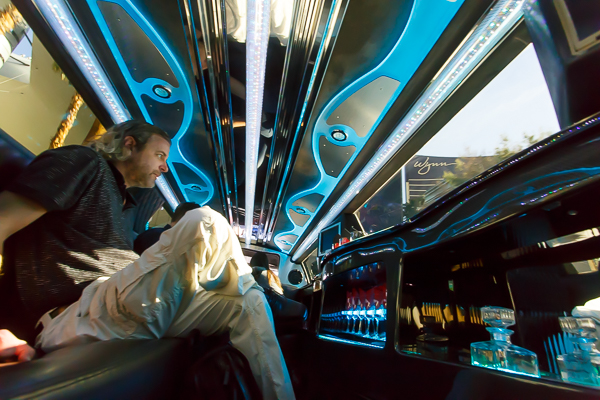 Eight people from the Customer Paradigm team went out early to get the booth set up, and a couple of our developers took part in the developer meetup / hackathon on Saturday and Sunday.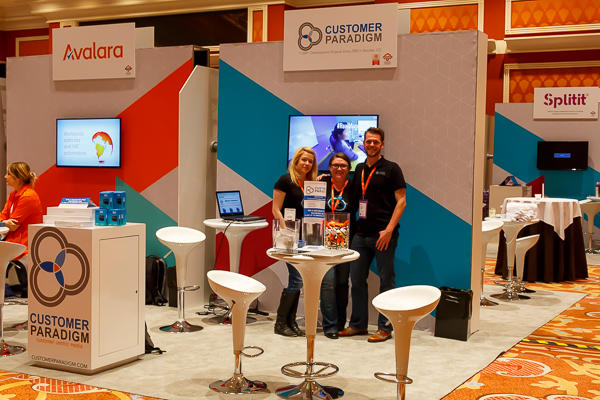 The conference opened up with great music, with a super-wide screen in the back: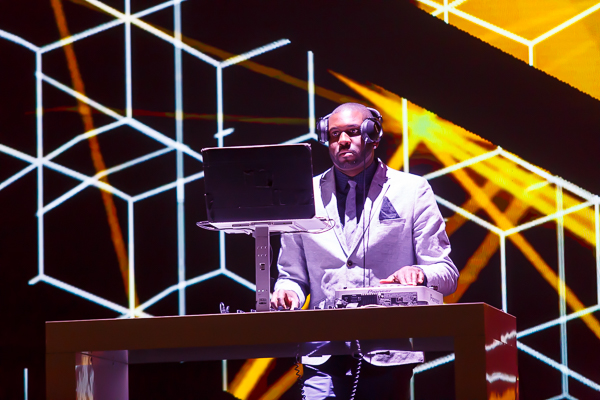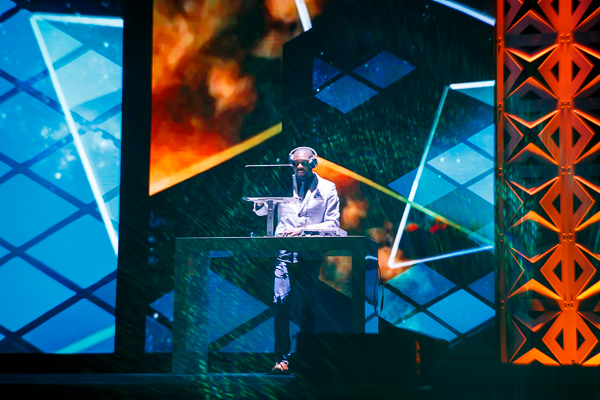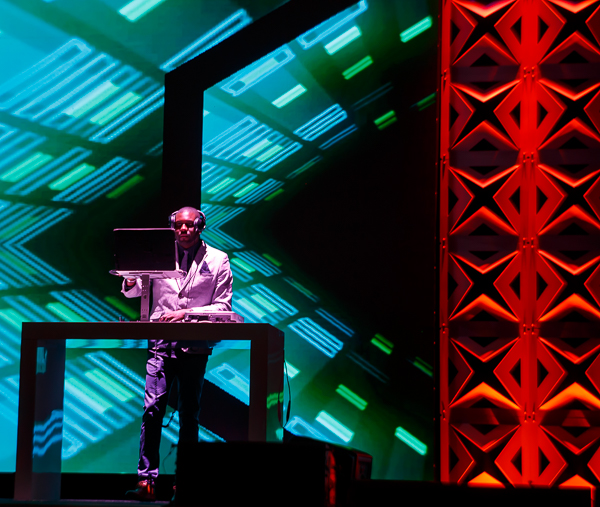 Jamie Clarke, the MC, welcomed everyone to the event, by running on stage: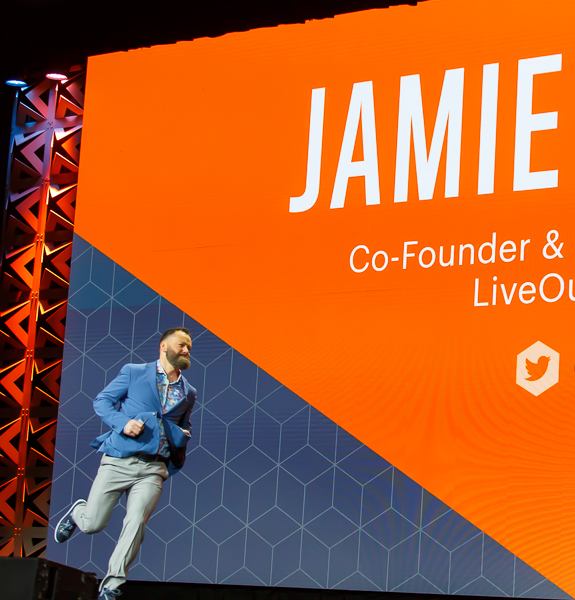 He kept it down to earth, and real, and helped everyone in the audience realize that we all face challenges – whether it is on the side of a mountain, or in the eCommerce space.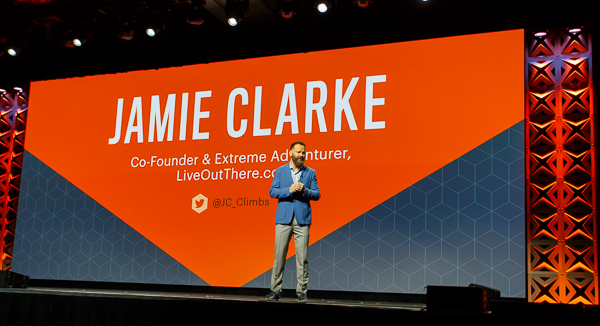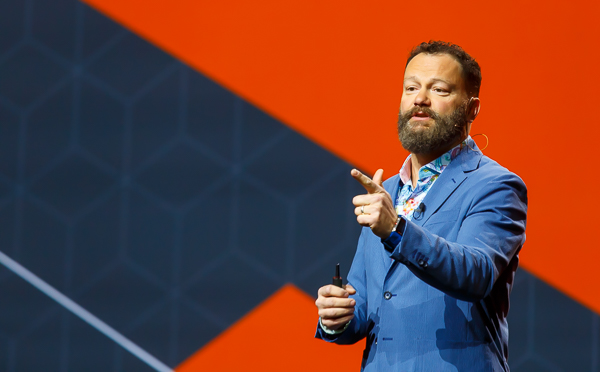 In the past, Jamie's climbed some of the world's biggest peaks with a friend of mine, Wally Berg, that I used to work with when I was at Copper Mountain.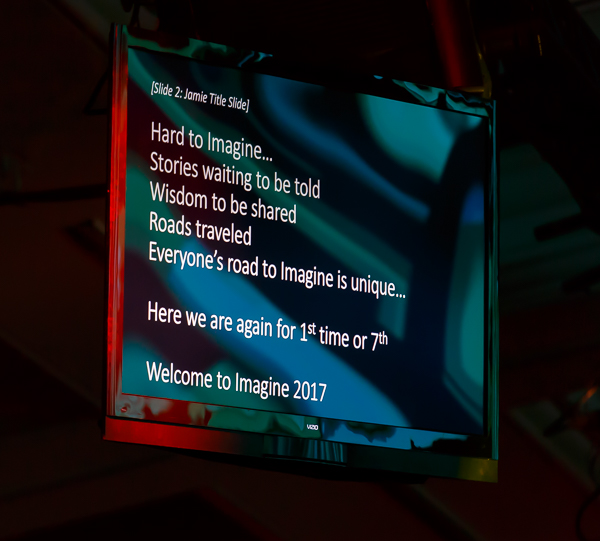 From there, Jamie introduced Mark Lavelle, CEO of Magento Commerce to the stage: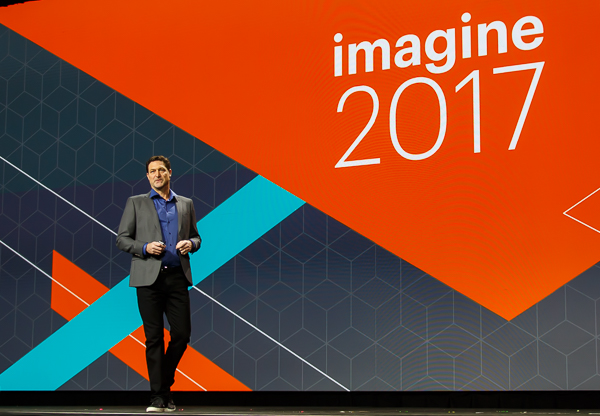 In front of a big Magento logo, Mark gave a summary of what's going on in the Magento eCommerce world.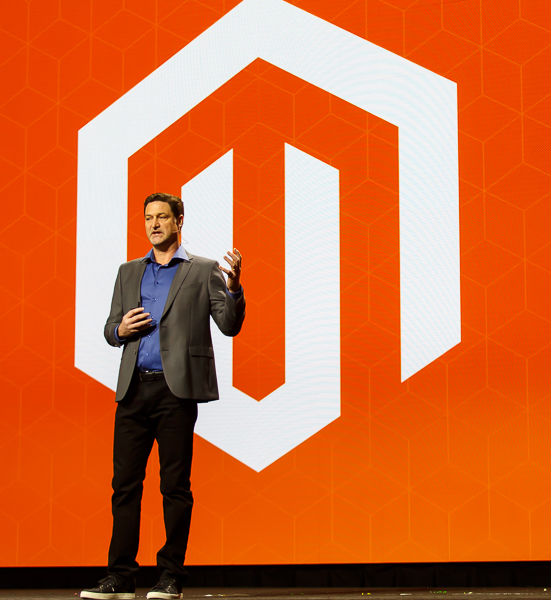 Magento is #1 in the Internet Retailer Top 1000 sites, Europe's 500 top sites, Latin America's top 500 sites, and first in the B2B 300 top sites: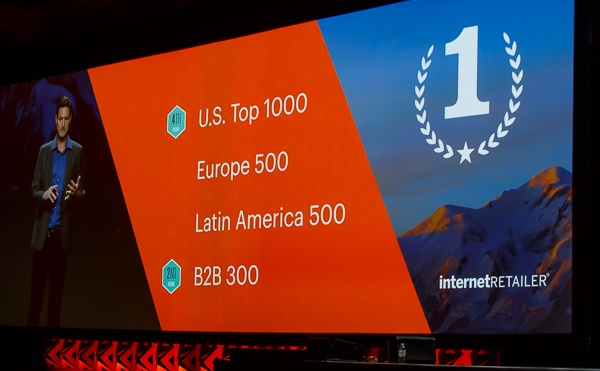 Magento was named a Top Provider by Forrester Research:

And Magento won the Frost and Sullivan 2017 Best Practices award for Global eCommerce product line strategy and leadership: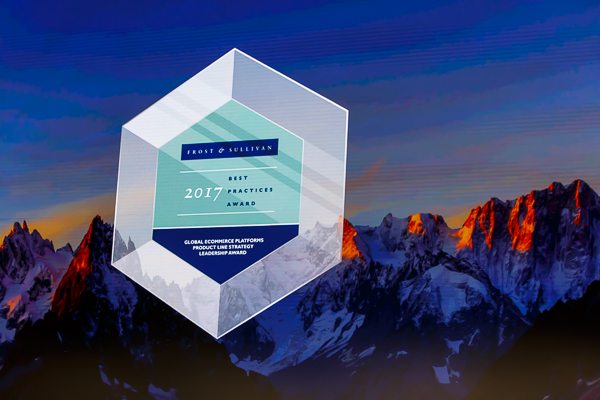 Lavelle talked about the power of the Magento ecosystem – something very unique to the Magento world: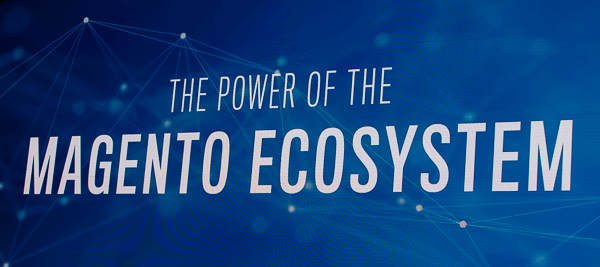 Magento is used in 180+ countries by 260,000 businesses across more than 23 top industry vertical segments: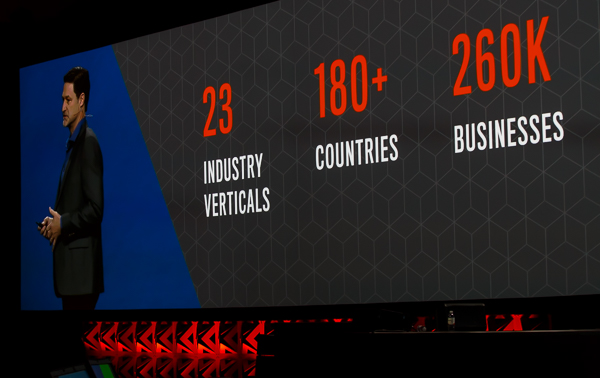 Lavelle discussed to roadmap, and the progress that they made last year, including:
Launching Magento 2
Magento Commerce Order Management
Magento Marketplace (for extensions)
Magento Cloud
Magento BI (Business Intelligence)
Magento CMS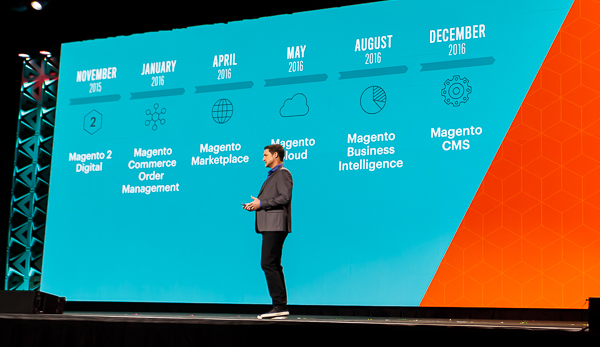 Magento 2 has gone from zero to more than 9,500 merchants: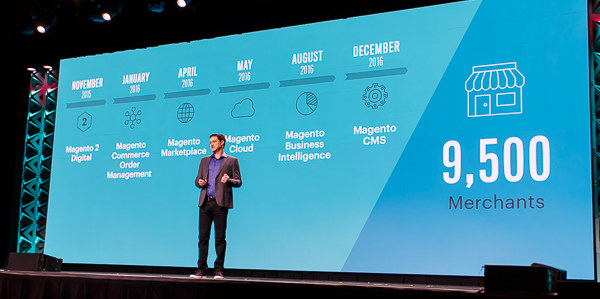 More stats about the Magento ecosystem:
3,900 companies are in the Magento ecosystem
$4.2 billion in total revenues generated
205,000 developers who work on the Magento platform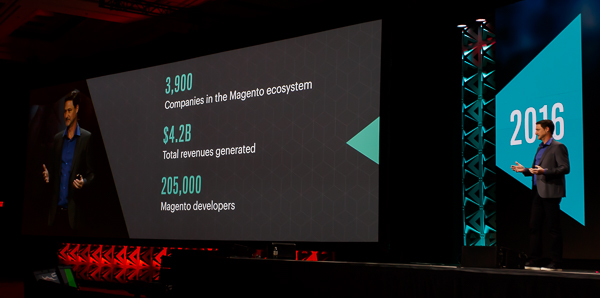 By 2020, this is expected to increase to 6,700 companies in the Magento ecosystem, with 500,000+ developers and more than $14 billion in revenue.

Lavelle then discussed what is going to be powering the eCommerce of tomorrow:

First, 50% of all revenue is now impacted by digital: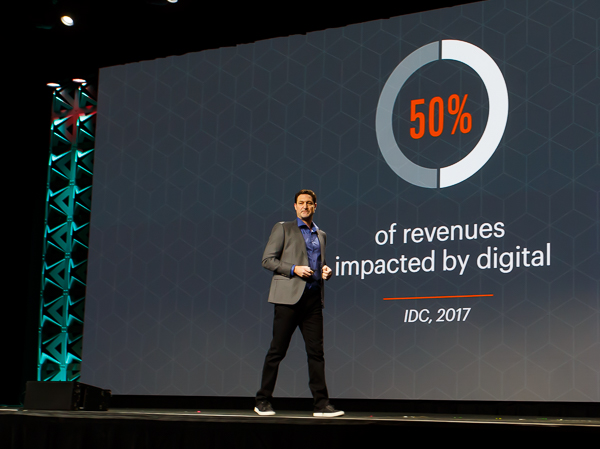 Lavelle talked about the trends shaping digital innovation in the marketplace: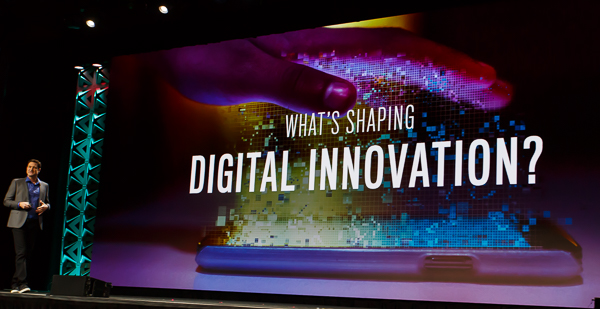 Cloud utility – using on-demand cloud services, instead of provisioning bare-metal servers.
And 2.5 quintillion bytes of data are created every day: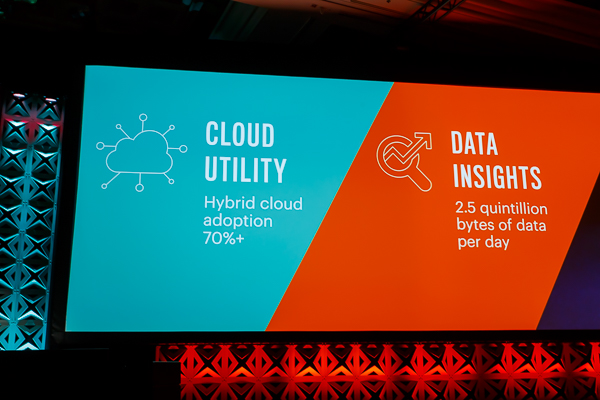 Roughly half the world's population has broadband access, and there are now 17.7 billion devices connected to the Internet: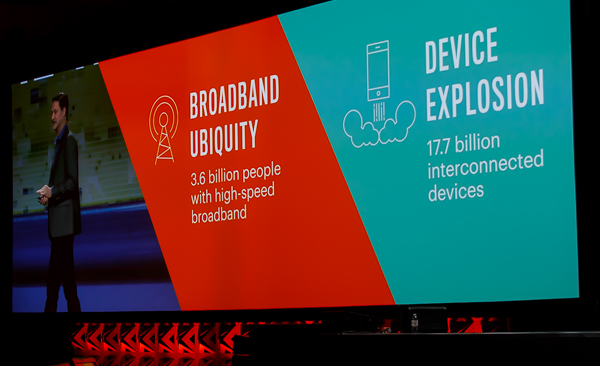 What are the keys to success?

Because buyer expectations have shifted.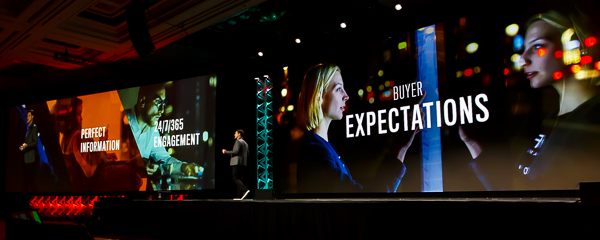 1. Be bold with your brand: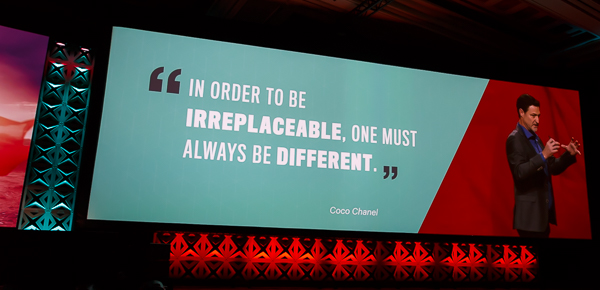 2. Embrace digital first.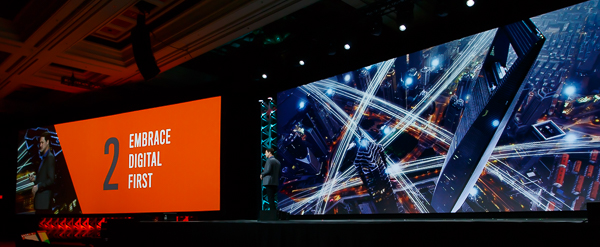 Digital is the engine of business growth.

3. Be flexible.
I've personally seen a lot of sites attempt to automate processes in the past, but it takes them down a rigid path where they are not able to be flexible in the future.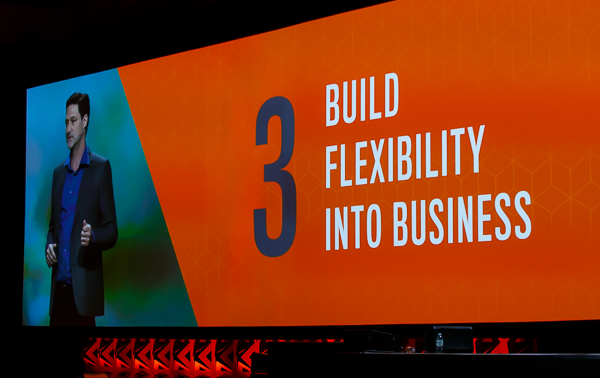 Lavelle quoted from Darwin, saying that the adaptable survive: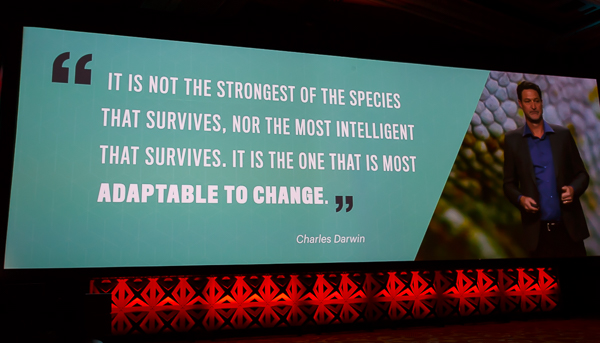 Further, 80% of systems are expected to use open source APIs by 2020. APIs (Application Programming Interfaces) allow two different systems to talk to each other.
From my experience working with the Magento 2 platform, Magento 2 exposes many more APIs than in the past, and even uses APIs internally within the system.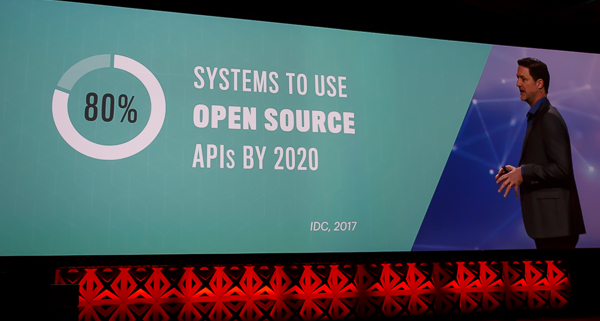 I think the metaphor here was to be flexible like a chameleon?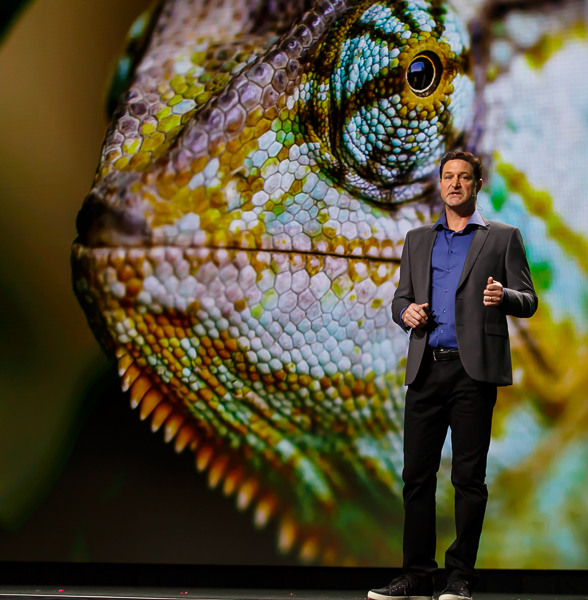 4. Innovate through human ingenuity:

Lavelle talked about how the power of Magento is not just the software. It's the human-powered ecosystem that builds, supports and extends it.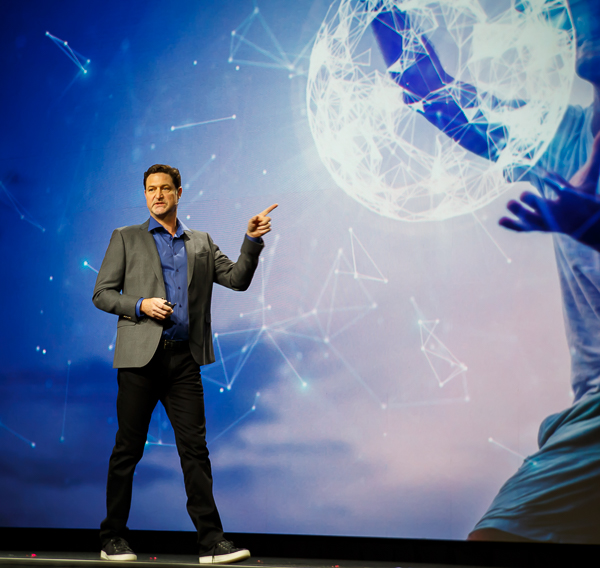 Next, Andrea Ward took the stage. Ward is the new CMO (Chief Marketing Officer) for Magento.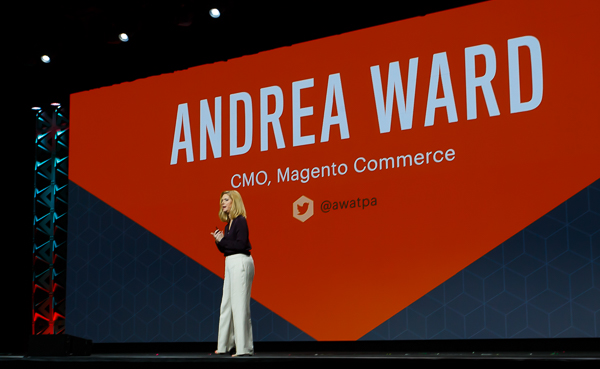 Ward introduced a senior manager from Canon Australia, to tell the audience how using the Magento Enterprise system for selling Canon Camera gear and accessories has been successful.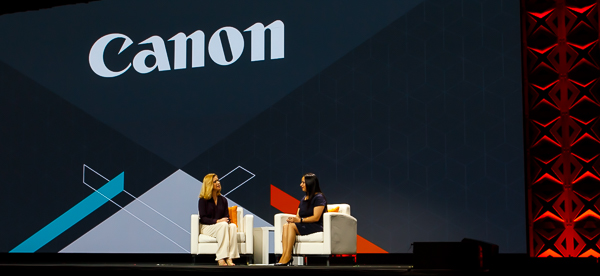 For me, this was particularly interesting, as I've been shooting on Canon equipment since the 80s, starting with the Canon AE-1 (which I haven't put a new roll of film into since 2007).
They shared a pretty amazing video about how they are using Magento to connect a community of photographers together for workshops. They also found that people wanted to buy tripods and other gear that was non-Canon branded as well, so they added this to the site as well.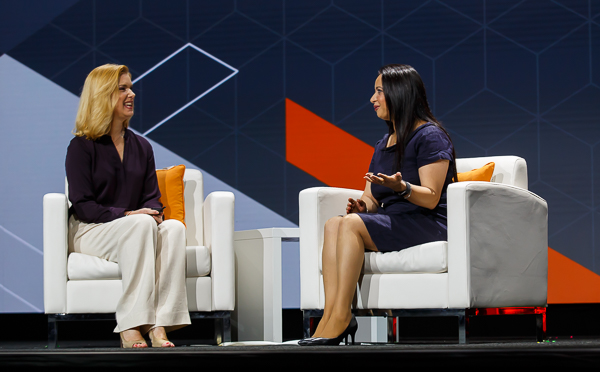 Next, Andrea introduced a video by Helly Hansen.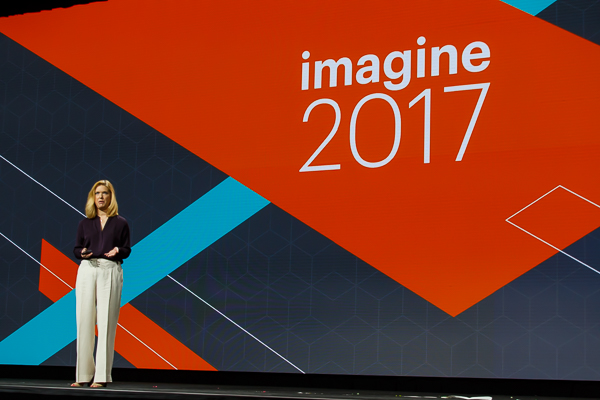 They discussed how they are using Magento Enterprise with their business. The company started in 1877, and keeps innovating to stay relevant for their customers.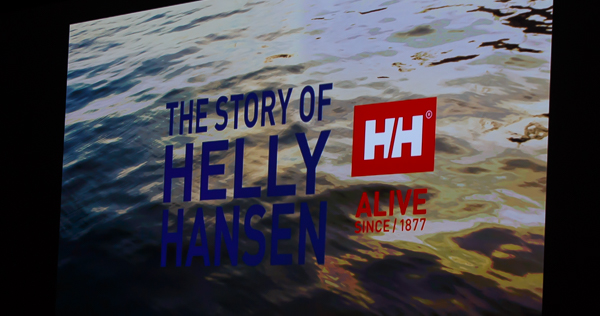 ,
To round out the session, Juan Benitez from Braintree spoke.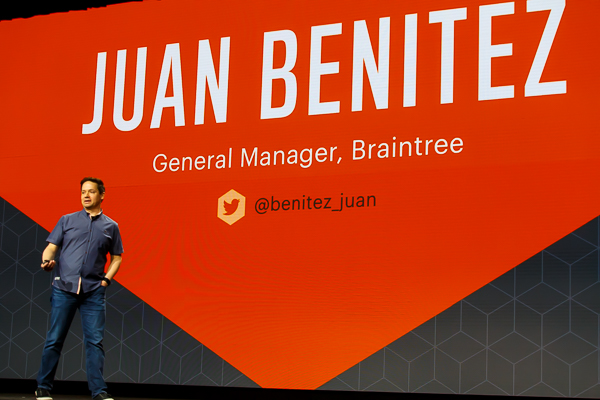 In case you didn't know, Braintree is owned by PayPal and is a payment processing system that is used by many of the top brands, including Airbnb, Uber, Git Hub and more.
One of Braintree's compelling advantages is their ability to securely store credit card information in their vault, allowing for subscriptions or repeat purchases.
The Customer Paradigm team has done extensive Braintree integration work, including building a custom subscription management system for a Magento 2 site.
Benitez spoke about how Braintree responds to change in the eCommerce world.

He said that one of the keys to their success was listening to the needs of their customers.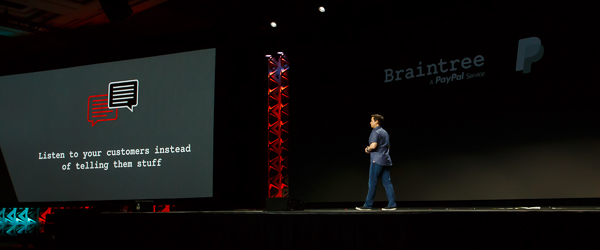 With Uber, for example, the open API that they have allowed Uber to create a seamless experience, right inside Facebook's messenger platform.
In this way, during a Facebook messenger chat, you or your friend could order a ride, without leaving the messenger application or opening up Uber.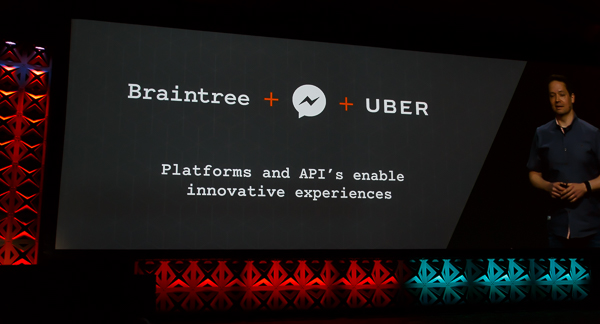 He asked the whole crowd, do you know what happened on June 29, 2007?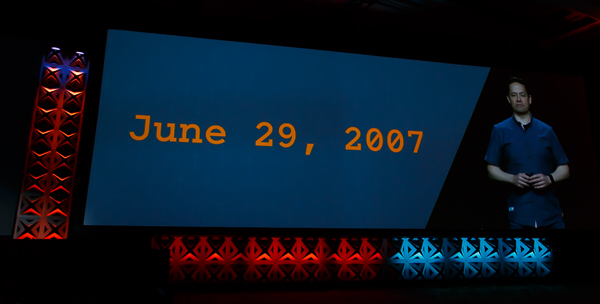 It was the launch of the iPhone, and (according to him) the start of the real mobile era.
(I had been a Blackberry user since 2001, so I was connected early on with email and texts. But I agree… apps on the iPhone started an accelerating trend of mobile usage.)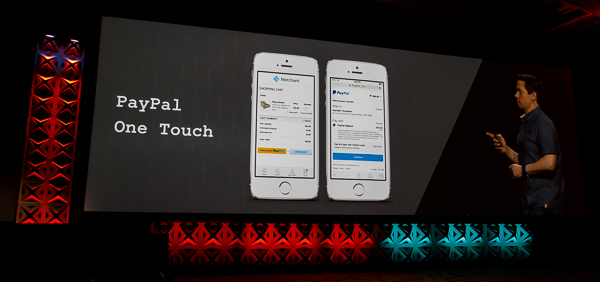 PayPal has introduced One Touch, that allows you to stay logged in on your device (they have a lot of security behind this to ensure it is you making a purchase). But this has simplified the purchasing process even more.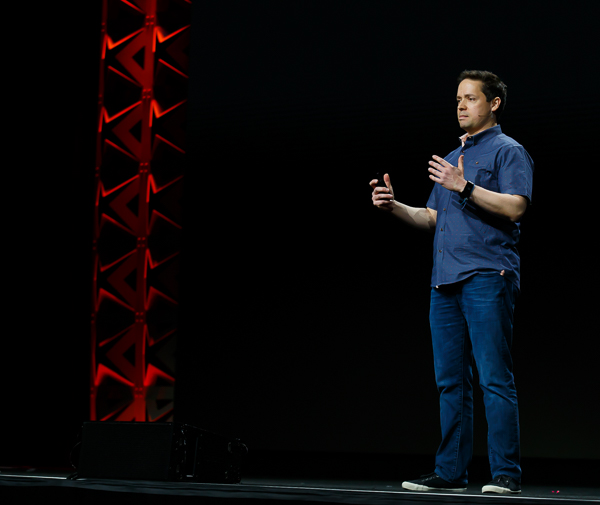 Here's a list of some of the people on Braintree: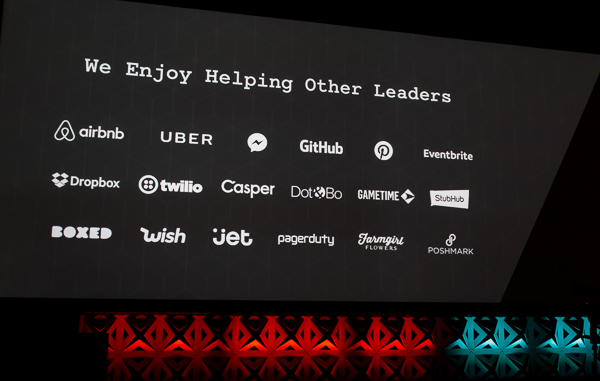 Now for the mobile stats:
PayPal processed $100 billion in mobile transactions in 2016: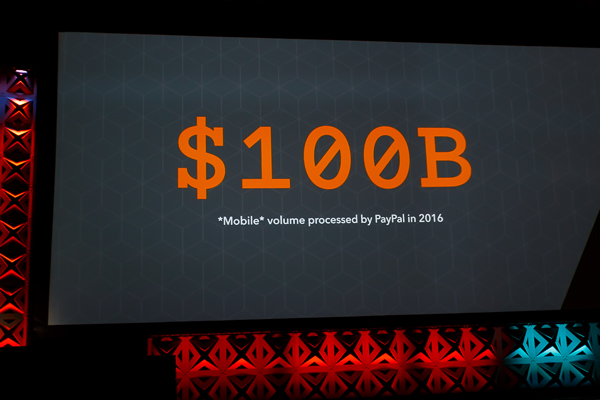 More mobile commerce stats – the rate of change is increasing:
Fifty million people are using PayPal's One Touch system.
$20 billion has been sent in person-to-person payments using Venmo during the past five years.

Finally, mobile transactions are on track to increase 74% over the next two years: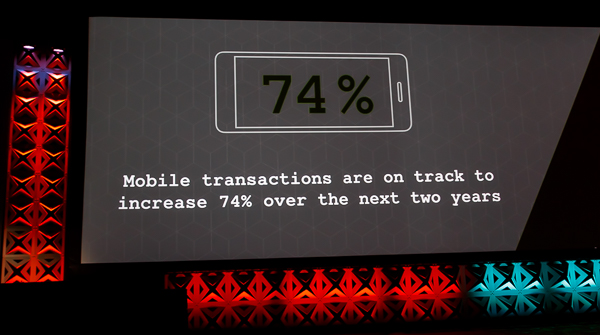 Benitez recommended keeping systems open and flexible.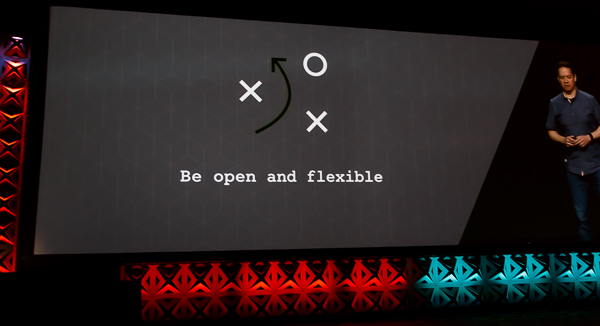 And they keep expanding their ecosystem of providers: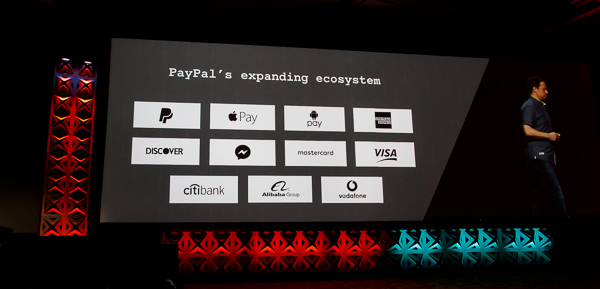 They now accept PayPal, all the major credit cards, Apple Pay, and many more: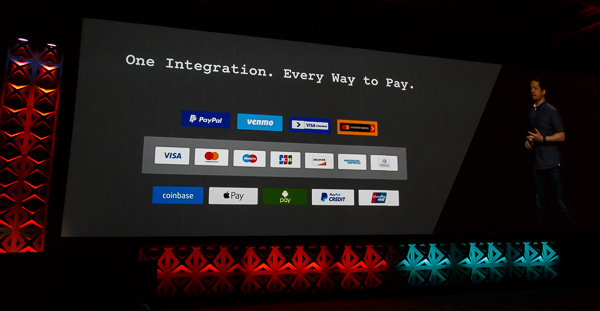 He closed by telling the developers in the crowd to make sure that they are always thinking of:
Availability
Security
Fraud tools
PCI compliance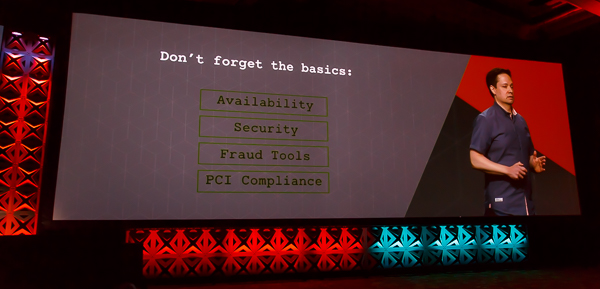 Andrea Ward next came to the stage…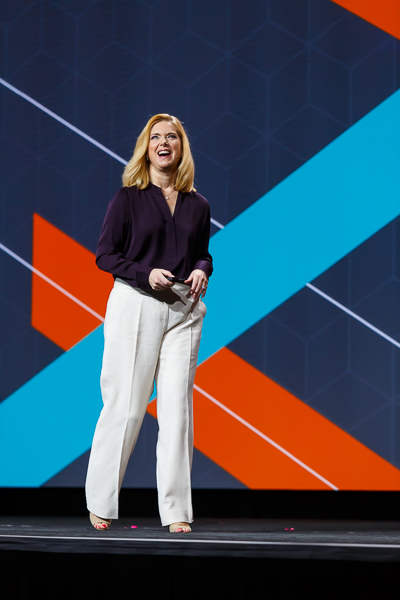 … and introduced Jessica Herrin, the CEO and founder of Stella & Dot: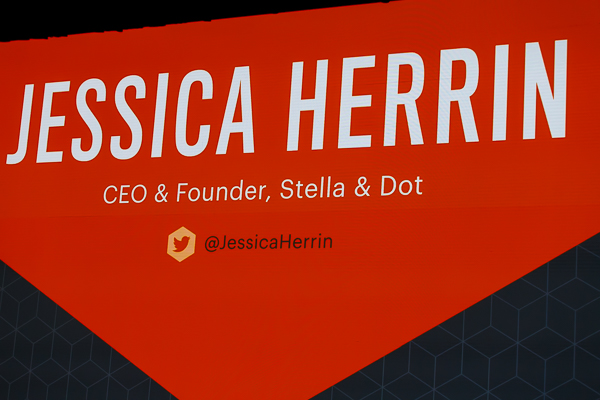 Herrin gave a highly compelling speech about how she got started in business, and how she was trying to empower women around the world to make income with a non-traditional structure.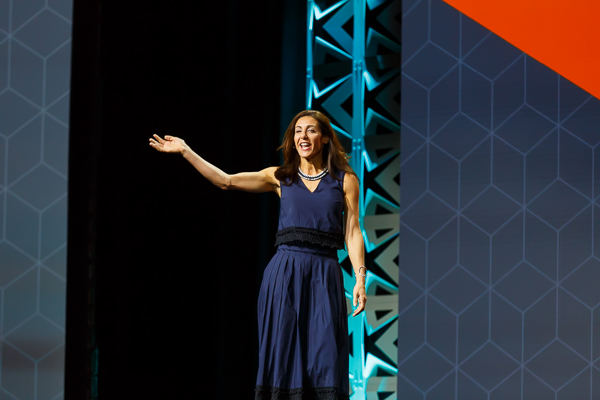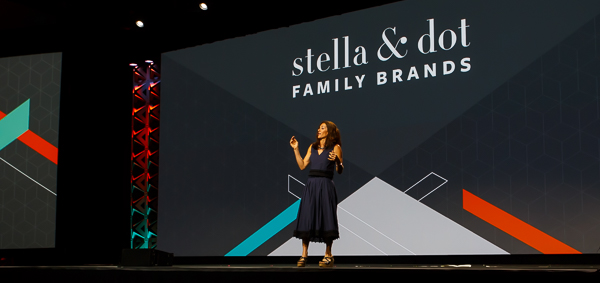 Stella and Dot uses Magento Enterprise to handle eCommerce, distribution and a lot of the complex sales structure that holds their business model together.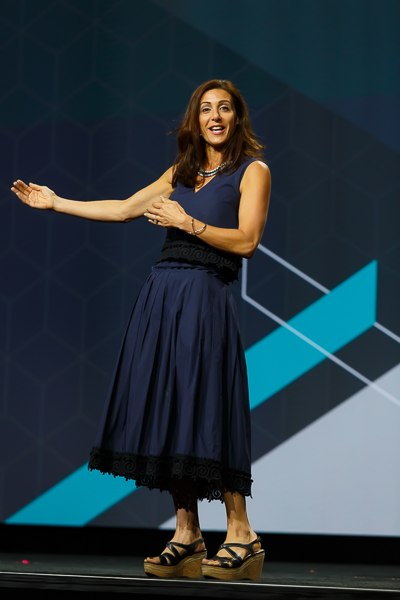 Next up, I was speaking – one of my two speaking slots at the conference.
The topic was, "3rd Party Marketplaces: Existential Threat or Amazing Opportunity?"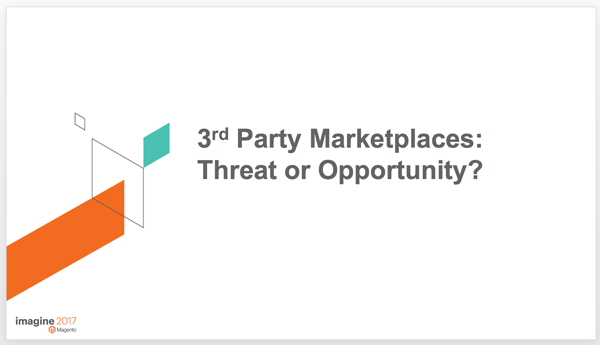 Here I am talking to the crowd (Photo by someone on my team):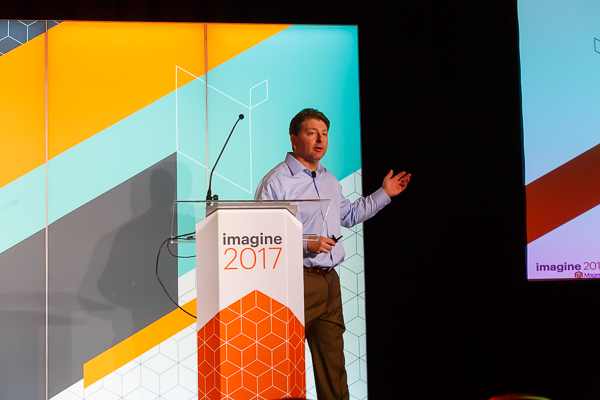 I talked about the stats, and led with some of Amazon's key trends:
44% of US households are Amazon Prime Members.
Amazon has an 81% market reach in the US
And 44% of online shoppers in the US go directly to Amazon before checking any other site.
(Although not necessarily the same 44%)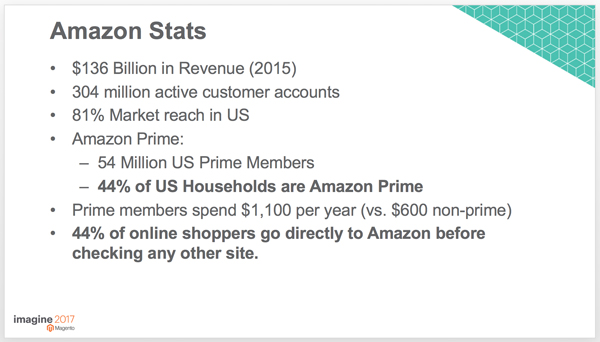 Why is the third party marketplace a big deal?
40% of Amazon's total volume ($36 billion in 2014) was sold by third party marketplace sellers.
Amazon doesn't need to buy and manage inventory – they let their two million marketplace sellers on Amazon do this for them.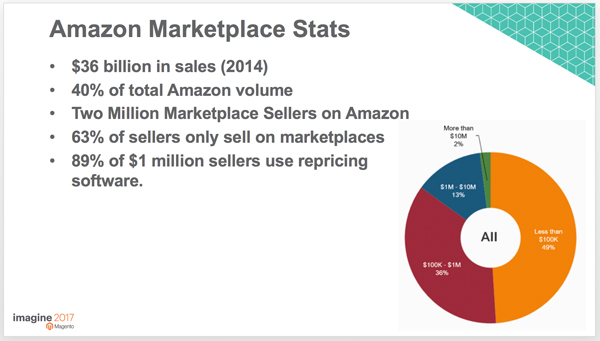 I won't go into all of the slides and the entire presentation (I will send out a link to the video when it's available). But I delved into advantages to third party selling: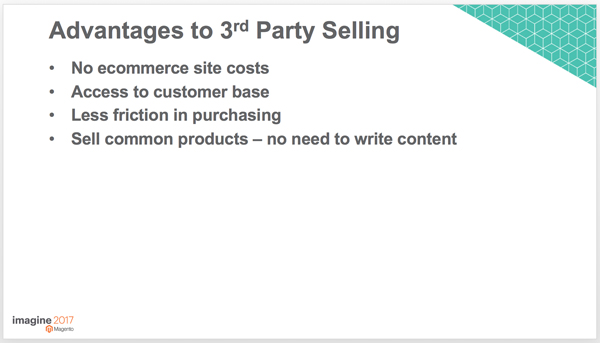 As well as the disadvantages to selling products on the third party marketplace.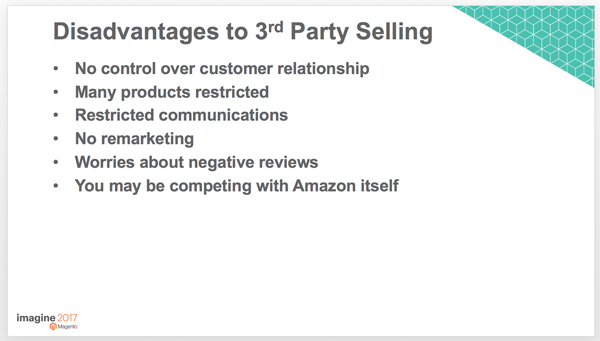 I finished the presentation by talking about tips and strategies for success, and key mistakes and pitfalls to avoid.
I talked about my experiences selling on both Amazon and eBay, and that I've made pretty much every mistake you can make. For example, I once used a repricing tool that intelligently repriced a $75,000 camera lens at $26 (I canceled that order).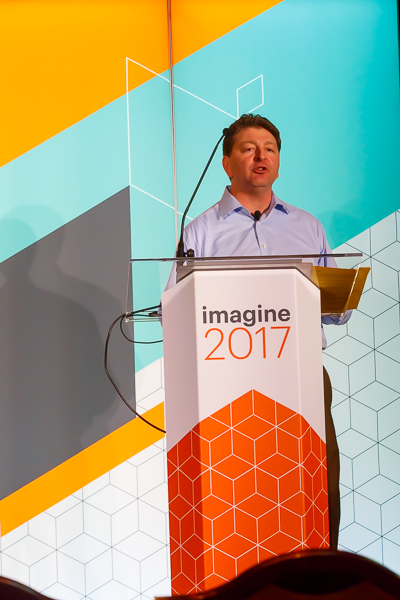 Thanks to Todd and some of the other Customer Paradigm crew who came to hear me talk: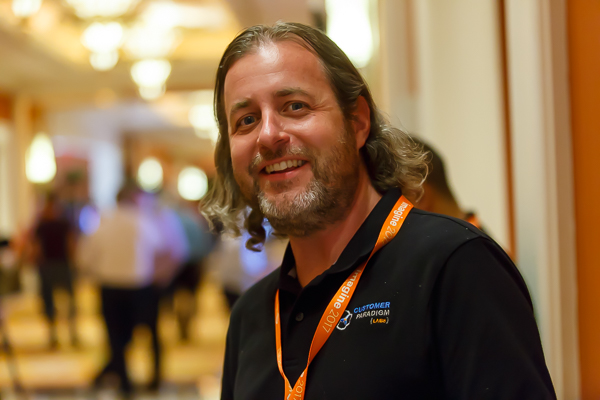 Next up was a presentation for the Trailblazer Awards: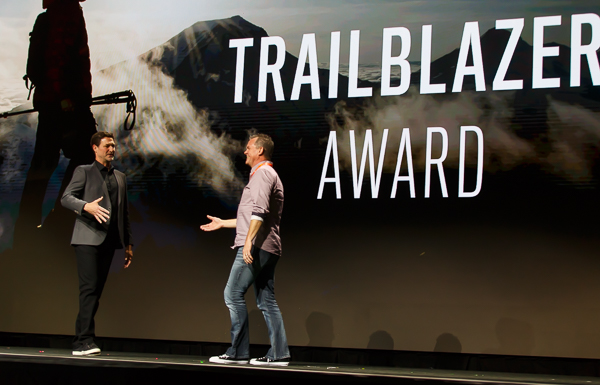 Mark Lavelle and Jamie Clarke presented Erik Burbank, the chief marketing officer of Helly Hansen the first award.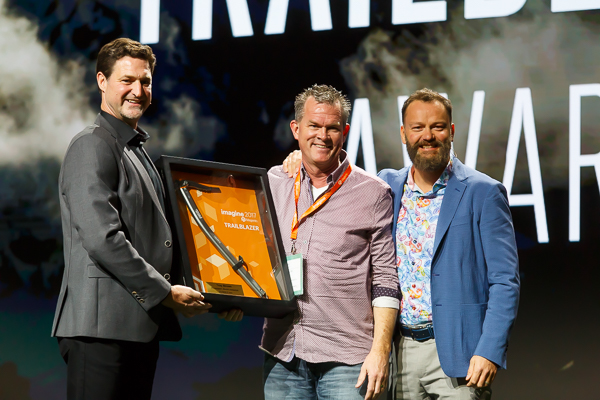 But to the 2,700+ attendees, having Roy Rubin come up to the stage was a big deal.
Rubin co-founded Magento, then sold it to eBay. After leaving eBay, and then Magento spinning off on it's own, it's wonderful to have Rubin back, even if it's just in a board / advisor capacity.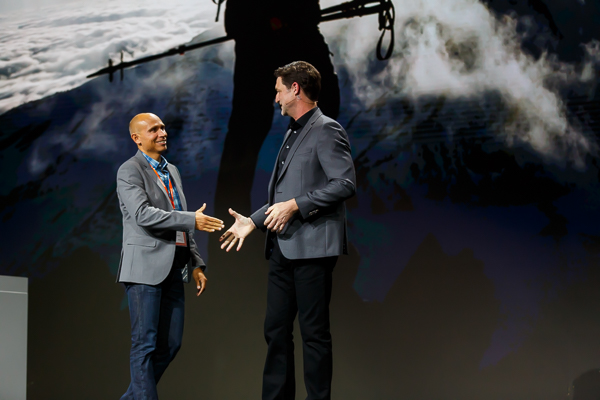 Here's Rubin accepting the award: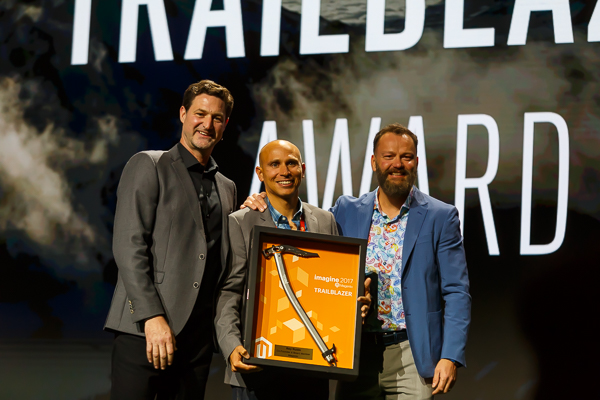 Rubin then sat down with Lavelle, for a feel good catch up session: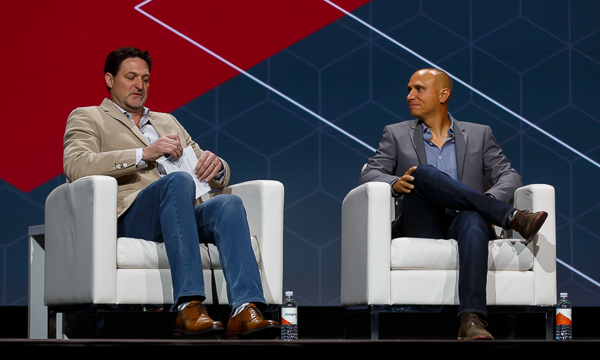 Rubin, looking tan, rested and relaxed: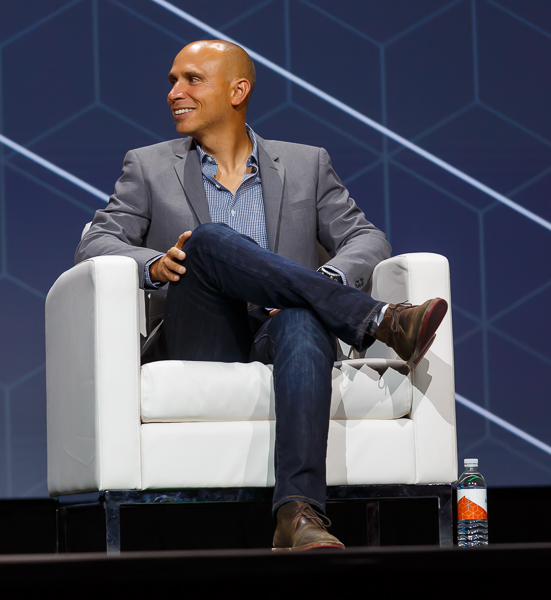 Next up to the stage was Andrew Devlyn, director of innovation for an eyeglass company based in Mexico.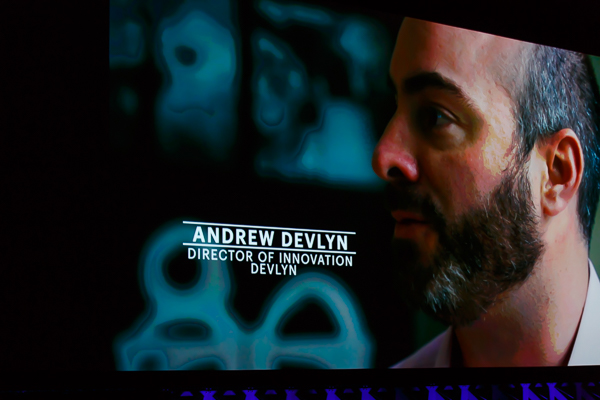 Devlyn said they have seen a 271% increase in mobile traffic: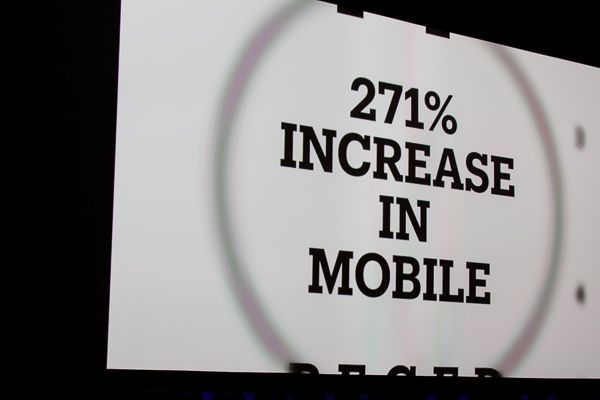 And session duration grew by 23%: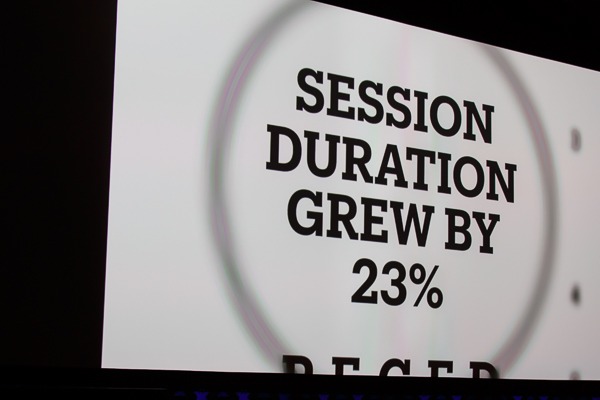 Devlyn came on stage and spoke about how they are using Magento Enterprise to tie all of their inventory in stores together, and have a seamless experience for customers.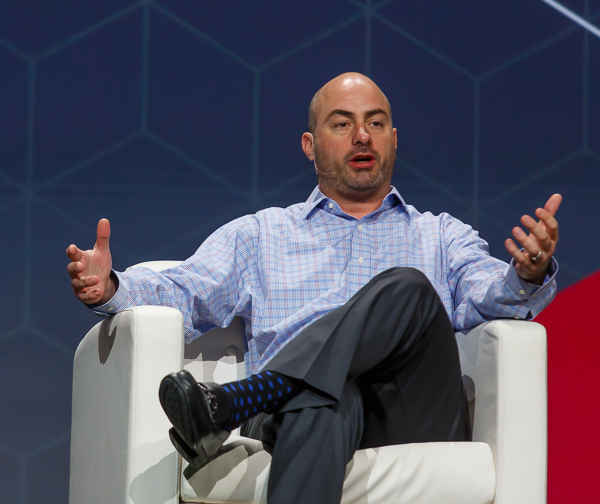 Final keynote of the night was Serena Willams: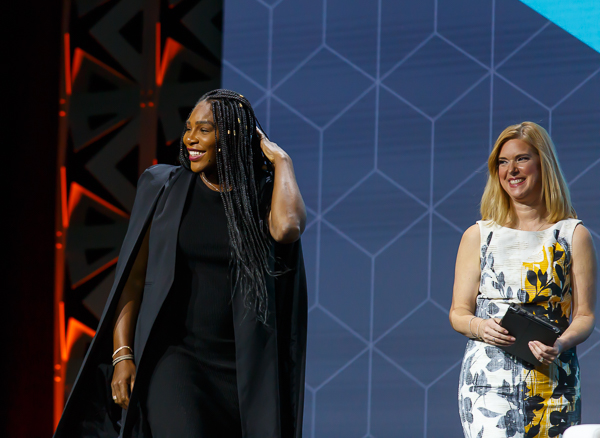 Toward the end of her talk, she briefly mentioned that she has a new line of products coming out soon, but it was unclear if she was going to be on the Magento platform.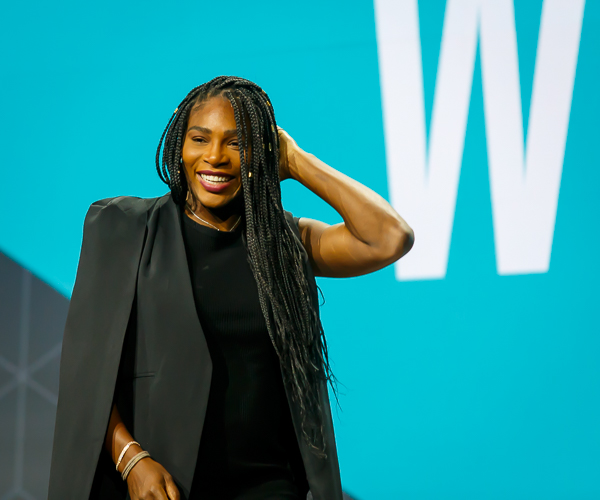 Williams did share a story about when she was growing and learning to play tennis, her father could only afford to purchase a single bottle of Gatorade that she had to share with five people. And how meaningful it is now to have them sponsor her.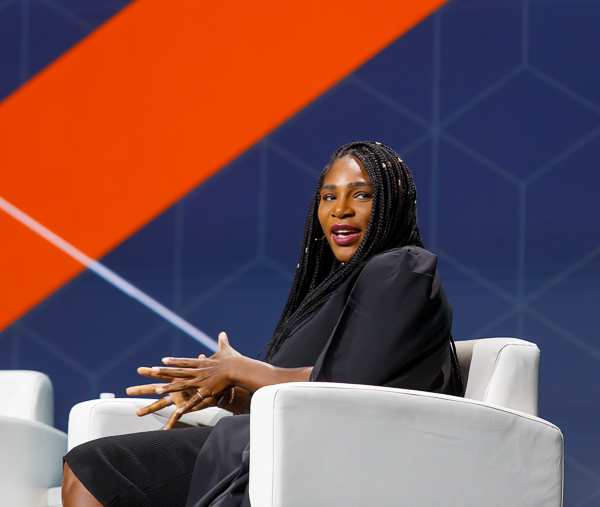 She ended her talk by throwing out signed tennis balls to the crowd: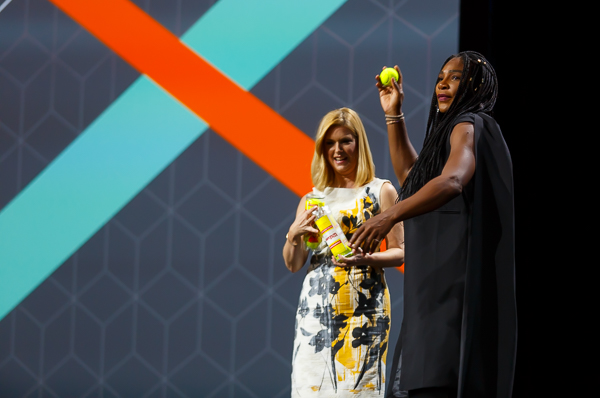 And then… it was on to the Legendary Party… with a James Bond 007 theme: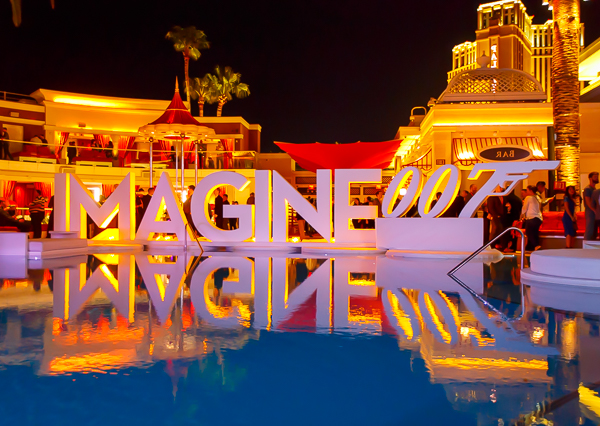 I brought a camera along… here's Kelly and Jared from the Customer Paradigm team: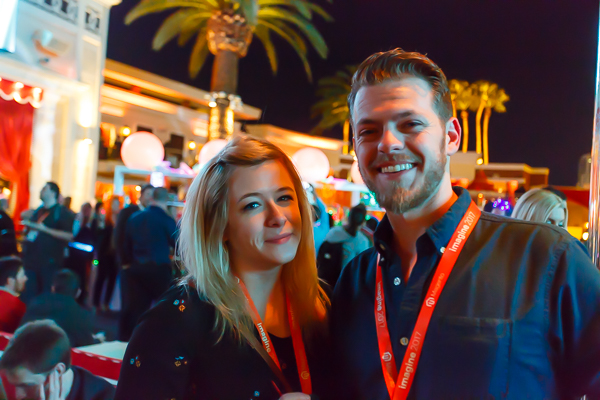 A view of the Encore hotel from the party: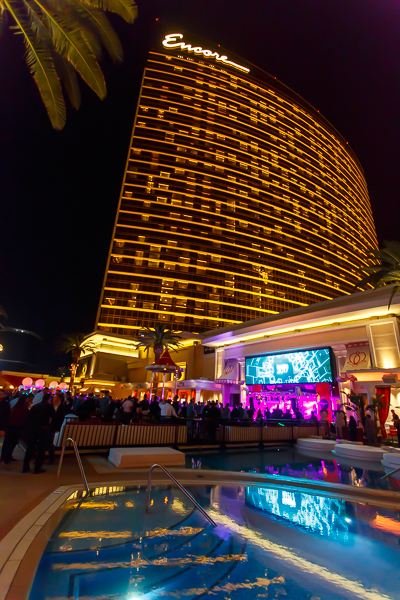 Live music: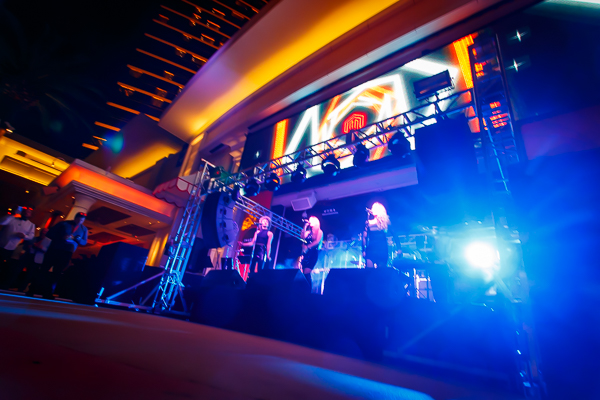 And then me getting bored and doing in-camera photo tricks (I rotated the camera while taking some of these shots):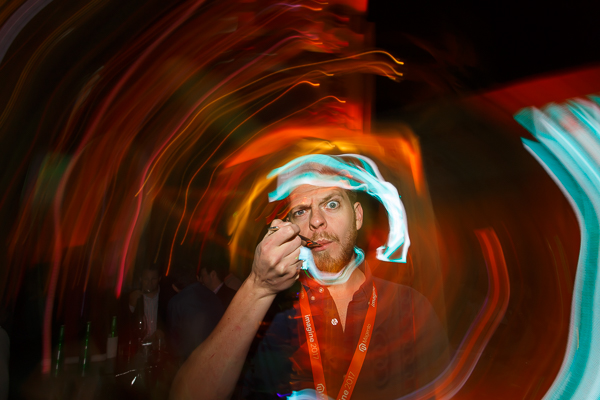 Two people from the Atlanta Falcons: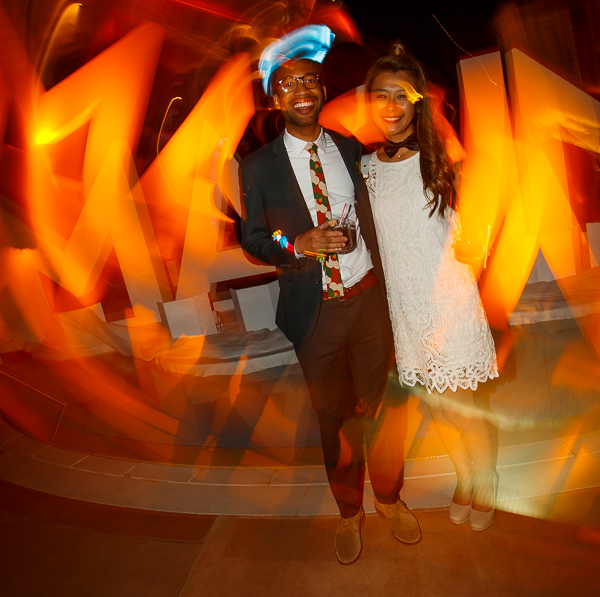 More Customer Paradigm team: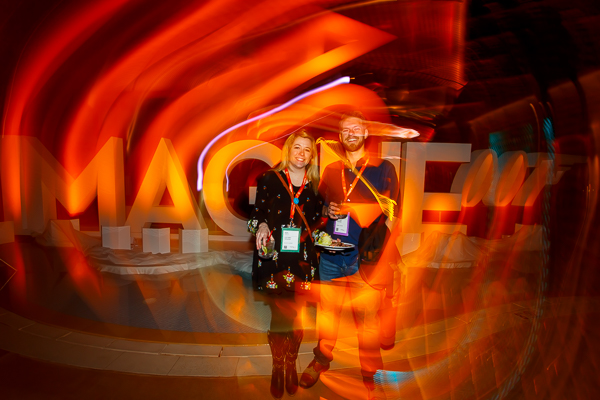 One of me and Kelly, taken by another photographer: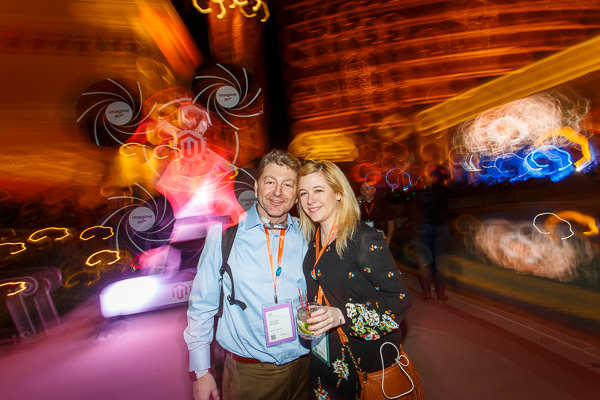 A couple of Magento people: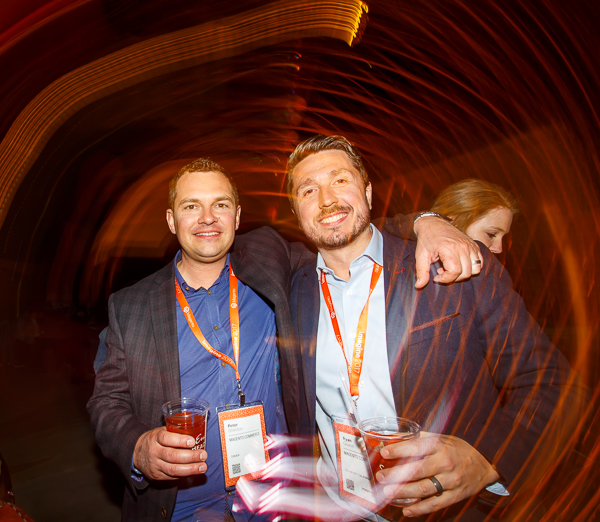 High fives with Magento CEO Mark Lavelle: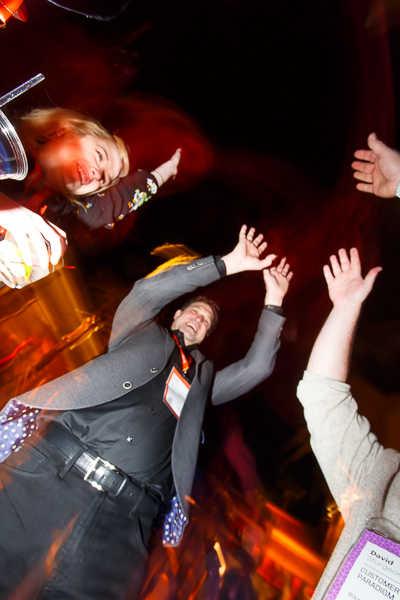 One of our friends from Boulder's Section.io at the Imagine conference: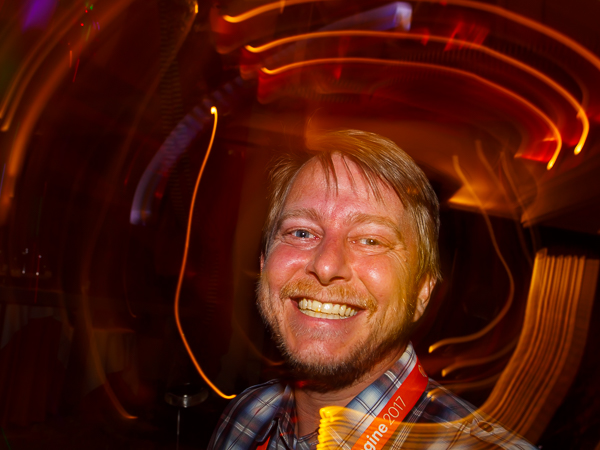 Final Session:
The next morning was the final wrap up session. Not everyone made it… especially those out super late. (But I was speaking again, so I used that as an excuse to go to bed early around 1 or so.)
Jamie Clarke was back on the stage: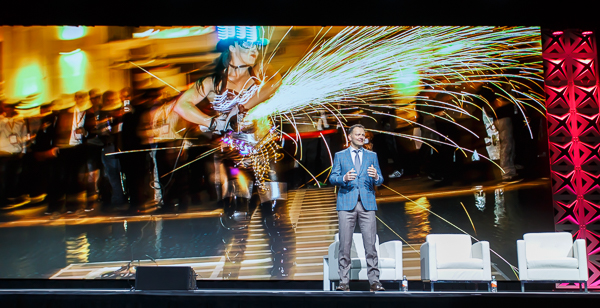 Jamie introduced Jason Woosley and Paul Boisvert (also know as Product Paul), who gave everyone a little bit more information about some of the new and exciting developments from Magento: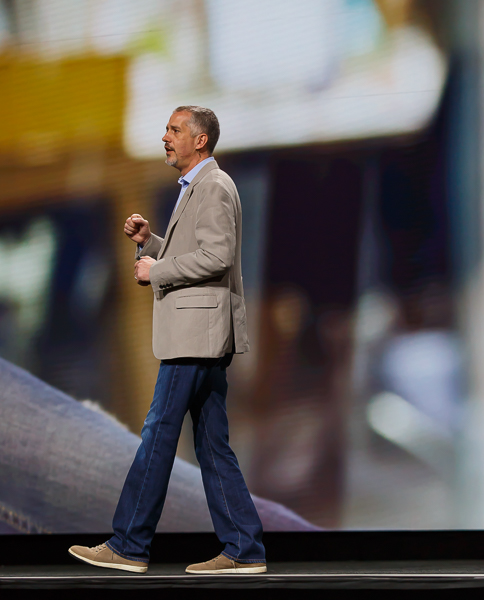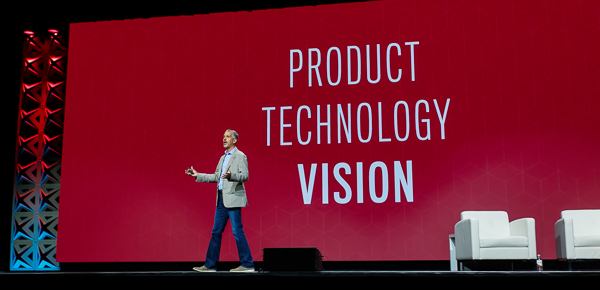 "Product Paul" talking about the new and exciting things from Magento: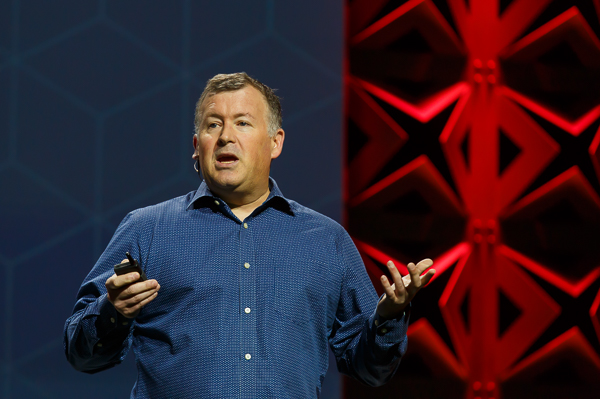 First, Customer experiences are shaping technology.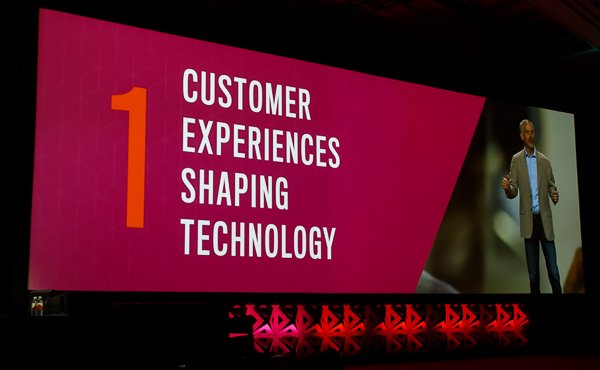 This is playing out by the rise in voice communication. Soon, 30% of orders are expected to originate outside of a screen.
Think voice ordering from Google, Siri or Alexa: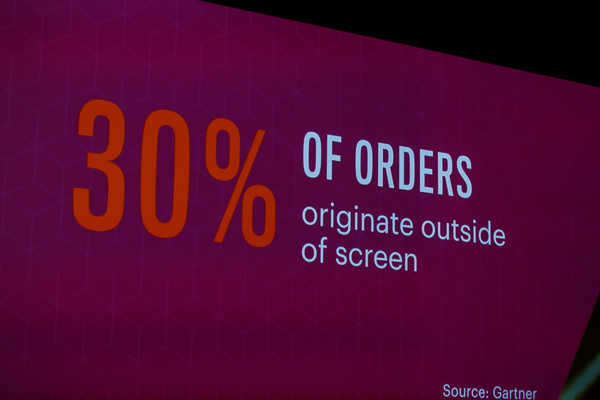 Second, a big source of innovation is breaking down silos of information. Think separate systems that just don't talk to each other.
Using open APIs and integration, you can keep all of your inventory in synchronization, for example.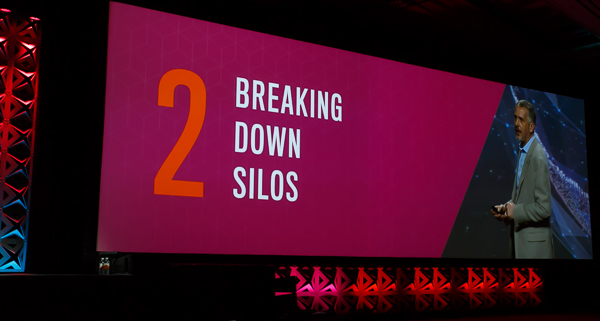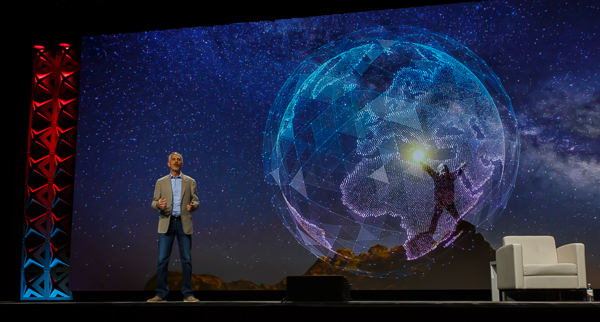 Third, he talked about the ingenuity of the Magento ecosystem. The hundreds of companies and hundreds of thousands of developers working on the platform all bring innovative solutions to the marketplace, and are able to customize and extend the core product.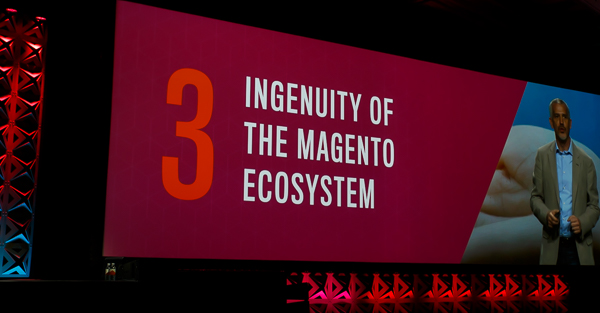 They then spoke about how Magento is rising to the challenge and fostering innovation: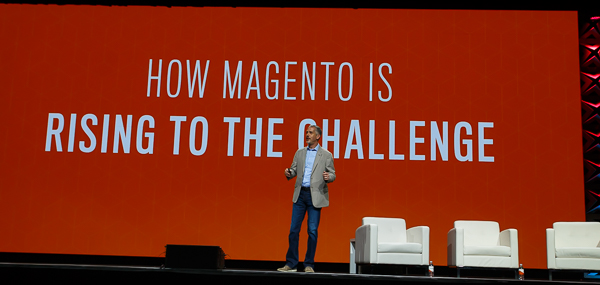 They are trying to make it:
Easier to work with Magento
Democratize key functionality, so that it is more accessible and available to people.

Magento's software – in the middle, surrounded by business intelligence, order management, fulfillment, and customer touchpoints (social, marketplaces, retail, call centers, pop up locations and more):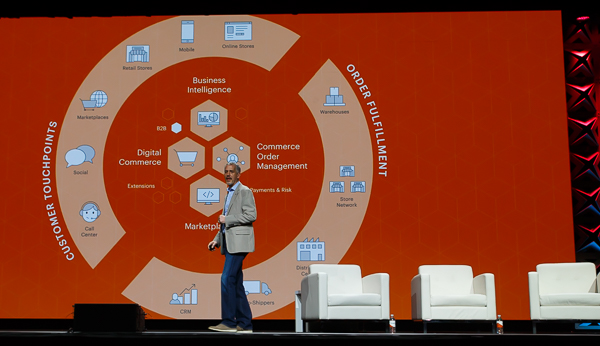 Jason Woosley, in front of the Magento logo: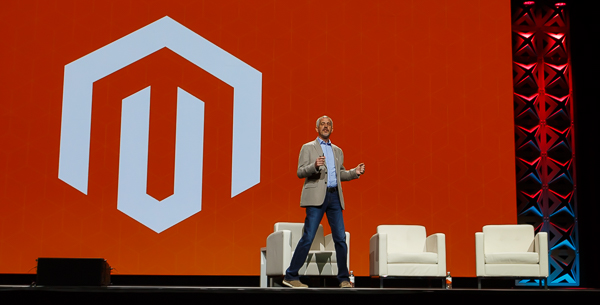 Paul talked abut how Magento leads in B2B (Business to Business) and is now #1 in the Internet Retailer B2B top 300 sites:

62% of Magento sites serve both B2B and B2C; 8% are B2B only: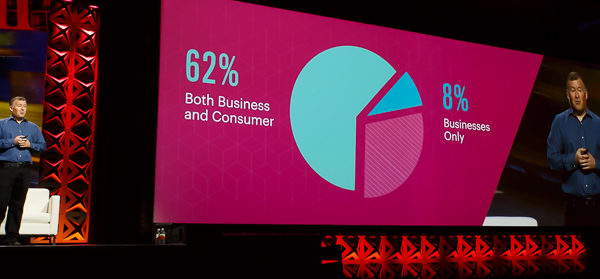 Paul next went into a demo of the new B2B module that will be available soon in the Magento 2 Enterprise code base.
This is a screen shot of a quick order form, where a B2B buyer can enter in the SKU or product name (instead of having to go through a traditional category page, product page, etc):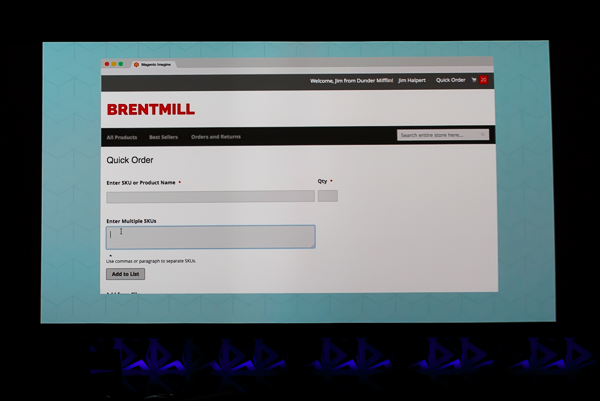 This is a screenshot from the B2B system for the "My Requisition List" – where you can have requisition lists of items that you re-order frequently: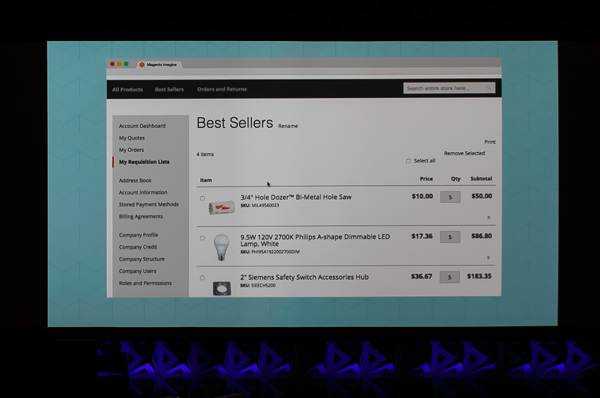 The B2B system for Magento Enterprise will allow sites to have custom catalogs (on a per customer basis), as well as custom price lists. This has always been a challenge with large-scale B2B sites. Customer Groups can work, but it can get unwieldy.
The system also offers assisted sales support, so that a sales rep is able to offer discounts, provide quotes and more.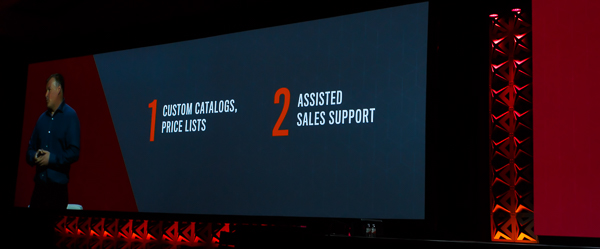 Magento also acquired technology to help Magento merchants sell on Facebook: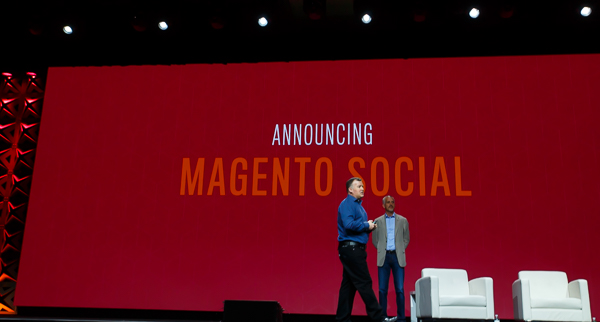 This is a play to boost social commerce, and keep Magento as the "hub" for the product catalog and fulfillment.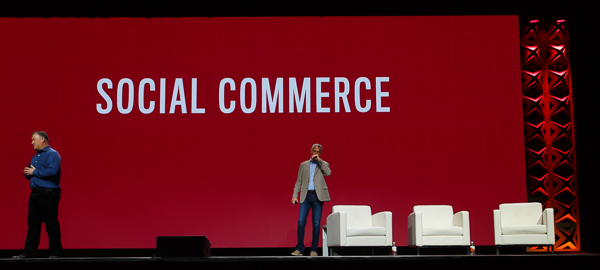 Many people today are finding out about new products via social networking.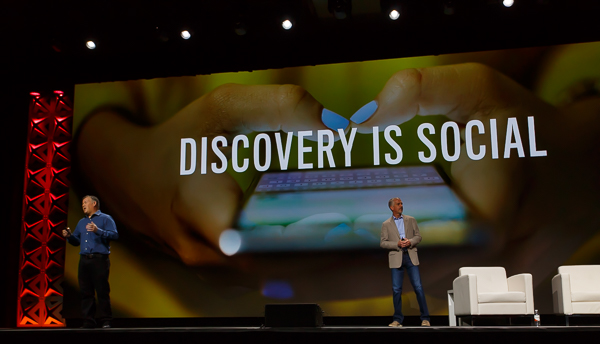 This year (2017), 10% of online sales are driven by social media, such as Facebook, Instagram, Pinterest or Twitter.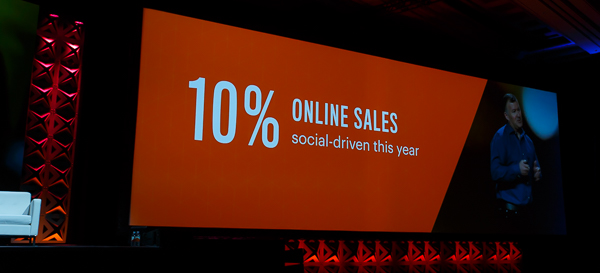 Of course, 93% of millennials are on social networks. As their grandparents joined Facebook, many of the "digital native" millennials have migrated to other platforms, such as Snapchat, Instagram and others.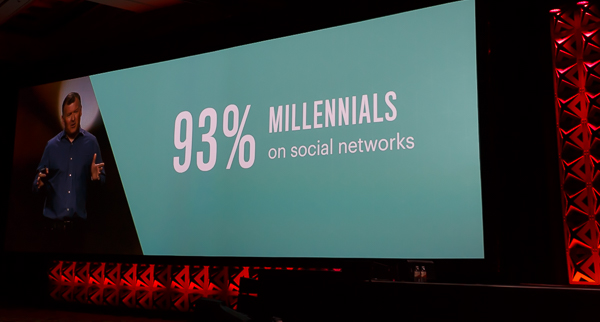 What the social commerce / Facebook integration means for Magento merchants:
Product catalog extraction – pushing products from Magento –> Facebook
Social store creation
Simplified ad creation on Facebook
Intelligent ad optimization
Simple 3rd party content integration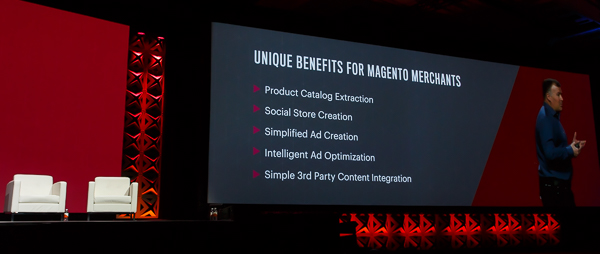 Paul then walked us through a quick demo: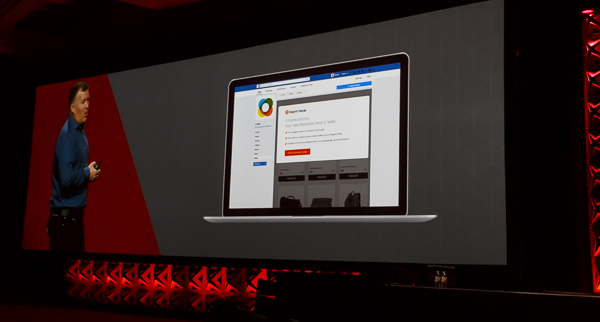 In the Magento Catalog, a merchant can navigate to the social commerce area: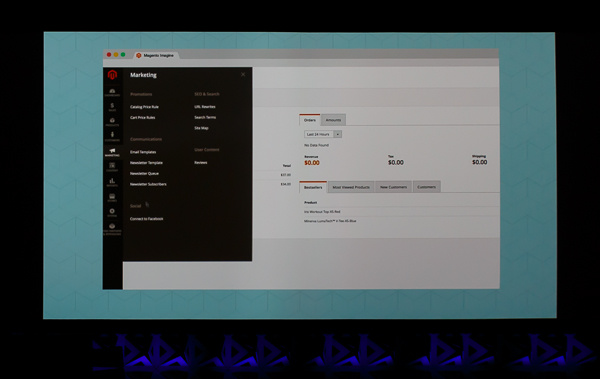 It then guides you through the process of connecting your Magento 2 site to Facebook, and launching the Facebook store: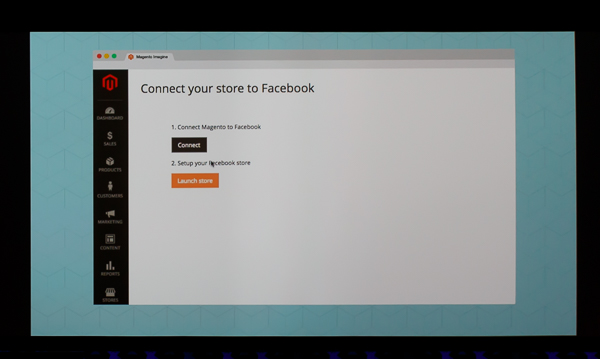 The system will use your credentials via API to authorize your Magento 2 store: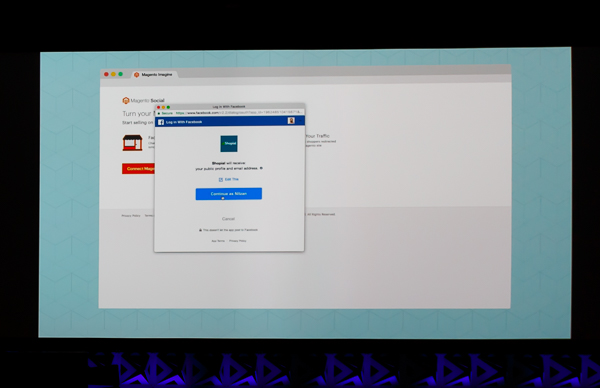 You can then select an existing page, or start a new one: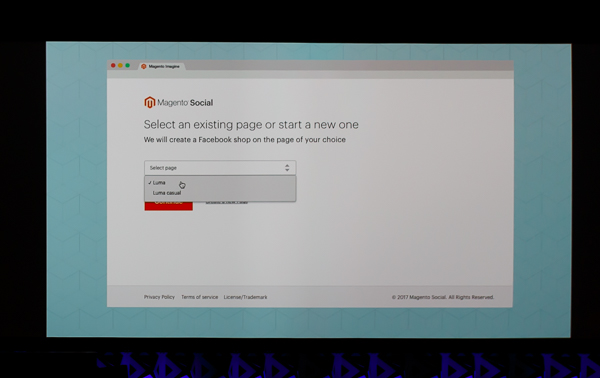 And then the system will upload your products up to Facebook: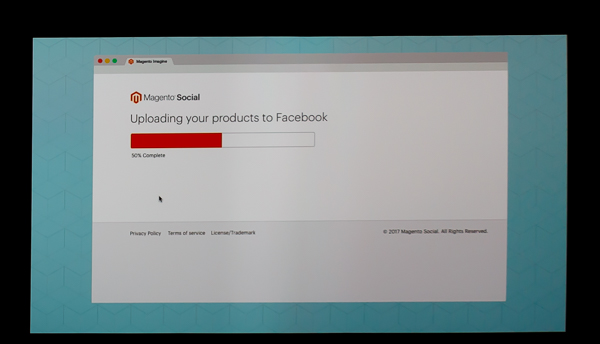 … where you can see them in a Facebook store: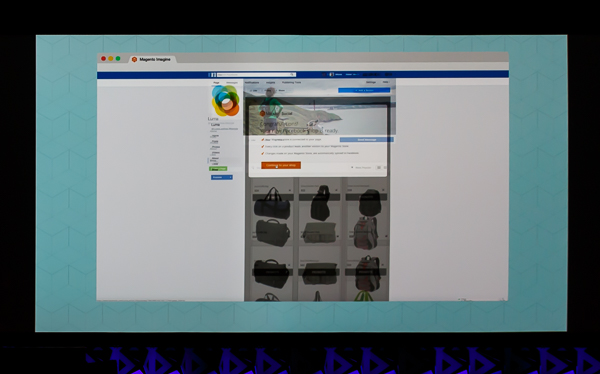 Here's another look – these are the Luma sample products: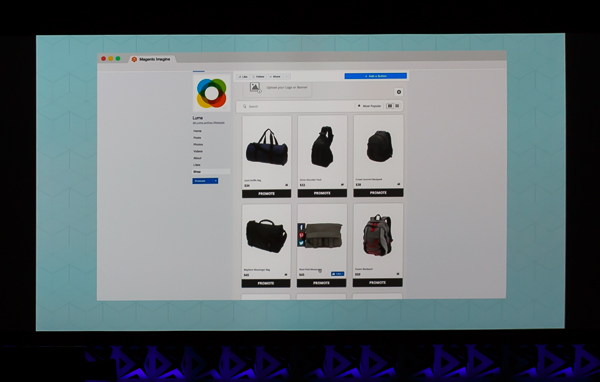 Here's the targeting options for getting products in front of your target audience: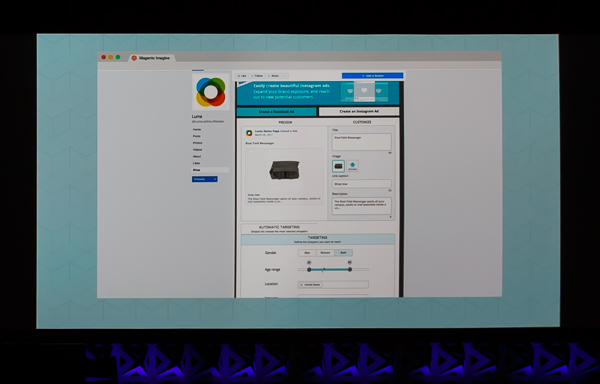 Another big piece that was added to the Magento core code base: Advanced CMS.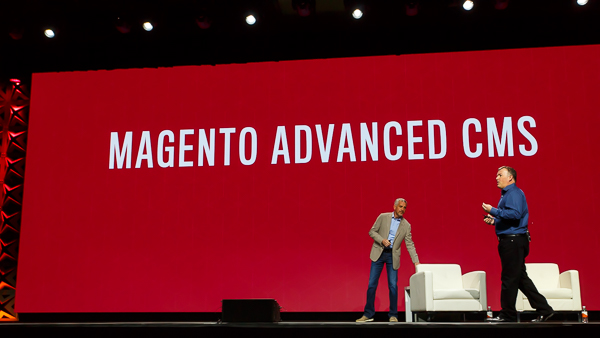 A company in the UK developed a new drag-and-drop system that allows a Magento Enterprise merchant to be able to have a much more streamlined editing process: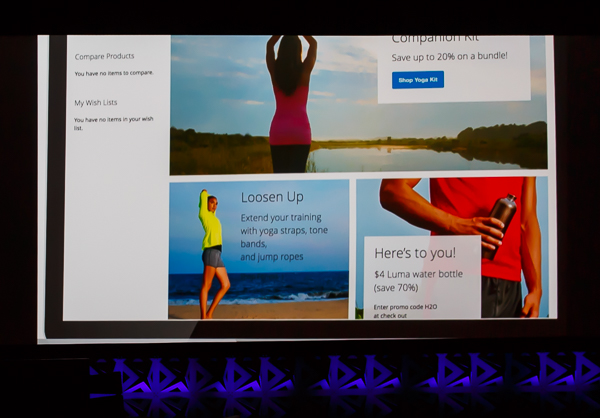 Called Bluefoot CMS, it makes it easy to re-arrange items on the page, or add or edit content: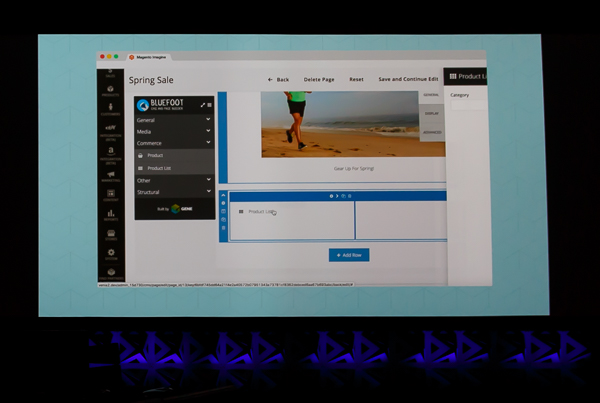 Here's how to add in a product list from the admin area, as well as plug in a video: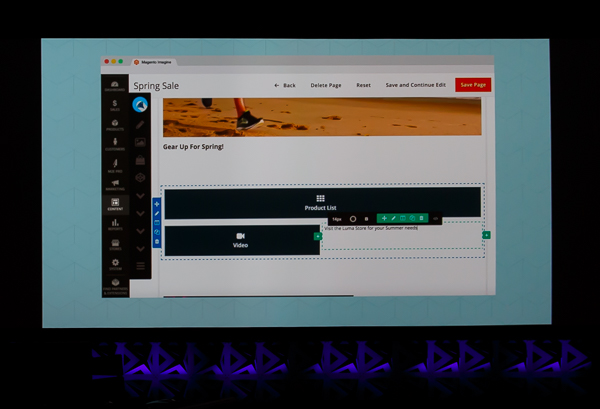 Introducing Magento Shipping: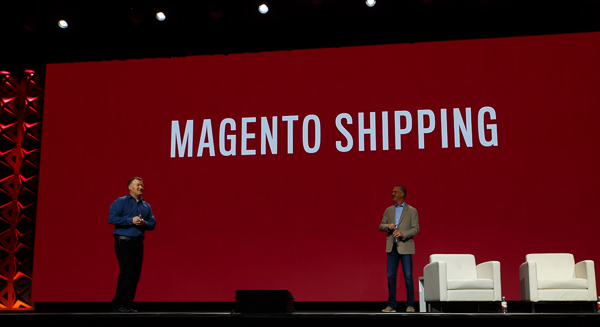 Industry statistics show that 80% of shopping cart abandonment is shipping related.
At my talk, I shared how 44% of US households have Amazon Prime membership, and expect free two day shipping on products that they order.
When someone puts a $12.00 item into their cart, and then sees $15 for shipping, that's often a reason people will abandon the process.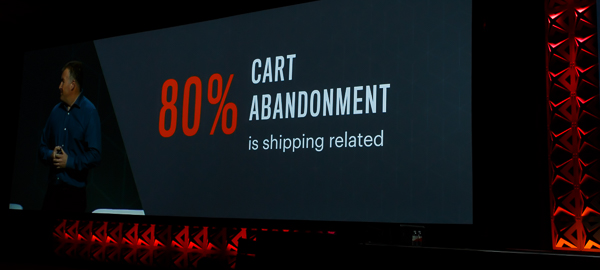 86% of consumers expect to be able to select different shipping options in their cart.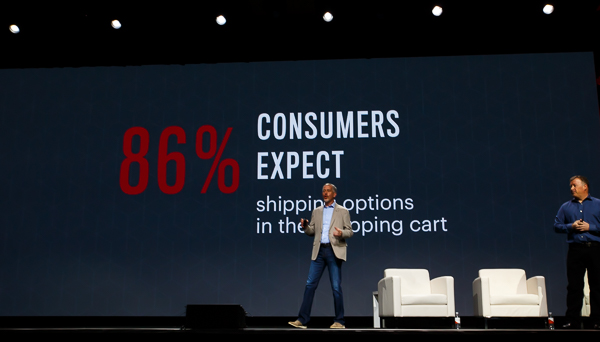 Magento shipping is a new system that allows a Magento merchant to easily connect with global carriers, including UPS, FedEx, Australia Post, etc.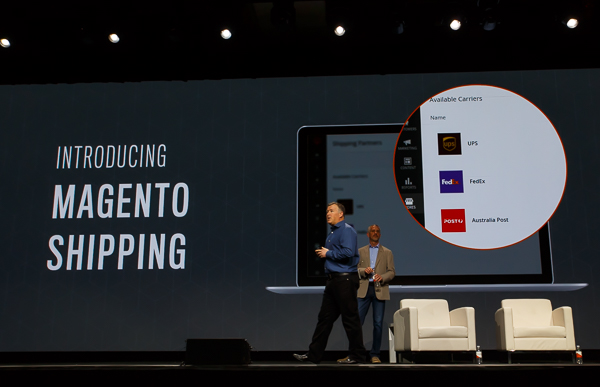 The system will help automate the fulfillment process, and reduce (as much as possible) shipping-related costs.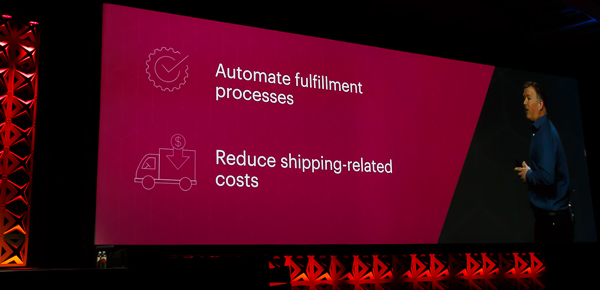 Jason next moved onto other key features for the future – Connectivity.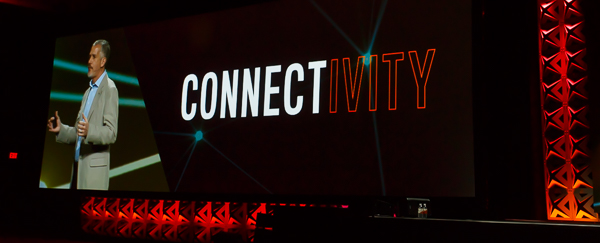 Headless commerce, and progressive Web apps.
Headless commerce is using APIs to connect to a Magento site, but where the end customer is not directly adding something to their cart from a screen and checking out.
Instead, it could be done through a voice command system (such as Siri, Alexa or Google):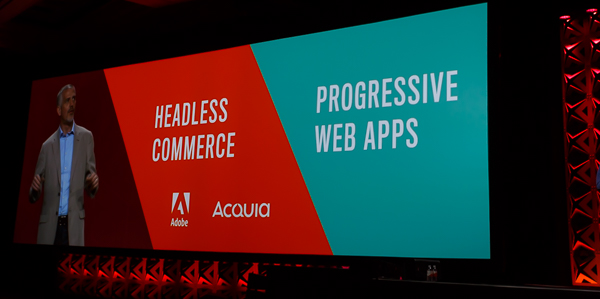 Paul and Jason demoed an augmented reality app for eyeglasses.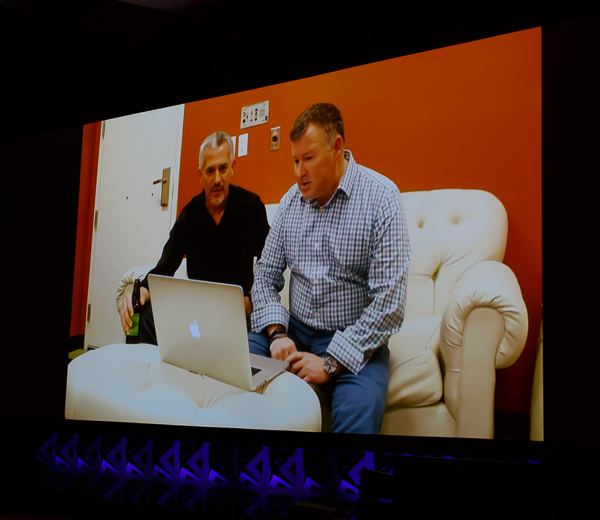 The interesting part is that while they considered this kind of new, we integrated a system for one of our Magento Enterprise clients nearly three years ago.
Basically, the augmented reality system will use your web cam, and render / overlay eyeglasses or sunglasses onto your face.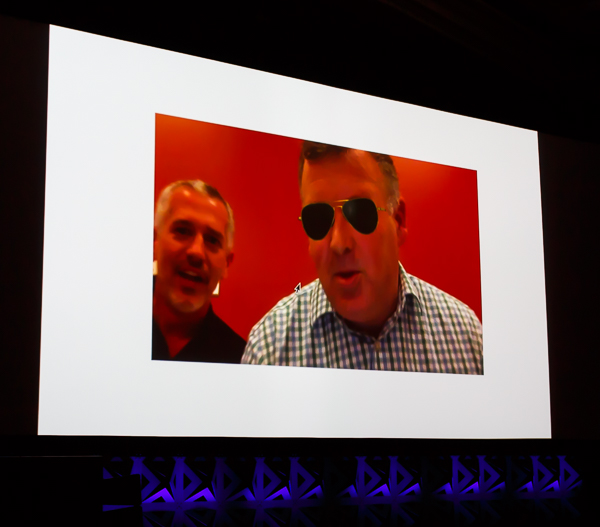 To wrap up the conference, Michael Sonier, head of Omnichannel Products for Magento Commerce took the stage: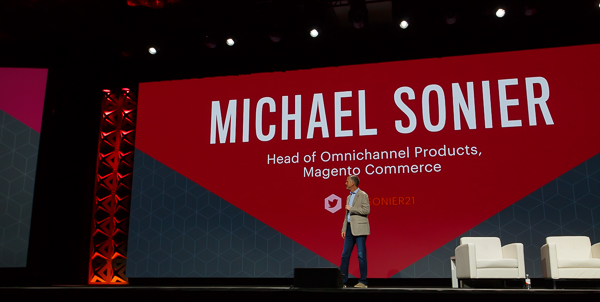 Omnichannel – reaching customers via multiple channels (retail, web, phone, catalog, social, etc) and providing a consistent experience across the channels is no longer optional for companies:

Omnichannel has seen 150%+ year over year growth.
The goal:
Fulfill anywhere (i.e. warehouses or in-store pickup)
Engage everywhere (web, retail, social)
Handle orders and inventory through a combined system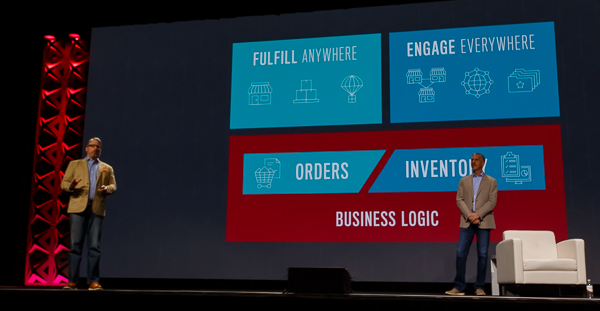 With all of these new additions to the Magento platform, Magento is poised to continue powering the sites and commerce of tomorrow: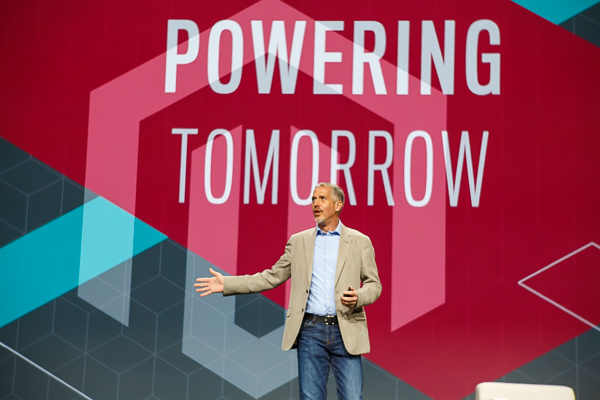 Jamie Clarke crawled out onto the stage (it could be from a hangover)…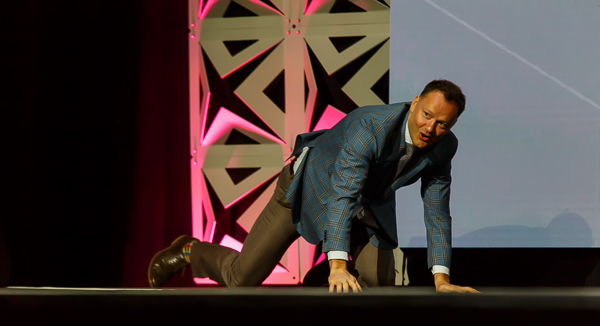 And wrapped it up with the dates for Imagine 2018: April 23-25, 2018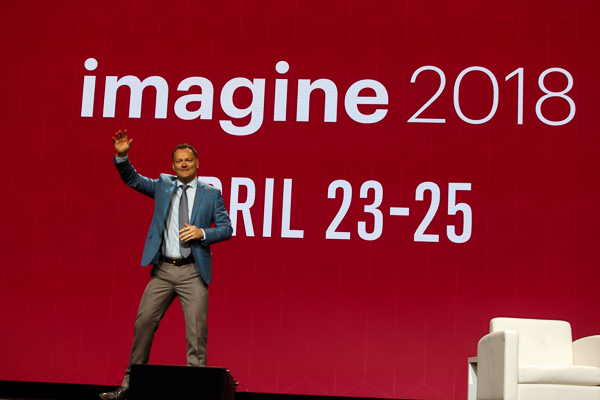 I know I didn't capture everything, but I tried to get many of the highlights. Let me know if you'd like to discuss any of the Magento trends I saw at the show.
Thanks,


Jeff Finkelstein
Founder, Customer Paradigm
303.473.4400