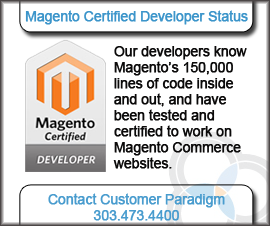 Customer Paradigm helps companies grow their business on the internet by developing Magento-based ecommercesolutions. Unlike many ecommerce platforms, Magento gives your ecommerce site the scalability and flexibility to grow! Over 100,000 websites are using Magento as their ecommerce shopping cart platform right now, and it's not difficult to see why. Magento is highly scalable, and Magento's open source code allows for extensive customization. If you can imagine it, we can design and develop it using Magento. Call us today at 303-472-4400 or contact us to find out more about Magento ecommerce programming with Customer Paradigm.
Is Magento the Platform for You?
When choosing an eCommerce platform for your business it's important to consider the systems already in place at your business. Some important questions to ask yourself before choosing Magento as your eCommerce Platform are:
1. Does Magento integrate with your existing business applications (such as CRMs, ERPs,merchant banking, warehouses, etc)?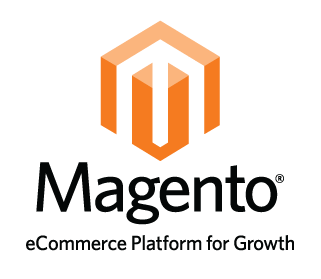 2. Can you configure your products correctly in Magento?
3. Can you set up your existing promotions in Magento?
4. Will Magento allow your company to expand?
5. Is Magento cost effective for your company?
The wonderful thing about Magento is that the answers to the above questions can all be yes with Customer Paradigm's assistance. We can Integrate Magento with other business applications, set up and configure products and promotions, upgrade Magento to faster servers, and make Magento cost effective.
To contact a Magento Expert about Using Magento for Your Business. Click Here >>
---
Magento eCommerce Programming Screen Shots
Curious about Magento, but not sure if it's got the features your looking for? See some of our Magento Screen Shots below! We can customize just about any part of the Magento platform to suit your business. From changing the design to implementing custom features we've done it all. Be sure to also visit our Magento Portfolio, where we showcase some of the top Magento eCommerce stores we've worked for.
Magento eCommerce Category Pages
With the Magento eCommerce platform, there are many built-in ways to display products in your shopping cart system. For example, you can view products by Category, Price, Color or other perameters. The following screenshot is an example of what a product such as a camera might look like in a sample Magento site, where you can view 9 items per page. This is easily customized by a programmer who is familiar with the Magento eCommerce platform. Need help? Contact Us >>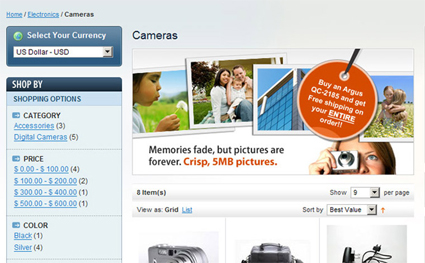 Magento Product View Example – View Larger Image >>
---
Magento eCommerce Demo Home Page Layout
Below is an example of the "Demo Store" that Magento has to demonstrate how an ecommerce shopping cart site can look. We can customize this to match the look of your existing brand and logo, including adding top, left or side navigation, adding custom graphics and banners and adding custom functionality. One of the best things about the Magento platform is how easy it is to add features like product comparison, customer testimonials, advanced search and more. Some of this is easily done through the admin, but our programmers are here to help with more advanced customization or design.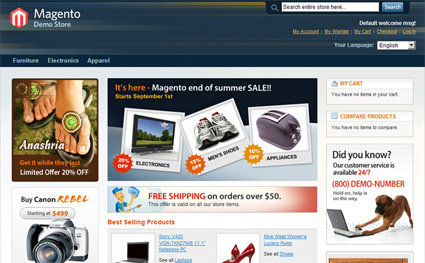 Magento Sample Home Page – How to Customize Layout and Design – View Larger Image >>
Have a Real Person Contact You Now about Magento eCommerce Programming >>
---
Customize "Default" Layout Options for Magento
It's easy to customize the existing layout for the Billing, Shipping and other fields for the Magento eCommerce shopping cart system. Our Project Managers can help you determine what should be required fields, and allow you to have your site visitors see required form field validation right on the site. And if you don't like the "default" layout options provided by the basic Magento theme, we can easily customize this and other checkout processes for you.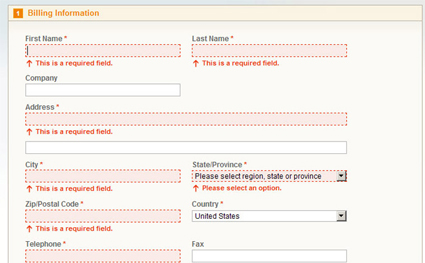 Magento Form Field Validation – Customization – View Larger Image >>
Have a Real Person Contact You Now about Magento Layout or Theme Customization >>
---
Magento – Customizing Customer Groups
By default, it's easy to customize Customer Groups within the admin system. For example, you can have general retail customers that can place orders on the website. You can also assign a retail or wholesale customer to a different customer group, so that when they log in, they will see different prices, tax rates, and be subject to different payment methods (i.e. be able to order on credit, pay for shipping with their own UPS or FedEx number). This is something that Customer Paradigm's team of Magento programmers can further customize to fit your needs.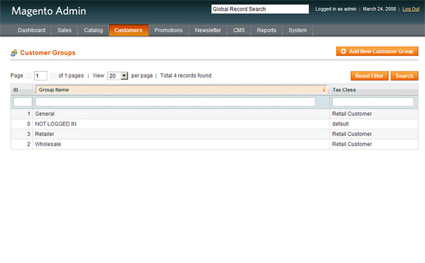 Magento Programming – Customizing Customer Groups – Click to View Larger Screenshot >>
Have a Real Person Contact You Now about Magento eCommerce Programming >>
---
Magento eCommerce – Programming for Catalog Management
Within the Admin area of the Magento eCommerce system it's easy to customize some of the front-end look and feel. For example, you can have the catalog display 9 products per page on a grid, or 10 products per page on a list. You can have the price range ($0-$50 or $50 – $100) display in the grid listing as well as other product attributes. Further customization or configuration is something that Customer Paradigm's team of Magento eCommerce programmers can help you with.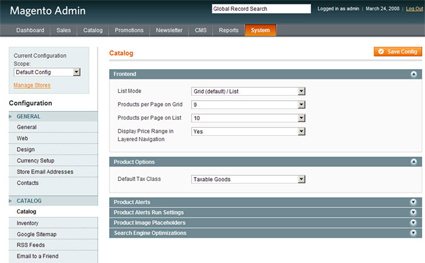 Customize Product Display Options for Magento – Click here for Screenshot >>
Have a Real Person Contact You Now about Magento eCommerce Programming >>
---
Customizing Magento eCommerce Cart Page via Programming
The default layout for the Magento eCommerce shopping cart system is very basic. We've worked with many other platforms, and Magento has the best designed shopping cart system and checkout process. It's easy to manage the store and just as easy for your customers to checkout using a Magento based site. However, sometimes the default layout needs to be customized to match your company's branding, style or product specifics. This is something that can be easily accomplished by contacting us for custom design and programming. Plus our expert Project Managers can help suggest new solutions for your site and customers that you may not be aware of.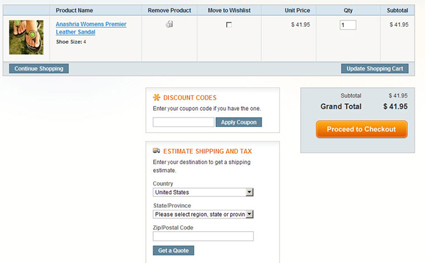 Customizing Magento's Cart Page – Click Here to View Larger Screenshot >>
Have a Real Person Contact You Now about Magento eCommerce Programming >>
---
Programming Magento eCommerce for Different Languages & Currencies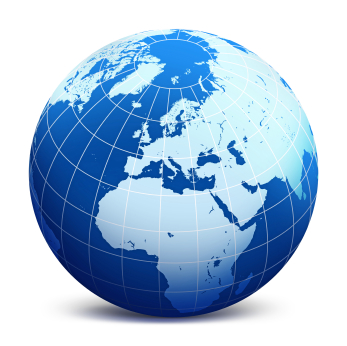 Within the admin area for Magento, you can easily assign a base currency for your shopping cart system, so that it can be localized to the region where you are selling your products. Do you sell in more than one country? Need more than one currency on your site? This is something that we can easily customize for you based on your target audience. We have translated dozens of eCommerce sites into Italian, French, German, Spanish, Mandarin Chinese, Japanese, Portuguese and more!
Choosing Currency and Payment Methods in Magento – Click for Larger Screenshot >>
Have a Real Person Contact You Now about Magento eCommerce Programming >>
---
Programming Magento eCommerce with Credit Card, Checkout & Fulfillment Center Options
It's easy within the admin to customize Magento's various payment methods including: Check or Money Order, Credit Card Processing with Authorize.net, PayPal Express, Paypal's Payflow Pro, and more. Should you need to integrate with a payment processor that isn't standard on Magento eCommerce system we can help. We've already helped many of our clients integrate with other payment gateways, such as FirstData, that are not standard on Magento.
Fulfillment Warehouse Integration.
No one has the time or money to manually process orders from Magento to their warehouse, and Magento can easily be integrated with a wide range of warehouses. We can automate your Magento site to send new orders to your warehouse for shipping, and even automate the emailing of tracking numbers back to your customer once their order is shipped. Depending on your warehouse (or if you ship it yourself), there are many different ways to make sure your orders are filled quickly:
Manual Data Entry – Like it or not, many fulfillment warehouse just want to receive an email, that they copy-and-paste into a shipping label system. We can create emails that are easy to copy-and-paste, but we can also create an email that contains a packing list, shipping label (including bar code), and other information for your warehouse so they can process the order.
CSV Export – We can also create a Comma Separated Value (CSV) export for your Magento eCommerce orders that can be emailed once a day, securely sent via FTP protocols to your vendor's server, or downloaded through a password-protected website. From there, your warehouse fulfillment center can download the orders made through Magento, and import them easily into their system.
XML / Real time Data Feed – Instead of manually processing orders, we can provide a data feed directly to your warehouse / fulfillment center. When an order is placed, the credit card is run through your merchant account, and a confirmation is emailed to the customer. At that point, we send a secure data feed to your warehouse's computer system which delivers all the specifics of the order (this is customized depending on you or your warehouse's needs). Once the package is shipped to the customer the warehouse can send back a tracking number to Magento, and this number can be emailed automatically to the customer.
Bilateral Data Feeds – If you're looking to make sure your inventory levels are also updated when something is shipped from the warehouse, or placed through a different system (ERP, CRM), we can provide two-way data feeds. This can be complex, depending on your needs and the complexity of your products and inventory systems, but we can make the process as efficient and effective as possible. You'll never again have to worry about products being back ordered because your systems were not updated.
Customer Paradigm has worked with FirstData (the largest credit card processor company in the world) assisting with marketing campaigns and went through a rigorous verification and code validation procedure. Do you want to ban payments from specific countries with high rates of fraud? That's something that can be customized and configured easily. We can even set your site up with additional fraud screening tools which can decrease fraud in Affiliate Marketing Campaigns.
Plus we can set up your storefront to display custom messages on a per-country basis, using geo-location database information. So, someone from France could be welcomed in French; while someone from Spain could be welcomed in Spanish. So all of your customers feel that they are purchasing locally.
Need to set up PayPal Express Checkout or Google Checkout on your site, but don't know the best way to do this? Why not get a consultation on how to use all the features on your Magento site. Our expert consultants might even point out a few features you didn't know you had. Our Magento eCommerce Team can help — contact us today >>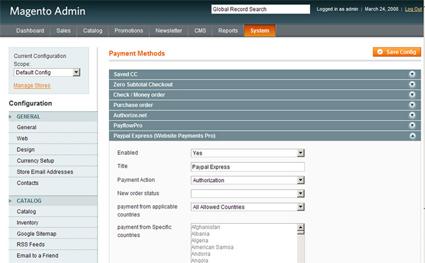 Programming Magento eCommerce with Credit Card and Checkout Options – Click Here for Screenshot >>
Have a Real Person Contact You Now about Magento eCommerce Programming >>
---
Magento – One Platform, Different Storefronts
Do you have several different product lines, and want to have several different websites to display products? But you don't want your team to have the extra step of logging into several different websites to keep track of customers, orders and inventory? Magento allows you (even with the free version) to have multiple stores… but use one common admin interface. This is something the Customer Paradigm team of Magento eCommerce programmers are able to customize and set up for you.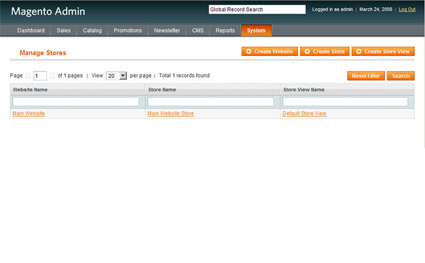 Customize & Manage Multiple Websites and Stores – View Screenshot >>
Have a Real Person Contact You Now about Magento eCommerce Programming >>
---
Magento eCommerce – Category Information:
In Magento, there are many ways to add product information into the admin area, so that customers can search for the information on the front end of your eCommerce Web site. For example, if you sell furniture, your eCommerce categories in Magento might be Living Room, Bedroom, Kitchen, Dining Room, Patio, etc. If you sell electronics, your categories might be organized by cell phones, cameras, laptops and more. Subcategories further allow customers to drill down to what they are really looking for – and are also good for search engine optimization. However sometimes categories are not enough, and the wider the range of projects on your site, the more options you need to have available to your customers to help them find what they are looking for.
We can help you to further improve your customer's experience by adding tools such as a "Refine By" or "Shop By" sidebar to your categories. So that customers can shop by Product Attributes like Price, Color, Size, Weight, and other important features. This increases the ease of shopping, and helps to ensure your customers convert on your website rather than backing out and going somewhere else.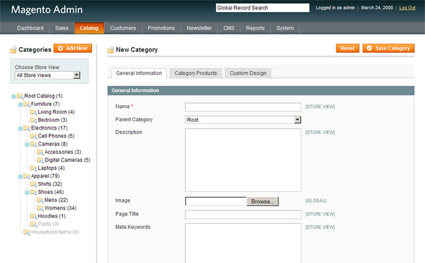 Magento eCommerce – Programming Category Information – Click for Screenshot >>
Have a Real Person Contact You Now about Magento eCommerce Programming >>
---
Customizing Content Management Pages with Magento
A question we are frequently asked is how to best customize the look and feel of content management system (CMS) pages within Magento. Within the admin interface, it's easy to add or edit pages, create titles, and assign different layouts to these pages. If you have multiple eCommerce stores, you can set the status for each page, so that it is only displayed for specific Magento eCommerce Store Views. We have also programmed in special code that allows different people within an organization to review pages before they are able to go live (legal review, management review, etc). For companies with sensitive information (such as a medical manufacturer, whose website is regulated by the FDA), we can put in enhanced version control / access control logging, to keep track of what changes were made, by whom, and at what time.
Whether you just need a programmer to add or edit content on a page, or you wish to have us create new layouts for your existing site, we're here to help you with customized design and layouts for your CMS pages.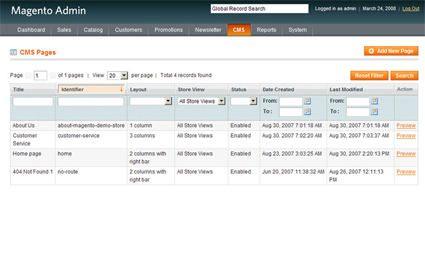 Customizing Content Management Pages with Magento eCommerce Systems – Click Here for Screenshot >>
Have a Real Person Contact You Now about Magento eCommerce Programming >>
---
Customizing Magento's Standard Checkout
Studies show that a great deal of users abandon the eCommerce shopping process when they are "forced" to create an account with a website. This is not always true, sometimes buyers can be enticed with rewards programs, club memberships, or other incentives to sign up and create an account, but generally it is best to let the customer decide. Magento allows users to checkout as a guest or create an account in the checkout process, this is a great feature for reducing shopping cart abandonment.
We can help add other great features to your checkout process, such as a single page, one step checkout, so customers can verify change and verify information all at once. They can even update their shipping address to see new quotes from shipping providers such as UPS, USPS, FedEx and DHL. Plus we can integrate marketing features, such as a newsletter signup or catalog request that delivers the customer's information directly to your marketing database or system.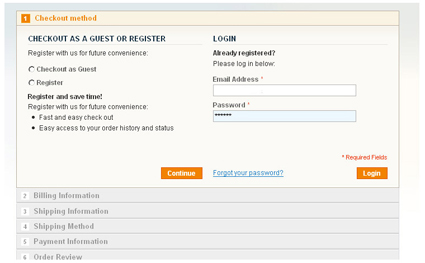 Checkout Method – Customizing Guest or Registration Option Screen – Click Here for Screenshot >>
Have a Real Person Contact You Now about Magento eCommerce Programming >>
---
Custom Magento Catalog Price Rules
In the Magento Admin, it's easy to create Catalog pricing rules, which can be programmed and customized based on start and end dates. For example, if you wanted to have a 20% off sale during a big holiday weekend, you can schedule this in advance, and have the sale automatically appear at 12:01 am on Friday, and end at 11:59 Sunday evening. With other systems you have to stay up late at night to turn on / turn off sales and coupons.
We know how hard it can be to set up Promotional and Coupon rules in Magento. Depending on your sale there are usually multiple ways to set up a rule for your promotions or coupons. We can help you decide on the best way to set up your rules or give you a full consultation on how to use Magento's Promotional and Coupon rules. Plus we can help teach you about setting up other discounts for your customers such as Free Shipping, Buy 2 Get 1 Free, Bundle Product Pricing, Wholesale Pricing, and more!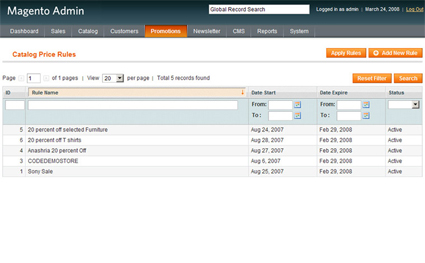 Magento Admin – Custom Programming for Catalog Price Rules – Click Here for Screenshot >>
Have a Real Person Contact You Now about Magento's Promotional Rules >>
---
Magento – My Account Customization
If you want to further customize the "My Account" page in your Magento eCommerce store, we can help. From adding a new address to an address book (for shipping), or updating account information, reviewing previous orders, or displaying the customer's wishlist — all this can be customized through PHP programming and design. If the Magento platform works for 95% of your business needs, but you find yourself changing your business practices to accommodate missing fields, layouts, or work-flow built into the Magento shopping cart, we can usually customize this for you.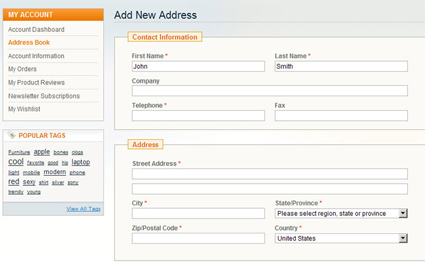 Magento – My Account – Customization – Click Here for Screenshot >>
Here's the default view of the "My Account" page for a registered customer, using the Magento platform (again, this can be easily customized or changed, depending on your business needs). We have helped many businesses integrate their Newsletter list with Magento, so that customers can easily update their mailing preferences right in Magento. We can also set up accounts to be linked together, so if you have Dealers or Representatives who need access to their customer's accounts, we can set up a secure system that will enable them to do this.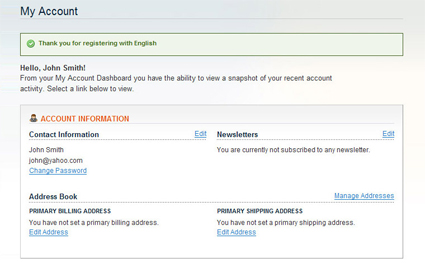 My Account Default View – for Customization – Magento eCommerce – Click Here for Screenshot >>
Have a Real Person Contact You Now about Magento eCommerce Programming >>
---
Magento – Sales Reporting Customization
The default login screen for Magento eCommerce admin is wonderful — it gives the store owner a dashboard view of current sales, including the last 5 orders, last five search terms, and a graphical view of sales during the past 24 hours. For many store owners, this is enough. For others who use A-B split test data to determine what offers convert better, and what headlines or call-outs convert more easily, this view is often not enough. In this case, Customer Paradigm's team of programmers can customize your Magento eCommerce admin area to give more than just sales statistics at a glance.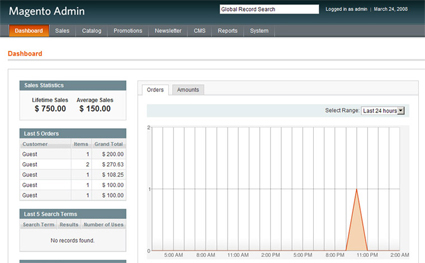 Magento eCommerce Admin – Sales Statistics (Customization) – Click Here for Screenshot >>
Have a Real Person Contact You Now about Magento eCommerce Programming >>
---
About Customer Paradigm
Customer Paradigm is a full-service interactive media firm, helping businesses acquire, retain and interact with our customers.
As an award-winning, Colorado-based interactive agency, Customer Paradigm has Magento clients throughout the United States, Canada, Europe and Asia. Our customer-centric approach allows us to internalize our clients vision and their customer's needs. As we design marketing materials and strategies we always keep the end customer in mind, which is exactly what helps our clients succeed.
In order to best serve our clients, we developed our own project management system that makes sure all projects are done on time, on budget and to your satisfaction. With more than five thousand successfully completed projects since 2002, we strive to make working with us easy, fun and affordable. Our team is always available via phone or email, and you'll have direct access to a dedicated Project Manager.
Our work focuses on three areas – Acquire, Retain & Interact.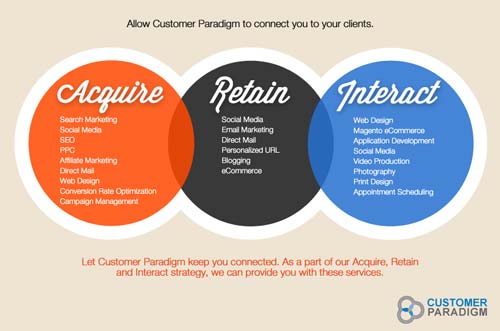 Magento eCommerce programming and customization usually falls into the interactive side.; however, our programmers also work closely with other team members who focus on Design, Search Engine Optimization (SEO), Search Engine Advertising (CPC) and Conversion Rate Optimization (CRO). Our open-office, team-approach makes sure that we take an integrated approach to your project. So that we're always looking out for other factors including how your project will affect SEO, Social Media and CPC campaigns.
We've worked with a number of manufacturers to help them build trust and increase online sales. Manufacturing clients include Rocky Mountain Orthodontics (they manufacture close to 14,000 products in their Denver, Colorado facility), Reparagen, and DiscountDecorating.com.
A recent redesign of the DiscountDecorating.com eCommerce website, for example, increased sales by more than 400%, without changing their pricing or products — we just made it easier for people to find what they were looking for and make a purchase. We manage over 750,000 keywords for Cost Per Click (CPC) advertising for DiscountDecorating.com, which account for 65% of their daily sales volume.
Our Search Engine Optimization (SEO) efforts helped news organizations find Boulder-based religious leader, Rabbi Jamie Korngold and cover her program in The Wall Street Journal, USA Today, AP, Ski Magazine, CBS News and more. This intense media interest sparked a book offer from Doubleday Religion, who published Rabbi Korngold's first best-selling book, God in the Wilderness (www.GodintheWilderness.com), in April 2008.
In the sustainability realm, Pfizer, 3M and Intel are the first users of a manufacturer-based sustainable development software planning tool we have developed for the Global Environmental Management Initiative (GEMI) organization (www.GEMI.org/sd/). We have also recently redesigned the sustainability section of the www.3m.com/sustainability site for 3M.
Customer Paradigm was named the 2009 Supplier of the Year Rocky Mountain Direct Marketing Association. Customer Paradigm's founder, Jeff Finkelstein, has been called a "Web Guru" by New York Times Magazine.

Are you a New York-based company that needs a Magento Programmer? Click Here >>
Are you a California-based company that needs a Magento Programmer? Click Here >>
Is your Magento site running slow and you want to move to a faster server? Click Here >>
Need to migrate from Magento Enterprise to the free Community Version of Magento? Click Here >>
Customer Paradigm has used Magento, PHP programming and mySQL databases to help small 1-person companies as well as many of the Fortune 500 create websites that get results.
To have Customer Paradigm contact you about Magento, please fill out the contact form below or call us toll free at 888.772.0777 or 303.473.4400
Customer Paradigm





4.87 out of 5 Stars    /   Based on 55 ratings. 34 user
reviews
Please Have A Real Person
Contact Me Now: