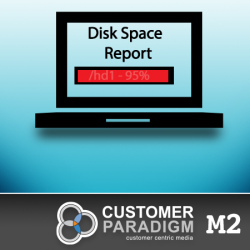 Customer Paradigm has a brand new FREE extension for the Magento 2 marketplace!
If you've ever experienced your sites hard drive filling up to the point of crashing your site, and corrupting your database, then you know how frustrating this can be.
Our new Disk Space Report is a FREE Magento 2 extension that provides a way to monitor the amount of disk space on your server automatically.
The extension can be configured to scan your system and send notification emails at various increments of your choosing. The system will send you emails when your drives at getting close to full.
This extension has been designed to work seamlessly and not cause conflict with your other extensions. The extension has been tested to work on both Magento Community and Magento Enterprise systems.
Want to learn more about our Magento 2 Disk Space Report and download the extension for your Magento 2 site? Download the extensions totally free from Customer Paradigm or on the Magento Marketplace!
If you are looking for a team of dedicated Certified Magento 2 Developers to build your next custom extension the Customer Paradigm team might be the perfect fit got you! Try us out! Email us or call 303.473.4400
today!