Print Advertising in Boulder, Colorado
Do you need help with print advertising? Our creative advertising
team of 18 people based in Boulder, Colorado can help.
If you're looking for a company to help create print ads for newspapers or magazines, tri-fold brochures, sell sheets or trade show banners, Customer Paradigm's creative print advertising team can help.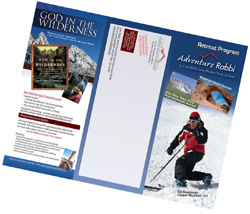 Customer Paradigm has extensive experience in developing print campaigns, brochures, catalogs, ebooks, business cards and stationary, direct mail postcards and invitations, trade show signage, sales materials, pocket folders and more. Our recent merger with Visual Science, a full-service custom web, graphic, print and trade show design company, further enhances our capability to take on a larger array and scope of print design projects. We also have extensive experience in creating a new look for your company, more commonly referred to as brand identity development.  Brand identity development can involve work with print design, logo and business card design, business collateral design such as presentation folders and sales material as well as internet-based initiatives such as website design and internet marketing. See below for examples of our custom print, business card and trade show exhibit design work or for more information call us at 303.499.9318 or 303.588.1765 Customer Paradigm has built trusted relationships with printers nationwide that we can match up with your particular project needs. Give us a call or fill out the contact form below  and someone will respond immediately. Here are samples of some of the print advertising we've recently worked on:
Magazine Advertising Design:

For Classic Cabinets & Design in Boulder, Colorado, we designed a series of magazine advertisements that showcased some of their high-end custom work.

For Five Star, we created a series of Industry-trade magazine print advertisements.

Newspaper Advertising Design:

One of the most succesful print ads for Adventure Rabbi, we focused on humor in this print ad that ran in The Onion and increased registrations by nearly 9 times.

Customer Paradigm's print ad in The Onion also makes fun of Customer's Ugly Websites. It's been a highly successful print ad.

Pocket Folders Design:

For Vista GeoScience, we created a custom pocket folder that allowed them to present proposals and product information in a professional manner.

Product Sell Sheet Design:

For this client, we created customized, printed product sell sheets for their IT products. Click on each image to display a full version.

For VT Miltope, we created printed sell sheets for their aviation-related products.

Customer Paradigm also did the product photography for VT Miltope's commercial aviation product line.

Tri-Fold Brochure Design:

Tri-fold brochures are a great way to highlight events or background information about an organization. The tri-fold brochure design (above) is the outside of the tri-fold design, and feature's a religious, non-profit organization's upcoming events.

Below, the inside of the tri-fold brochure. All photography was done by Customer Paradigm's team to create a professional, custom look.

Below is Adventure Rabbi's tri-fold brochure, designed by Customer Paradigm in Boulder, Colorado. This tri-fold brochure features the retreat program for the religous, non-profit organization.

Below is the inside layout of the tri-fold brochure, designed by Customer Paradigm in Boulder, Colorado. The inside of the tri-fold features the Rosh Hashanah Retreat, Passover in Moab and a Winter Ski Retreat, and includes a mini-registration form.

 

Above is a custom-designed tri-fold brochure for Adventure Rabbi's Passover in Moab retreat. A tri-fold design like this allows you to fold it over and mail it, using the space in the middle for the return address, stamp and mailing address.

Below is the inside of this tri-fold brochure, designed by Customer Paradigm, featuring information about the retreat, an event schedule, and ways to register.

Postcard Design:

Postcards are a cost-effective way to get the word out about upcoming events, and new products and services. For this postcard design, we used photographs by Customer Paradigm to create a custom look and feel that placed the recipient inside the photo, and made them want to sign up. Above is the front of the

full-color postcard, designed by Customer Paradigm's team in Boulder, CO.Below is the inside of the postcard layout, that includes a message to recipients, as well as features photos of the upcoming events.

Trade Show Banners:

Trade Show roll-up banners can be ideal way to display a professional image at trade shows, networking events, and even in the office. For Rabbi JamieKorngold's latest book, God in the Wilderness (Doubleday, 2008), Customer Paradigm designed four trade show roll up banners that could stand alone or work together in concert to give a customized look.

For IT Services company VNS Boulder, we designed two roll-up trade show banners for them to use in their office, as well as when they sponsor events.

Custom Bike Jerseys:

One client needed to have a custom-designed bike jersey for a bike race they sponsored. Customer Paradigm designed the custom bike jersey layout, and had them printed.
To have Customer Paradigm contact you about Print Design, please fill out the contact form below or call us toll free at 888.772.0777 or 303.473.4400