eLearning Series

CUSTOMER PARADIGM DELIVERS AUTOMATED LEAD MEASUREMENT SOLUTION – BOOSTS DMCVB TRADE SHOW BUSINESS BY 20%.
CHALLENGE: Increase convention & trade show business to Denver by 20%.
STRATEGY: Squeeze every lead out of each trade show DMCVB attends.
TACTICS: Automate the lead acquisition, follow-up & conversion process
ROI: Just one more lead converting into a sale = $425,000 to Denver
The job of filling Denver, Colorado's 600,000-square-feet of convention and state-of-the-art meeting space falls to Richard Scharf, executive vice president of sales and marketing for the Denver Metro Chamber and Visitor's Bureau (DMCVB). While a $7 billion convention renovation and many other attributes of this beautiful city certainly make Denver an easier sell, Scharf still competes with 475 other U.S. Convention Bureaus for the same meetings and events.
So when Scharf wanted to make sure Denver gets bigger piece of the trade show pie, he turned to Customer Paradigm and Get Feedback to implement a powerful lead follow-up and measurement solution. The Challenge: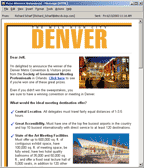 "Our main goal was to increase business delivered to the city by 20%," Scharf said. "We needed a system to squeeze every lead out of a show possible.
Previously, we were doing pre-show snail mail and worked the leads in the booth fairly well. Business we obtained on the show floor was entered directly into our sales system." "However, it was easy for prospect leads to get lost as managers were handling them manually," he continued. "We didn't have a follow-up plan established to contact everyone after the show."
Like many exhibitors, additional DMCVB objectives included: Digital lead capture — no more lost, torn or illegible business cards that gather dust Reinforce current customer relationships Meet new customers that deliver RFPs to the bureau booth Meet new customers that request future follow-up when ready to make a purchase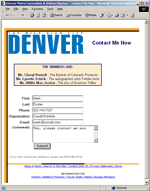 Searching for Solutions The DMCVB began looking for an affordable, automated off-the-shelf lead measurement solution. They also needed a high-impact, interactive communication tool that would: Increase qualified leads Reach true decision-makers Gain critical customer intelligence "We needed a turnkey solution that wouldn't become a regular burden to administrate or review regularly. And we needed a cost-effective system that would be easy to implement and even easier to manage," Scharf said.
Customer Paradigm and strategic partner Get Feedback answered the call. Customer Paradigm reviewed the DMCVB's current system in order to develop an aggressive and active lead management system that would provide the value and specific measurement that they needed. After reviewing the answers from the DMCVB, Customer Paradigm applied a proven six-step process to help convert contacts into contracts:
Six Step Process: From Contact to Contract Drive Traffic to Booth. A pre-show email is sent, enticing trade show attendees to come by DMCVB's booth. The pre-show email frequently connects sales managers with customers and prospects before the trade show. Lead Capture + Survey. At the trade show booth, leads are electronically scanned — eliminating lost or illegible business cards. A short survey at the booth further qualifies each lead for sales. Instant Email Follow-up. As soon as the lead is scanned into the system, an instant email message is sent to the visitor, thanking them for stopping by the booth. Follow-up email Messages.
The winner of the booth prize — often a digital camera — is announced in a follow-up email message one week after the event. Leads are placed into the retention marketing email newsletter — making sure that each person is 'touched' at least once per month. Response / Sales Conversion. Each communication allows the recipient to easily request more information in a non-threatening way. Tracking / Measurement / ROI. Sales revenue from leads gathered at the show is tracked and measured — allowing management to measure the value of each trade show expenditure.
The six step process includes a lead acquisition and measurement system, and allowed the DMCVB to track their trade show effectiveness. With built-in management reporting, individual attendee demographic overviews and instant follow-up capabilities, the DMCVB made sure that no new lead was not followed up properly. The Right Choice for Results: It's clear the DMCVB made the right choice.
Since implementation just over six months ago, the Denver's Metro Chamber and Visitor's Bureau exceeded their goals with more than a 20 percent jump in business. Scharf is a believer that trade shows — planned and implemented correctly — remain a powerful way to increase business for his organization. "Regardless of your trade show budget size, integrating effective marketing and measurement systems that are at easily and affordably at your disposal will result in powerful results for your trade show programs," he said.
Ask yourself the following questions: How do you currently gather leads? Paper vs. Digital? How do you currently follow-up with leads after a trade show? How do you measure sales revenue from leads acquired at a trade show? What would just one more sale from each trade show mean to the bottom line?