eLearning Series
We took off a couple of weeks since sending the last newsletter to focus on the Search Engine Optimization Workshop we put on last week. It was a great group who participated in the five hour session! Below is the eighth and final tip in this learning series – how to drive traffic to your website.
Read more below >> Eight Ways to Drive Traffic To Your Website Tip #8: Translate Your Site Into Another Language (Acquire)
Do your customers only speak English? One of the best ways to drive new traffic to your site is to translate some or all of your site into a different language. This is one of the places where a solid content management system (like our PageDirector system) can really help keep content organized.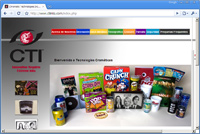 One of our clients makes themographic ink, ink that changes color depending on the temperature. If you've seen any of the recent Coors Beer commercials that feature the cans turning blue when the beer is cold, our client's ink is what they use to make this work on the four billion cans of beer they are using the ink on this year.
The company, Chromatic Technologies Inc,has a global customer base, and we're currently translating their site into both Spanish and Mandarin, so that we can help develop more inbound leads via search engine optimization in foreign languages.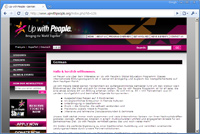 Another client, Up With People, didn't choose to translate their entire site, but does have a section on the site in French, Spanish, German and Japanese. The theory for their organization was that while they didn't want to spend time translating the entire site into each language, they wanted a place where parents, students and supports could learn more about the organization in their native tongue. And yet another client has a law practice in Denver, Colorado. A large portion of their clients speak Spanish as a first language. Translating their site into Spanish has allowed the firm to reach out and connect in a way that English alone cannot do, and also generate goodwill in the Spanish-speaking community. (This client didn't want us to publicize their site.)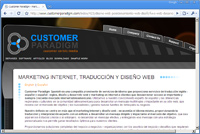 For the Customer Paradigm site, one of the services we offer is Spanish Language Web Marketing, including cost per click (CPC) advertising. It's still a new and emerging field, and allows us to demonstrate our ability to market and communicate in other languages. Does Translation Make Sense For You? For many companies, translating their site into another language may not make much sense. But if your company sells to people from outside of the United States (Or Canada), or serves a target market where English is not everyone's first language, translating your site may be ideal.
ExpertTip for Success: Make sure that whomever is translating your site is a fluent speaker who understands the lingo of your business. Make sure it's easy for people to switch back and forth between languages on the site. This is usually done with a "Choose a language" set of links toward the top of the site. We recommend spelling out the languages, such as: Français, Español, or Deutsch, instead of using flags (someone may be upset you're using the Spanish flag vs. Mexican flag, or the US flag vs. UK). Make sure that the character set for the translated pages matches the language you're working on. This is one of the most common mistakes in translating a site. Make sure that product names make sense when they are translated. The Chevy Nova isa classic example: In Spanish No Va literally means "No Go" (not ideal for something that is supposed to help you go).
Make sure you use a content management system that allows you to make sure each section of the site is translated properly, and can stay organizaed appropriately. Make sure that you publish a sitemap of your content in each language – this is key for getting picked up by search engines. Consider leveraging a geo-location database to detect what country your visitors are coming from. If a visitor is coming into the site from Mexico, for example, you may wish to default to the spanish language version of the site automatically (but give them a way to revert to English, too). Summary: Done correctly, translating your site into another language, such as Spanish, French, German or Chinese, can reach customers who don't speak English as a first language, as well as drive new visitors to your site through enhanced search engine optimization.