There are many features on Facebook, we don't have time to know all of them, so we do the best with what we know.
But, what if you used the hidden features and your Facebook group page became more profitable? What if you could market on Facebook and find your target market without paying for the low converting Facebook ads? It starts to make sense why hidden Facebook tools are "hidden". Here I am to reveal these tools, ones that I have found particularly useful.
If you have any questions about your Social Media campaigns please contact us with your question by filling out the contact form below.
1. Re position Your Photos
When you post a picture, the picture is uploaded and the image adjustment you get is the image you show. You hope that people will click on the image and see the full spectrum of the photo. But, what if you could adjust the photo so the picture is able to show off the most intriguing part that will translate into likes and interactions? Facebook has become an image throne for marketing and just like any marketing structure you want to show the parts that catch peoples attention.
I frequently use this tool when I am posting websites that Customer Paradigm has worked on, otherwise Facebook's default is to post the header of the screenshot and I fail to grasp the content area of the website. By making small image adjustments I am able to display the body of the website rather than focusing on the background image.
When marketing on Facebook always remember the important truth that image posts get higher rates of interaction. To increase the quality of the images that you post you should be concentrating on the marketing aspect of every image. Even though it may seem trivial a good way to think of every post is a small "billboard" on your followers walls. People are flying through their news feeds as fast as cars on a highway, catching their attention is always a marketing game.
2. Choose an Audience for your Posts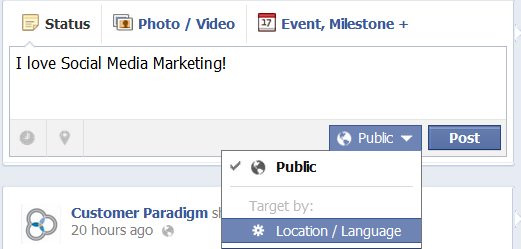 This is my favorite hidden tool for Facebook, talk about targeting with joy! This great tool allows for admins to increase the relevance of posts to your audience. You definitely want to avoid becoming cumbersome to your audience with posts that are not relevant to them. By targeting your location / language for your followers you are able to post topics that will directly interest them.
For example, if you are a clothing store and the French store location is featuring a new outfit, you can target those followers so they can be aware of the new offerings, while avoiding showing the new outfit to your stores in United States. By this simple targeting, it completes two goals relevance to the target market, and not giving false hope or excitement to those unable to receive your product.
Unless you are increasing brand awareness (simply trying to increase followers) on Facebook this is a great way to market yourself without paying for Facebook ad costs. I am growing skeptical of the Facebook ads and their effectiveness. If you have any thoughts on Facebook ads and would like to share please comment and let me know.
3. Highlighting your Posts
Although your Cover Photo is still one of the most important assets you have on your site as far as visual capital, by highlighting your posts you are able create "cover photo" like post that stretches all the way across your timeline.
This is a great way to feature your products, when scrolling throughout your timeline it is impossible to not notice a picture that takes up the whole space across your page. Many groups fail to use this feature, simply because they don't know about it.
To do this you simply click on the star at the top right of your post (shown on the image to the left), this is done AFTER you post. One mistake I frequently see is when people find out this highlight feature, they highlight everything which defeats the purpose of highlighting anything. Make sure to manage your excitement, and only highlight the products that are "highlight worthy" so to say. An increase every now and then is more noticeable than a constant increase.
Conclusion
With these 3 hidden features of Facebook you should be equipped with a few more skills to make your social media marketing campaign more effective and relative to your target audience.