Last week was quite a bit of a surprise for me.
Why? It turns out that outbound links on your website do actually matter and can affect your SEO rankings.
I was shocked. (You thought I was talking about something else?)
Read more below >>
Outbound Links Matter for SEO
Google's ability to serve high quality search results got its early start with examining links between Websites.
More links that pointed to your website from high-quality, important sites gave a strong signal that your site was indeed important. And one really strong site (such as CNN.com or NYTimes.com) linking to your site is worth 500+ links from smaller unknown sites.
Why? Once you have a visitor on your site, directing them off of your site to another site means that you're losing that traffic. So, in that case, a site doesn't usually want to place an outbound link unless it's highly relevant.
Quick definitions: Inbound vs. Outbound
Inbound Link: A link that points in to your website, from a different website. (Example: CNN.com linking to CustomerParadigm.com is an inbound link for Customer Paradigm.)
Outbound Link: A link on your site that points out, to another site. (Example: CustomerParadigm.com linking to a page on Magento.com is an outbound link for Customer Paradigm.)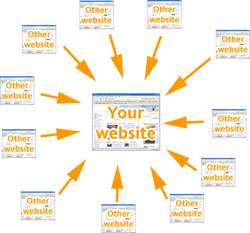 The general theory for many, many years has always been that inbound links are extremely important for ranking well.
But outbound links don't affect ranking for you.
Until now. A recent study (outbound link to it here >>) built 10 different test Websites with gibberish keywords and 300 word articles.
They wanted to test whether or not sites and pages that link to trusted, authoritative sources rank better than ones that do not link.
Turns out, outbound links do matter for SEO.
Sites that link to an authoritative source for relevant keyword terms tend to rank better.
The working theory is that a link to source material or a reference is a trust signal that indicates that the content on the page is backed up by additional information, if the end user wants to drill down to that level.
Broken links (links to pages and sites that don't exist), however, can show that your site isn't well maintained and might decrease your rankings.
Like anything, this is just one very small piece of data that is used for helping to rank pages on a site.
Until next time,


Jeff Finkelstein
Founder, Customer Paradigm
303.473.4400